Dec 5, 2016; Ames, IA, USA; Iowa State Cyclones guard Monte Morris (11) takes a break on the bench against the Nebraska-Omaha Mavericks at James H. Hilton Coliseum. The Cyclones beat the Mavericks 91-47. Mandatory Credit: Reese Strickland-USA TODAY Sports
AMES — Before every game, Steve Prohm gives his team six goals to accomplish that day.
Prior to Monday's 91-47 stomping of Omaha, one was for the Cyclones to record assists on half of their field goals.
How's 67 percent, totaling 22 assists on 33 makes, Coach?
Despite the opponent – and this one wasn't very good – that is improvement.
"That's how we need to play," Prohm said after the win. "The ball went side-to-side. The ball cut. The ball moved. It didn't stick as much tonight and we made some shots tonight. We were 15-for-29 from three and that is the strength of our team when you look at our team."
Compared to the last four games where the Cyclones had only assisted on 33 percent of their field goals, Iowa State looked rejuvenated against an Omaha defense that looked bad.
For what it's worth, Iowa State's 15 3-pointers were the most made in the Prohm era.
Iowa State's versatile forward Deonte Burton led the way with his sixth career 20-point game on 8-of-11 shooting. Donovan Jackson (15), Darrell Bowie (12) and Naz Mitrou-Long (11) also scored in double figures.
Monte Morris had nine assists and passed the 600 career mark – making history along the way. 
So was this actual improvement or the simple fact that Iowa State's competition drastically dropped from Thursday's loss to Cincinnati, who is now ranked 22nd in the latest AP Top-25?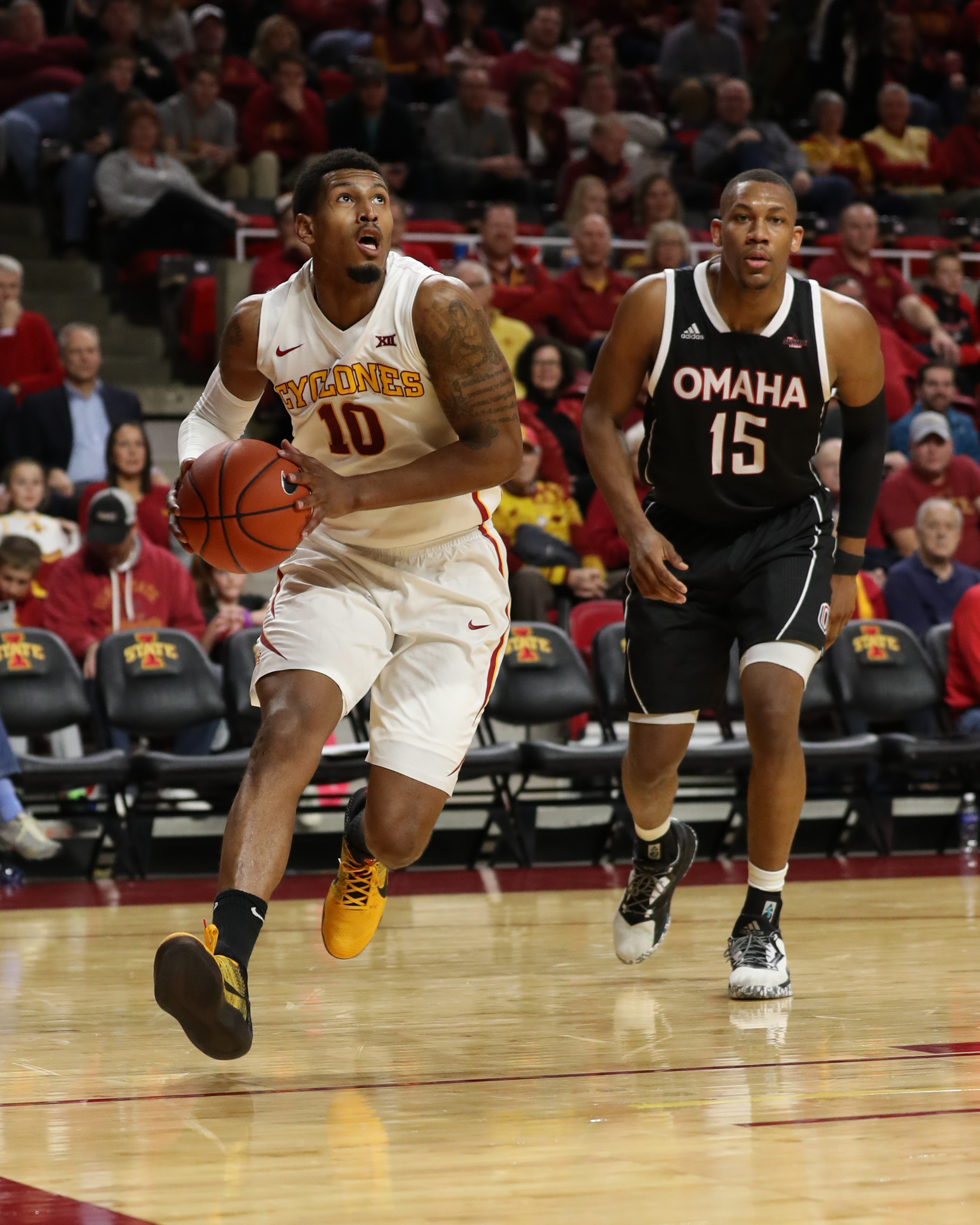 It's probably a little of both but impossible to actually know.
Of course it is easier to get good looks vs. Omaha than Kansas or North Carolina.
But after the two-game losing streak and two wins in Florida where the Cyclones never really got going offensively, Prohm re-focused his team's attention back to the basics of sharing the basketball.
"I've had a lot of times where good teams have been ugly offensively early because I do give a lot of freedom," Prohm said. "Then you have to kind of reign it down and really emphasize ball movement and ball reversal."
That is what we saw on Monday, which was a step in the right direction. But that's all it was – a step. We have still yet to see the Georges Niang-less Cyclones flow offensively vs. a competent opponent.
At the very least though, Iowa State should be full of confidence heading into Thursday's (7 p.m. on ESPN2) road trip to Iowa, who somehow lost to this same Omaha team 98-89 on Saturday in Carver Hawkeye Arena.
Following what was probably Iowa's worst home loss in half a decade, the Hawkeyes bounced back with a 96-68 victory over Stetson on Monday.