Nov 19, 2016; Ames, IA, USA; The Iowa State Cyclones celebrate with fans after their win against the Texas Tech Red Raiders at Jack Trice Stadium. The Cyclones beat the Red Raiders 66 to 10. Mandatory Credit: Reese Strickland-USA TODAY Sports
AMES — "What if I miss?"
Those were the words that occasionally lurked in the back of Iowa State kicker Cole Netten's mind as he struggled early last season.
Similar thoughts seemed to linger for the rest of the Cyclones as they opened 2016 with deflating losses to Northern Iowa and Iowa.
But Netten, a senior and ISU's all-time leading scorer, had long ago shifted gears from hand-wringing doubt to calm self-confidence as an individual. The Ankeny native's made 20 of his last 21 field goal attempts entering Saturday's 2:30 p.m. senior day season finale against No. 19 West Virginia — and his personal transformation is now mirrored by his teammates as they strive to end 2016 on a rare three-game Big 12 win streak.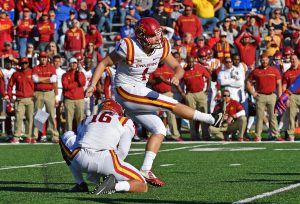 "There's a lot more trust in each other," Netten said. "A lot of that comes with performance. Once you start playing well, then you start to get on a roll and you have your confidence in yourself. And then ultimately confidence in your teammates. So I think this team has definitely seen what we're able to do. We trust each other. We're one together, we love each other, trust each other. And even when people make mistakes — because it's going to happen — we know they have the ability to come back and be able to perform to their level."
 **** I HAVE YOUR BACK
Nothing's changed for Joel Lanning and Jacob Park when it comes to their quarterback rotation. Park's the main guy. Lanning's a situational star. They haven't stopped rooting for each other during a season that at best will end with four wins, and at worst will be, on paper, much like the previous three.
"It's the last thing I say to (Lanning), 'I've got your back, don't worry about it, just go out there and play,'" said Park, who's thrown for 1,420 yards, 12 touchdowns and four interceptions this season. "He does the same for me."
Lanning, a junior who's rushed for 11 touchdowns this season — the best single-season mark ever for an ISU quarterback, will graduate next spring and says his dream job outside of playing sports professionally is to be a high school athletics director. Park will be a junior next season and said he and Lanning may have different personalties and strengths, but at the core they're the same: Winners.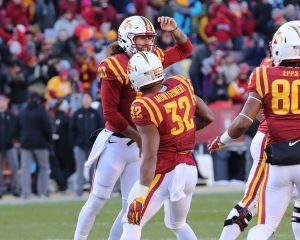 "(Quarterbacks) coach (Jim) Hof(her) used to tell us, 'Joel, you don't have enough fun, and Jacob, you have too much fun,'" Park said. "I try to get excited for Joel because I don't think Joel gets excited for himself enough."
**** UNTESTED, FORGOTTEN, WRITTEN OFF
Four senior offensive linemen will start in their last games at ISU on Saturday. Two are walk-ons or former walk-ons. One's on his third school in six years. Another is a JUCO transfer that never played a down last season because of injury.
"I think it's a lot of people that other coaches had given up on," said sixth-year senior center Brian Bobek, whose injury-riddled career wound through Ohio State, Minnesota and now ISU. "I think the main thing is everyone kept working. Everyone kept believing in each other and we all had something in common with that. It helped us jell together and when an offensive line is working well together, that's when it functions really well. I think that's what we've seen happen throughout the course of this season and building into this last game."
ISU's offense is averaging 30.8 points in Big 12 play, which puts it on pace for its best scoring average in conference games since the league was formed in 1996.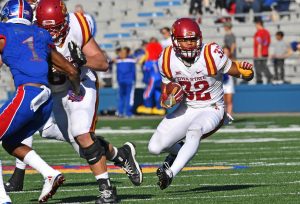 Walk-ons and former walk-ons such as Nick Fett and Brian Seda served the as iron-wrought anchors as the Cyclones forged this unexpected turnaround up front. Bobek served as a captain, steering the unit past peril whenever possible. He's seen it all, felt it all, then started over again.
"It's going to be emotional," Bobek said of his final game in Ames. "It's been a long time. It's been six years in college football, but I don't think I could have asked for any better end to it than we're I'm at now."
When you talk about "buy in" or "want to," this group's done both. It's a big reason why offensive coordinator and line coach Tom Manning is one of 40 nominees for the Broyles Award, which is bequeathed annually to the nation's top assistant.
"It's been really fun to watch the progress of a bunch of guys that really nobody gave then a chance," said Manning, who last season was FootballScoop.com's Offensive Line Coach of the Year. "I think it's really special that they kind of didn't accept anybody's definition of who they were. They kind of just came every day and worked really, really hard. I think that kind of is missed sometimes because it's the offensive line and that's kind of how you like it a little bit. But those kids, especially those seniors, Brian Bobek, Nick Fett, Patrick Scoggins and Brian Seda, those are kids a lot of people counted out and they kind of came to work every day and kind of just kept getting better and kept getting better and kept getting better. Doesn't seem like many people are writing about how bad they are anymore, which is a good thing, but they deserve that. It's a really special group of kids."
 **** THE GAME
The Mountaineers saw their senior day spoiled last week by No. 7 Oklahoma. Some 20 seniors that dot West Virginia's two-deep had to face the fact that there would be no chance for a Big 12 title this season. Senior quarterback Skyler Howard leads the offense with 2,753 passing yards and 19 touchdowns. Junior running back Justin Crawford has rushed for 930 yards and four scores and strong and skilled seniors stretch across the Mountaineers' three-man defensive front.
"I think as athletic as maybe anybody we've played this year," ISU coach Matt Campbell said. "They've got great athleticism across the board. Defensively jumps off the screen early on in terms of length and the ability to run to the football, They do a great job of creating turnovers, which is impressive and then on the offensive side, you saw a little bit even last week you've got explosive receivers, a really good running game and a really strong offensive line, So they're kind of the complete package in terms of offensive football. So, really for us, it will be a great challenge and we're going to have to play our best football of the year to go compete with these guys."
Just like most any other week in the Big 12. The Cyclones played their best football to date last week, crushing Texas Tech, 66-10. Winning Saturday would give ISU its first in-conference three-game win string since 2011 — and first three-game win streak to end the season since 2000.
"Campbell's been giving us a chance since he got here," senior linebacker Kane Seeley said. "He wants the seniors to go out right, which is awesome. The program's certainly on the rise."
**** CURTAIN CALL
Cyclone fans will likely reserve their biggest pregame cheer for senior defensive end Mitchell Meyers. Meyers has started every game this season since rejoining the team after a fierce and protracted battle with Hodgkin's lymphoma. He's seventh on the team in tackles for loss with 4.5 and simply plays sound, strong football snap after snap.
"Probably averaging 65 plays a game for us on our defensive front," Campbell said. "For what he's done and the ability that he's done it with — he's been our most constant defensive lineman all year. … And to do it how he's done it has been remarkable. You talk about seniors and there's a guy that, you know, he's never given up. He's earned the right to be the captain and then through some really tough games this year, he's been the one that's been kind of the steadying force in our locker room. So I don't know if I could say enough great things about (him). We'd be here forever, to be honest with you."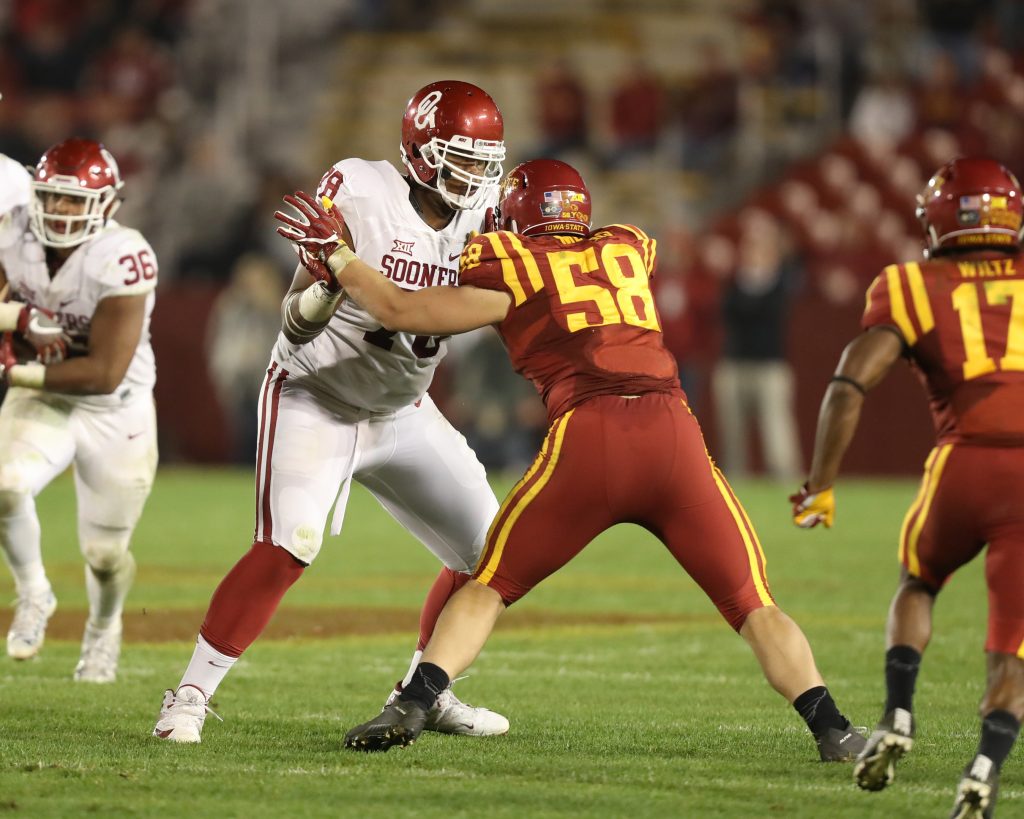 We can't be. It will soon be Senior Day, after all. Two of Meyers' cohorts on the defensive line (Demond Tucker and Jhaustin Thomas) will also play their last game in cardinal and gold. Same goes for walk-on linebacker Josh Jahlas and defensive backs such as Jomal Wiltz, Nigel Tribune and Jay Jones. At receiver, Dondre Daley will sprint across Jack Trice Stadium's turf for the last time, as will walk-on Mitchell Harger at running back and Justin Chandler at tight end. Several other seniors known only to their teammates will be honored, too.
Emotions? It's hard to put those into words as that last long walk through the tunnel looms. One thing's certain: No one will be worrying about missing anything.
"We'll see," Meyers said. "I don't know, I hope not too emotional. I think it will be a really good time and like I said, I'm just going to try to reflect and enjoy that last game. Hopefully go out with a win."