Nov 27, 2016; Kissimmee, FL, USA; Iowa State guard Deonte Burton (30) scores against Gonzaga in the first half of the championship game of the 2016 Advocare Invitational  at HP Field House. Mandatory Credit: Jonathan Dyer-USA TODAY Sports
It was a tale of two halves in Sunday afternoon's Advocare Invitational championship game between No. 11 Gonzaga (6-0) and No. 21 Iowa State (5-1). The Cyclones battled back from a 15-point halftime deficit, led by Deonte Burton's 29 points and 12 rebounds, before falling 73-71 in Orlando.
The game got off to a fast and furious start for both teams, but it was Gonzaga that had the most success. The Bulldogs knocked down eight 3-pointers in the first half, and a tournament-record 13 in the game, while shooting 64.5 percent from the floor.
Naz Mitrou-Long scored all 16 of his points in the first half to keep Iowa State somewhat in striking distance going into halftime.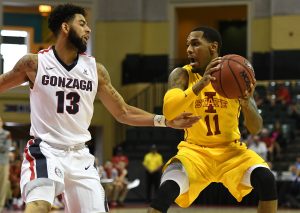 The Bulldogs pushed the lead to 18-points early in the second half, but that's when the game became the Deonte Burton show. The Cyclones went
on a 15-0 run, with 11 of the points coming from Burton, to cut Gonzaga's lead to 58-55 with 13:16 left in the game.
It was relatively back-and-forth from that point on, but Iowa State could never get over the hump to take the lead.
Perhaps the biggest story of the second half was the Cyclones' defense, which continues to impress during the early part of the season. Gonzaga shot just 29.2 percent from the floor after halftime and scored only 24 points.
The Bulldogs didn't have a field goal in the last 5:40 of the game, but Iowa State didn't score for the last 3:02. Senior point guard Monte Morris, who finished with 14 points and nine assists, wasn't able to get a shot off in time on the Cyclones' final possession as time expired.
Iowa State's next game is on Thursday night at 7 when Cincinnati, who received votes in last week's AP Poll, visits Hilton Coliseum.