Mar 19, 2016; Denver , CO, USA; Arkansas Little Rock Trojans forward Lis Shoshi (12) defends as Iowa State Cyclones guard Deonte Burton (30) drives in first half action of Iowa State vs Arkansas Little Rock during the second round of the 2016 NCAA Tournament at Pepsi Center. Mandatory Credit: Isaiah J. Downing-USA TODAY Sports
AMES — Deonte Burton's well-known as a high flier.
The gifted Iowa State guard/forward/post is both a fierce finisher and a work in progress whose time has finally come.
He's no longer here nor there. He's everywhere — in a good way.
"The (senior) I'm probably most proud of is the strides that Deonte Burton has made," Cyclones coach Steve Prohm said on Wednesday's media day gathering while describing the least-defined player among his celebrated core of four returning seniors. "He's been unbelievable,"
Burton's become more than an on-again, off-again dynamic dunker.
He's a leader. He's fully committed to greatness. Oh, and he's a poet, too.
Wait — a poet?
'Tis true.
The man who took flight and threw down in a pair of Tims last season enjoys putting pen to paper and crafting striking prose and silky smooth sonnets.
"I love writing," said Burton, who's now ready to assume leadership duties with stalwart seniors such as Naz Mitrou-Long, Monté Morris and Matt Thomas. "I love listening to poetry. I love watching it. It's way to express yourself and you can keep it to yourself. You don't have to show everyone. You don't have to brag or boast about what you did."
Burton — who provides the 2016-17 Cyclones with a player capable of playing both forward spots and even the post — first connected with poetry when he watched a "Louder than a Bomb" poetry slam. The project of the Young Chicago Authors serves more than 10,000 area youths and provides them with a platform to make their voices heard. It's spread nationally, as well, drawing more and more young people into its creative orbit.
"He actually read a poem to me that he wrote and it was insane," said Mitrou-Long, who enters his redshirt senior season fifth all-time in 3-pointers at ISU with 162. "Because you wouldn't think that about him, you know what I'm saying? It's crazy."
We'll get to know Burton a lot better as this story and season progresses, but suffice it to say he's all-in now — and why not? The Cyclones' backcourt of Morris, Mitrou-Long and Thomas could be one of the nation's best.
Burton clearly wasn't fully engaged last season when he averaged 9.7 point and 3.7 rebounds in 26 games.
He looked like a player in search of an identity —  partly adrift along an avenue to self-expression that doesn't lurk in well-guarded journals, but unfolds for thousands to see.
But that's old Deonte. New Deonte's work ethic now holds court alongside the well-established ones of Mitrou-Long, Morris and Thomas. Morris will set the school's all-time assist record, barring disaster and both Thomas and Mitrou-Long are among the best shooters anywhere.
Simply put: ISU is stacked, as long as Burton can fill his do-everything role with panache and tenacity. Yes, big men such as grad transfers Merrill Holden and Darrell Bowie must pan out, too, but Burton's perhaps the most important returning senior, precisely because we know what we'll get from the other three: sustained excellence.
"It's their team," Prohm said. "Everybody always asks me, 'Do you want it to be your team? When's it going to be your team?' I never want it to be my team. It's those four seniors' team. I know we have six total seniors with Darrell and Merrill who have really adjusted and done well, but those four seniors are the glue of what's made this program really good the last couple years and the last four years. It's what's going to continue to make this program good going forward."
Burton's ready to deliver what the other three have long-since offered — and he must if the Cyclones are to replicate or surpass last season's success that ended in the Sweet 16.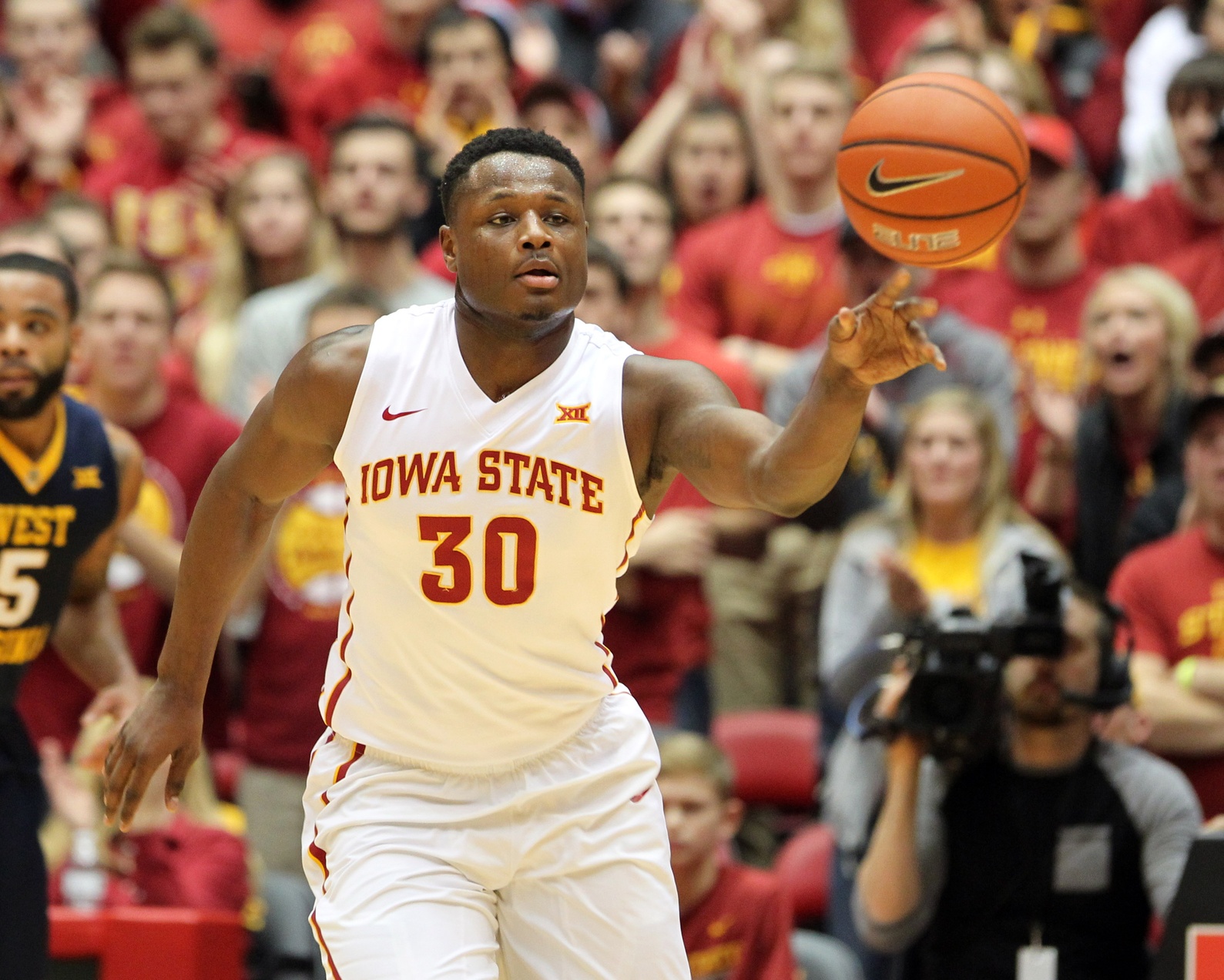 Rebounding is a main focus for this year's team, and Burton's capable of snagging double digit boards on a nightly basis.
"He's grown mentally for sure," said Morris, the Big 12's preseason Player of the Year selection. "Just knowing how to read the game. He's been watching a lot of film. There was a time (Tuesday) in practice where he said, "Hey, Monté, just do this and this and I'm going to be open on this.' Deonte never did that. He was more just natural out there playing. But with him doing that, it's just elevating him as a person. He's leading people, pushing people through the line, telling them, 'Let's go,' leading huddles. Deonte was never doing that."
Seems his sword's finally catching up with his pen, which is why Prohm's so proud of his advancements.
"I've asked him a couple times, 'Why the change? What made you make this change?" Prohm said of Burton's determination on the court and in the classroom. "I hope I played a small part on it, but 90 percent of it has to come from him."
What's the next step?
Average a double-double, of course.
That's what Prohm said Burton has to provided for his team to "max out" and threaten Kansas, Texas and others in the Big 12 title chase and beyond.
Is Burton capable of it? Sure is, his teammates said.
"He definitely has changed since last year and I think he's the first one that will say that for himself, as well," said Thomas, who drilled a team-best 89 3s last season while shooting 43.2 percent from distance. "His work ehtic, his day-to-day — the way he attacks every day has changed. He's working really hard and I'm expecting him to really break out this year."
Burton smiled when the double-double expectation was brought up. He's ready to step up and stand out. There's no indecision.
"We as a team have to rebound, because we're not the biggest team," Burton said. "It's going to be a team effort and I have to lead us in rebounding."
Alas, Burton declined to offer up a sample of his well-crafted verse, but that's about all he's saying, 'No,' to in the Sukup Practice Facility nowadays.
When work becomes fun, good things can happen. That's where Burton is now, and like his fellow seniors, he's not letting a second elapse without putting maximum effort in.
"In the offseason it was clear when he would come up to me and ask me certain questions," Mitrou-Long said of Burton's positive change. "When people start to ask questions you know that they're really interested in growing in the subject and the task at hand. From little things to sprints — Deonte would be the first one to say he doesn't like sprints at all. And it came to a point where he was the one saying, 'Come on, we're going to get through this.' Little things like that, being in the weight room, pushing himself, to me and him being weight partners on bench press and stuff like that, just pushing the weights up every week. You see things like that, man, you get nothing but happy, because you know a person is growing."