Sep 17, 2016; Fort Worth, TX, USA; Iowa State Cyclones quarterback Joel Lanning (7) throws a pass in the first quarter against the TCU Horned Frogs at Amon G. Carter Stadium. Mandatory Credit: Tim Heitman-USA TODAY Sports
I went into Saturday with ZERO expectations for Iowa State football's road trip to TCU. The only thing I was hoping for was a smidge of hope for the rest of the season. That's why even after a 41-20 loss, I'm actually quite optimistic.
Full disclosure: There is still a TON of work that this football team needs to do before it will be competitive and capable of beating good Big 12 programs. However after embarrassing losses to UNI and Iowa, I logged on to write postgame columns and quite honestly couldn't come up with positives for this program to immediately build on. After the TCU game, there is something – quite a few things actually.
Unlike the first two games of the season, that wasn't a "burn the tape" type of game. Campbell's staff can teach with what Iowa State did vs. TCU.
Takeaways
Mike Warren might be back
He's been nearly non-existent the first two weeks but the sophomore averaged 4.1 yards per carry in route to a 95-yard performance in Fort Worth.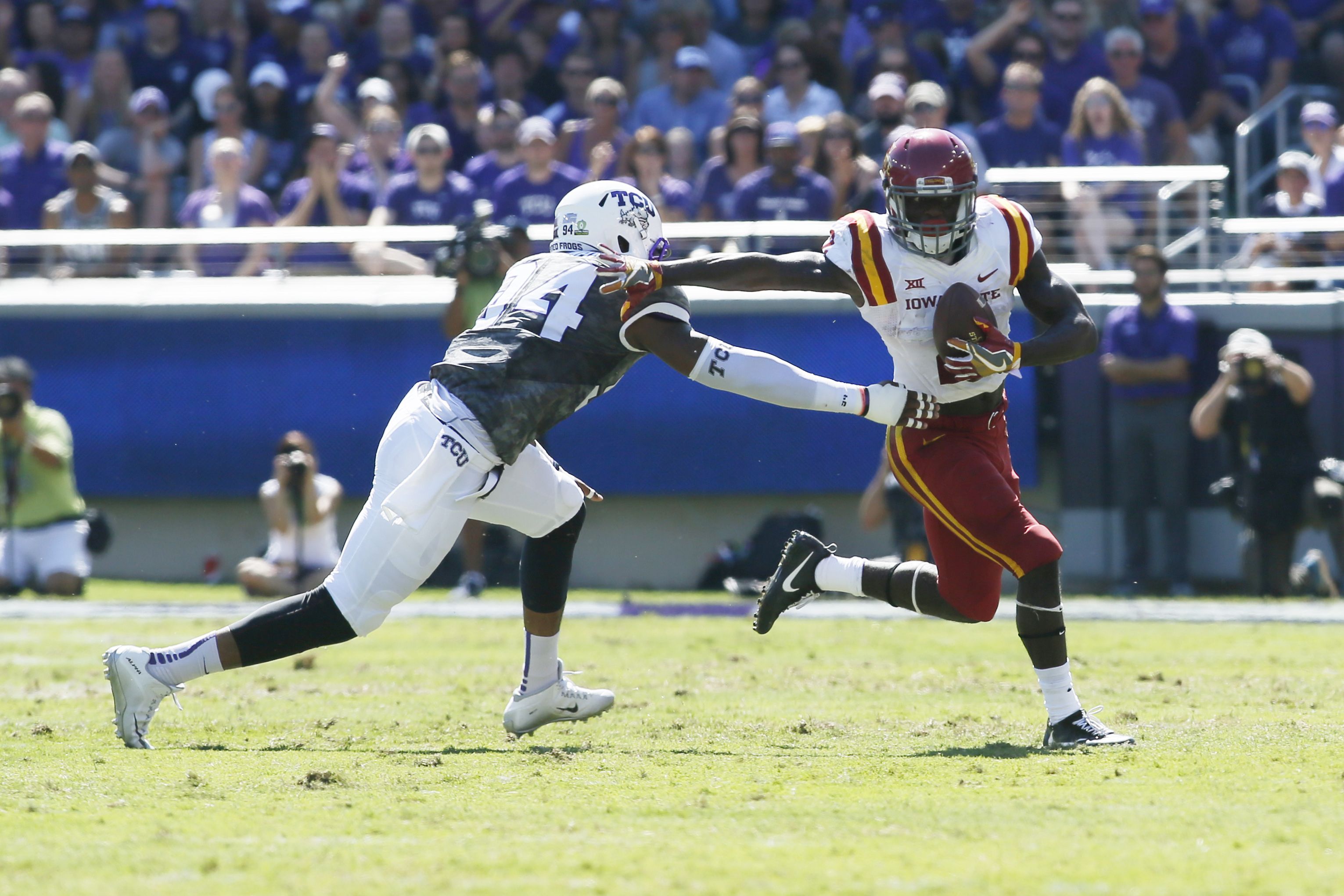 "Mike I thought put that offensive line on his shoulders," Campbell said. "Sometimes when something maybe wasn't there, he made it happen." This was a totally different tone than what we heard after last week's 42-3 loss to Iowa, when Campbell publicly challenged his star running back. After the game, Warren tweeted the following:
At the end of pain is success. Trust in the process.

— Mike Warren (@M_Warren4) September 17, 2016
Iowa State entered Saturday with the 115th ranked offense in college football. While a 95-yard performance by Warren (138 for the team) isn't something to necessarily brag about, it is progress.
Improved offensive line
Again, let me preface this by expressing how low my expectations were going into this game. Very, very low. Like, get beat 59-6 low.
Especially with Jaypee Philbert not playing due to a suspension, I assumed that Iowa State's offensive line would get dismantled once again. It wasn't perfect, but the guys showed plenty of grit and improvement in the season's Big 12 opener.
"Nick Fett has played three positions in three weeks," Campbell explained. "The tribute goes to a guy like Nick. He is the leader of that group. It wasn't perfect today. We know that but they kept plugging along. It is a group that is going to continue to grow and get better."
Offensive coordinator (and offensive line coach) Tom Manning mixed it up too. Walk-on redshirt senior Brian Seda got the start at left guard.
"He's a grinder," sideline reporter Ben Bruns said after the game.
Philbert should be back next week but based off of the line's performance Saturday and his recent discipline issues, it will be interesting to see the route ISU goes next week up front.
The quarterbacks
First things first, Joel Lanning didn't get a lot of help early on. Dondre Daley recorded three drops, two that were critical in stalling any sort of offensive momentum that Iowa State could have had early in the first quarter.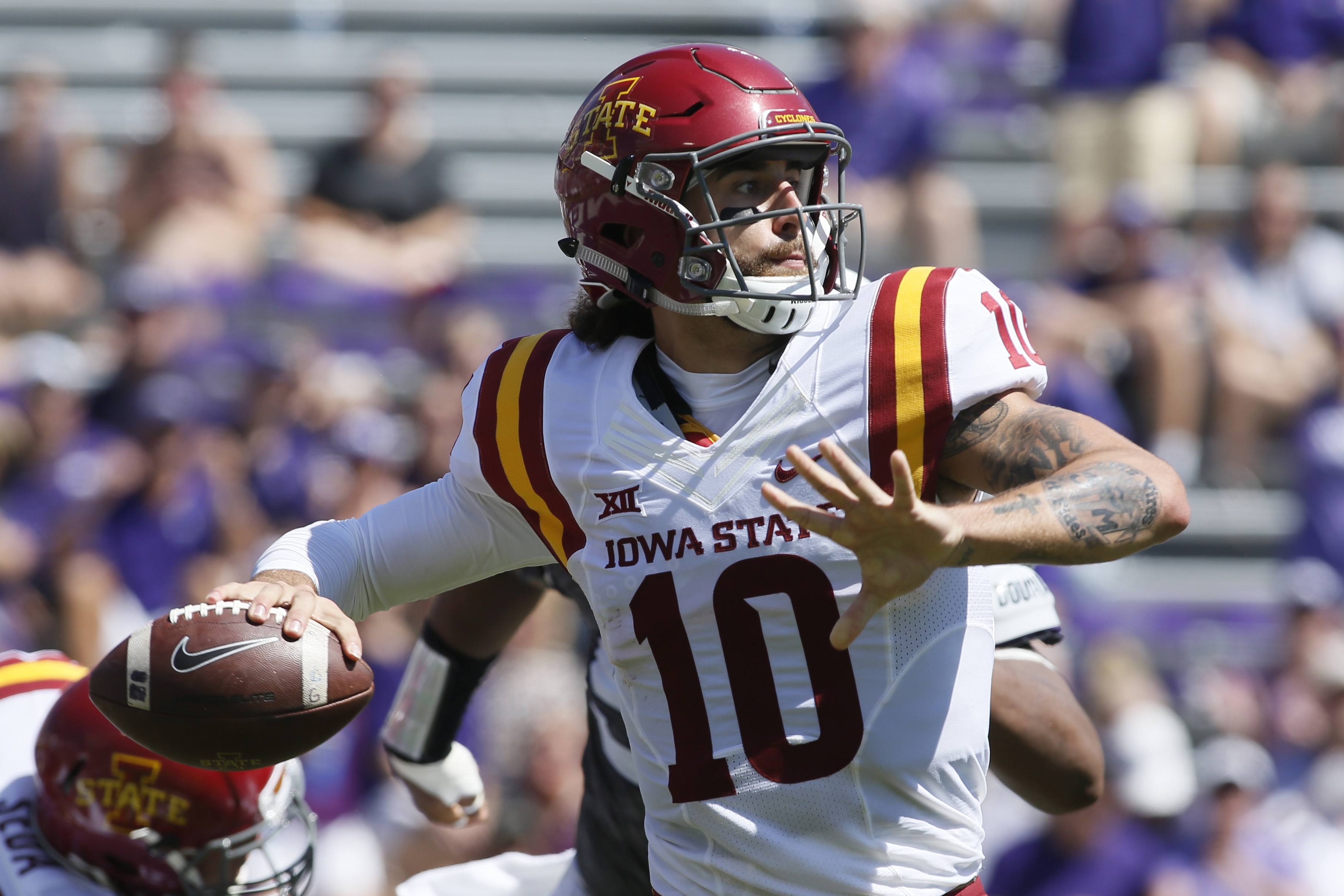 Jacob Park came in on the third series and it was pretty rough to start, but he got better and made some impressive throws throughout the game.
Lanning finished 12-for-21 with 127 yards and two rushing touchdowns. His stats should have been better than that – drops killed his efficiency.
"I'm really proud of Joel," Campbell said. "I thought he had his most consistent performance in three weeks and it gave us a chance to have some success."
Park was 7-for-15 for 90 yards.
"I think both guys have a lot of ability and can help us," Campbell said. "Finding that right mix is something we will continue to work on."
It seemed like the swapping of quarterbacks influenced momentum in a not-so-positive way at times but even so, the two quarterback system is exactly what I asked for earlier this week. Neither guy jumped out and grabbed the job in this one so I suspect we will see more of it, perhaps in an even more organized fashion, next week against San Jose State.
Quick hits
— The second quarter offensive pass interference call on Allen Lazard made me want to vomit. It was an awful call that greatly impacted the end of the first half.
— Trever Ryen had six receptions (and a team high 10 targets) for 58 yards. If Iowa State is going to struggle to run the football this season, he could end up being very valuable in the short passing game. Ryen is as good "after the catch" as anybody on the roster.
— Allen Lazard was only targeted three times in the game and had one catch for eight yards. You better believe that will be addressed during Sunday's film session.
— Seven penalties for 44 yards is still way too sloppy.
---
I thought that was the best game that defensive end Jhaustin Thomas has played as a Cyclone. Another defensive line standout was J.D. Waggoner, who had six tackles.
— Tune into CBS Sports Network tonight at 9:30 if you want to get a good look at Iowa State's next opponent, San Jose State, who will host Utah.