Sep 24, 2016; Ames, IA, USA; Iowa State Cyclones running back Mike Warren (2) celebrates after his touchdown against the San Jose State Spartans at Jack Trice Stadium. Mandatory Credit: Reese Strickland-USA TODAY Sports
AMES — Can San Jose State just come to town every Saturday?
Just kidding. Well, kind of.
Generally when I cover a game, I like to get a head start on writing to get instant analysis up on the site as soon as possible (because I love you guys).
But I assume I was a lot like many of you during Iowa State's (1-3) 44-10 rout of San Jose State (1-3) on Saturday afternoon. I just wanted to kick my feet up, sit back and enjoy it!
Days like this just don't come around very often.
There is a lot to analyze here but before I get into any specifics from the win, let me begin with this: Yes, I know the win was against San Jose State. The Spartans aren't Alabama. But don't lose perspective that this Iowa State team has come a very long way since an embarrassing week one loss to UNI. In fact, I'll go on record saying there is no way Iowa State beats this San Jose State team the way it did today if these two teams would have met in week one.
It's important to take a win like this in stride and keep things in perspective, but there is no reason why fans shouldn't be happy and optimistic about what went down on Saturday either.
Before some analysis, here are a few quick stats to prove how positive the win actually was: 
*** Iowa State's first punt of the game occurred in the third quarter. When was the last time that happened?
*** Iowa State's first penalty of the game was called at the 9:32 mark in the third quarter. The Cyclones were only called for three penalties for 25 yards on the day.
*** Iowa State's defense recorded interceptions (Kamari Cotton-Moya, Brian Peavy, Jay Jones and Jomal Wiltz), so that's cool.
Most INTs for the #Cyclones (4) since recording five vs. South Dakota State in 2008. Cotton-Moya's first career INT.

— Cyclone Football (@CycloneFB) September 24, 2016

*** Mike Warren ran for 103 yards and a touchdown.
*** Iowa State averaged 8.2 yards per play in route to 503 yards of total offense.
Iowa State's 8.2 yards per play were most in game since at least 1999. I quit looking from there. I'm lazy.

— Brent Blum (@brentblum) September 24, 2016
Here are five immediate takeaways from the first win of the Matt Campbell era. Check out Cyclone Fanatic later today for complete coverage from our team of the big win.
Analyzing the quarterback conversation
I'm not quite sure where to start here because both guys were pretty good. In fact, Joel Lanning and Jacob Park EACH finished the game with quarter back ratings of over 200.
But Park was better and with that, I'll say that he won the day. For a guy who hasn't played actual football in over two years, Park's pocket presence right now is incredible. His 15-for-19 stat line (with 165 yards and three touchdowns) confirmed what we already knew – he is a more accurate passer than Joel Lanning.
Lanning did some good things too though. His third quarter 49-yard touchdown pass to Deshaunte Jones was a thing of beauty. However Lanning missed an easy pass early that would have resulted in a first down.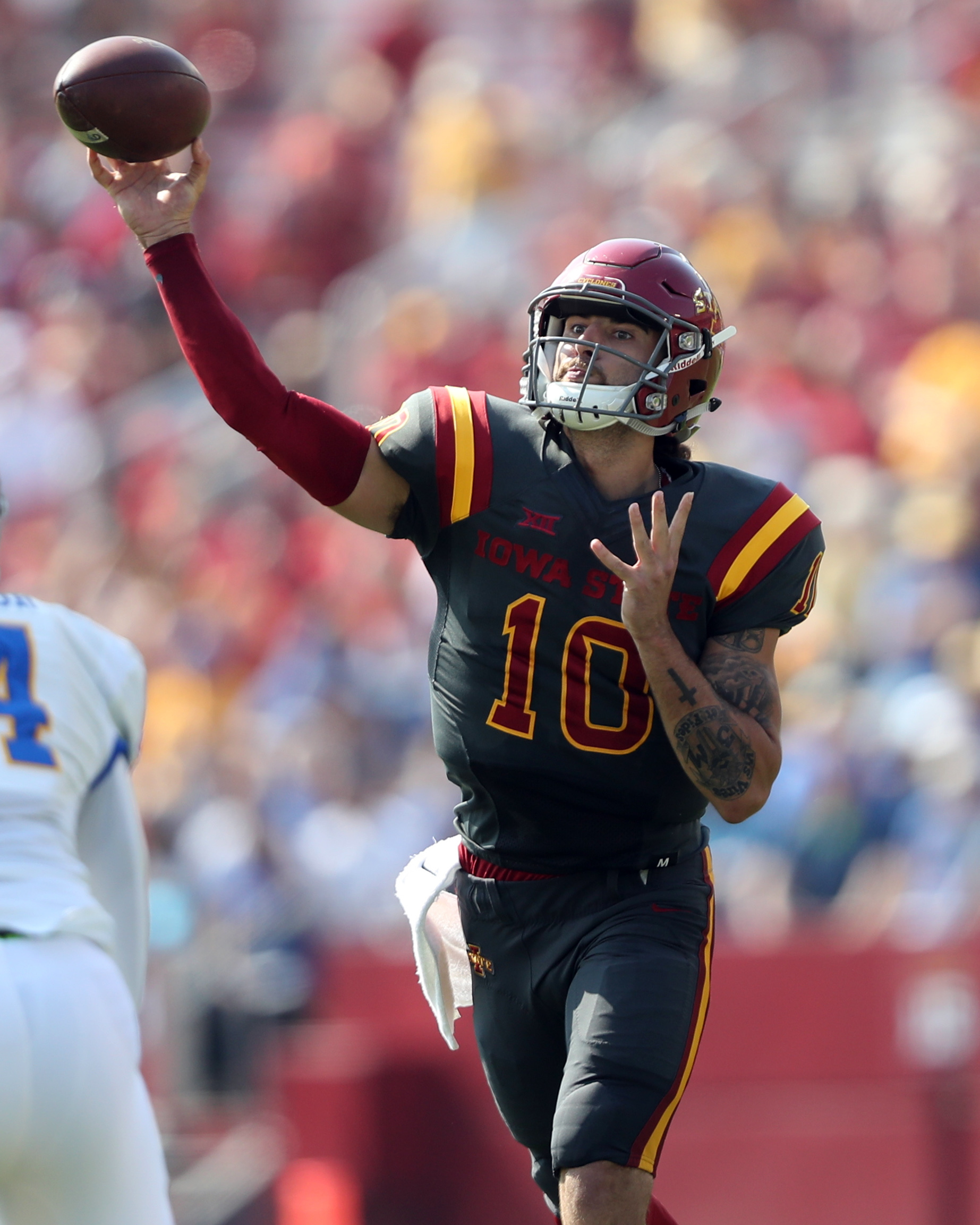 Park wasn't perfect either. Three times specifically he telegraphed passes that were almost – and I'd even say should have been intercepted.
The big question: Where does Campbell go from here?
I still think there is plenty of room (and reason) to play them both. Tweak it some. Use Lanning's strengths to your advantage. Use Park's as well. I do think Saturday's performance by Park moves Iowa State past the point of scripted possessions for each signal-caller though.
I also don't believe that Lanning is accurate enough of a passer for this team to win with him throwing the ball 30 times a game. Lanning only ran the ball once on Saturday. If that isn't part of the scheme when he is in the game, it's hard to make a case for Park not being the primary guy.
We will see.
I'll reiterate though that Park definitely won the day. Still, I'm not sure we have come to a quarterback controversy conclusion quite yet either.
Stay tuned.
More progress up front on both sides of the ball
Starting with the defense, as the Cyclones made life a living hell for San Jose State's below average offensive line.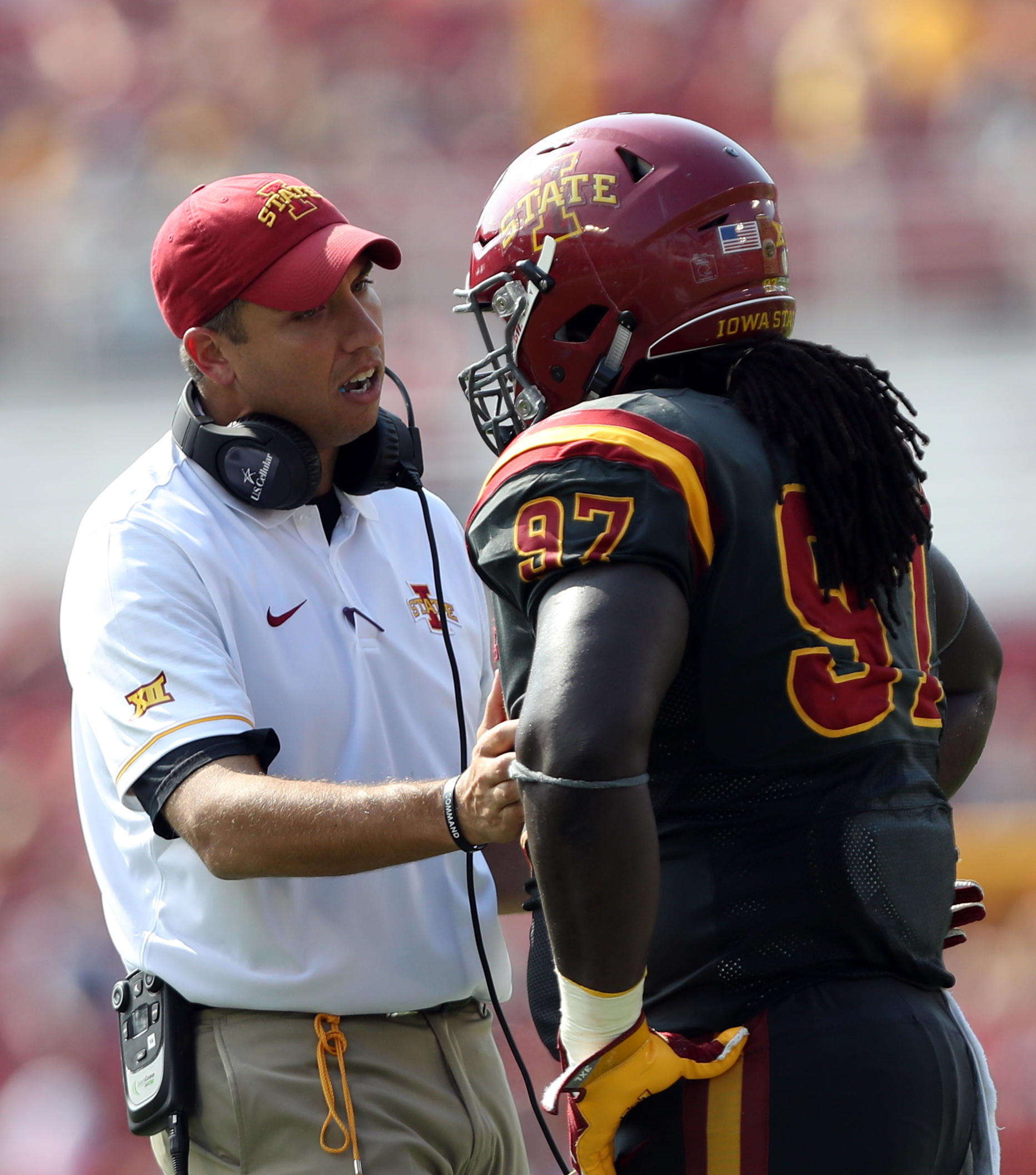 Spartan quarterback Josh Love was sacked four times and hurried twice.
I thought that junior Jhaustin Thomas played great for the second week in a row.
Iowa State gave up 177 rushing yards, which was a big concern early, but made adjustments and got better throughout the game.
The offensive line was fantastic. The Cyclones ran for 187 yards and protected Warren and Park all day long. Iowa State did not give up a sack.
Cyclone Radio Network sideline reporter Ben Bruns praised Brian Seda and Nick Fett throughout the game.
The most depleted group on this roster has gotten better every week this season. It's hard to ask for much more.
Production from the youngsters
There are a lot of young guys playing for Iowa State these days and they are producing as well.
One example is true freshman wide receiver Deshaunte Jones, who had three catches for two touchdowns in the win.
Defensively, true freshman Jaquan Bailey was a monster on third down and recorded his second career sack in only four games.
I love true freshman running back David Montgomery (seven carries for 34 yards). He's got some serious twitch.
Alternate unis were legit
 I've been writing for years that Iowa State needed to get in the alternate uniform game. I give the charcoal look that the Cyclones sported on Saturday an A+.
According to a source, the team did not know it was wearing alternates until it arrived in the locker room on Saturday morning. It was a cool morale boost for an 0-3 team looking for something to smile about.
And if you didn't like the uniforms, just remember that it isn't about you. It's about the players and potential recruits, who absolutely love these types of things.
Continued improvement
Earlier this week, I explained on the radio about how after the Iowa game I had changed my attitude and expectations for the season.
I just want to see this team improve and give fans hope for the future of the Matt Campbell era.
Since then, the penalties (especially pre-snap) are down. The Cyclones have some flow offensively. We have seen constant improvement at every position on the field and the thought of winning a couple of Big 12 games isn't crazy.