Sep 24, 2016; Ames, IA, USA; Iowa State Cyclones running back Mike Warren (2) celebrates after his touchdown against the San Jose State Spartans at Jack Trice Stadium. Mandatory Credit: Reese Strickland-USA TODAY Sports
I don't know about you guys, but I cannot wait until Saturday.
For the record: I don't think that the Cyclones will beat 13th ranked Baylor (11:00 a.m. on FS1). In fact, I'm not even sure that they will cover the 16.5-point spread (gun to my head, I'd bet Baylor).
But I am excited about this team's improvement though and have hope for the rest of the season. Here's why.




Offensive line improvement and continuity
It's a trickle down type of situation on offense and it should come as no surprise to anybody that once the line began to play like a competent Big 12 unit should, the rest of the skill players improved with it.
That started down at TCU and carried over to a 44-10 rout of a below average San Jose State team.
Saturday's game with Baylor will make the third straight game that the same starting five will get the nod up front. Baylor is no doubt a lot better than San Jose State, but the Bears don't have the studs (or depth) up front that they did a year ago.
Barring injuries, this group will keep getting better and because of it, so should the rest of the offense.
The "M" position
In addition to the improvement up front, Iowa State's offense seems like it is finally developing some sort of an identity. Of course, Mike Warren and the running game have a lot to do with that. So do Allen Lazard and Dondre Daley on the outside. The dueling quarterback system is fun.
But it's the "M" position in Iowa State's offense that intrigues me the most right now, especially with the attention that defenses are required to give a competent running game (when the line and Warren are clicking) along with Lazard out wide.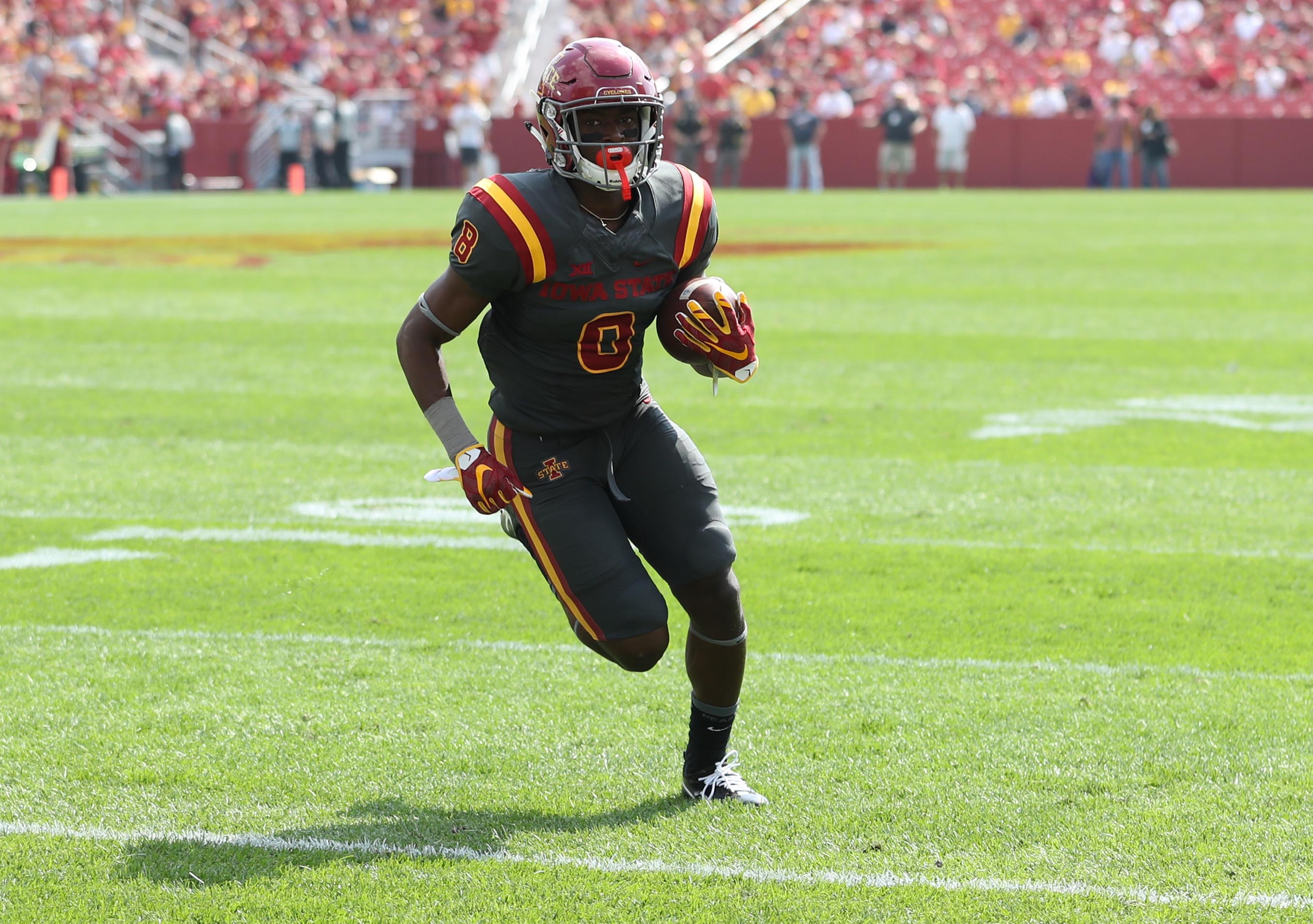 The combination of Trever Ryen and Deshaunte Jones combined for three touchdowns in the San Jose State game. If you combine their stats on the year (Ryen and Jones both play "M"), that position has 19 receptions on the season – more than any other Cyclone on the roster (Lazard notably has 18).
When you talk about "identity" and the future of Iowa State football's offense, it looks like this "M" position is going to be a major part of it.
Jhaustin Thomas
The potential for Thomas, a 6-foot-6, 275-pound senior defensive end has always been very real. After playing the best two games of his career vs. TCU and San Jose State, it finally appears that things are starting to click.
Jhaustin Thomas of @CycloneFB leads all Big 12 defensive ends in pass rush productivity. 9 pressures on 56 pass rush snaps. 👊 pic.twitter.com/Dl5a5BHQjZ

— PFF College Football (@PFF_College) September 29, 2016
Opposite of Thomas (on third down), true freshman JaQuan Bailey has shown some real promise in the first four games of his career (collecting two sacks).
It's encouraging to see Iowa State get some pressure on the opposing quarterback without having to bring pressure, which leads us too…
They say turnovers are contagious… 
Maybe it's a cliché. It might be a cliché. It probably is a cliché.
But hey, we are being positive today.
Watching Iowa State force four turnovers last week was an awesome thing, especially when you consider the fact that Iowa State ranked 120th nationally last season in takeaways.
Other than what we saw on Saturday (combine the pressure against a bad offensive line and the interceptions against a bad quarterback), I have no reason to believe this will continue. But I have seen Iowa State's defensive backs drop dozens of possible interceptions over pass two years. They have been in position quite often and simply failed to execute.
Will the success against San Jose State result in a confidence boost to make some of those plays in the future?
Stay tuned.
The Big 12 is down
This doesn't change the fact that Iowa State will likely be an underdog in the rest of its remaining games (other than Kansas).
Heading into the season, I suspected that this would be a down year for the league but not by this much. The 2016-17 Big 12 features a bunch of good teams but not one great one.
TCU, who Iowa State competed with (on the road), is only a 3.5 point underdog to the perceived class of the league (still after a 1-2 start in my opinion), Oklahoma on Saturday.
I just don't think that the league is very strong this year and it's a shame that Iowa State is in the middle of a transition.
If Iowa State keeps improving and stays free of major injuries, there really isn't any reason why the Cyclones can't win at least a couple more games this season and head into year two of the Matt Campbell era with some positive on-the-field momentum.
Are you guys pumped up now?