A pair of Iowa State walk-ons got some good news this week. Senior special teams contributors Josh Jahlas and Jack Spreen have both been placed on scholarship by Matt Campbell.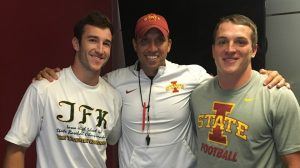 Jahlas, a native of Cedar Rapids, has won the Jim Doran Award, the program's prize for special teams player of the year, the last two seasons. He's recorded 21 tackles during that span.
Spreen, who is originally from Bedford, Ind., tallied three tackles last season and was named the program's best walk-on in 2014.
"They are both so deserving of a scholarship," Campbell said in a statement. "The sacrifices and hard work they put into our program hasn't gone unnoticed."
Both guys had a role in the story that went viral earlier this year in which a group of Iowa State football players saved a woman's life after pulling her from a sinking car while on a spring break trip.