A couple weeks ago, Cornell football coach David Archer called Iowa State director of scouting John Kuceyeski with a dream proposal. He wanted Kuceyeski to come coaching his running backs and fullbacks.
After an interview and a few weeks of thought, Kuceyeski's dream to coach will be reality. He's accepted the position as the Big Red's running backs coach and will leave Iowa State next week.
"Got an opportunity to coach and its been something I've wanted to do since day one," Kuceyeski told CF after a whitewater rafting trip in Montana on Friday. "It's a great opportunity for me, obviously not easy to leave the guys here in Ames, but something I've always wanted to do and kinda came out of nowhere. That's sort of how this stuff works and it moves fast."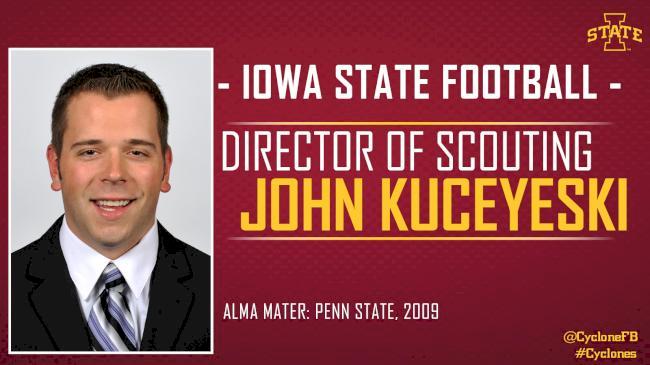 Kuceyeski, a Libertyville, Ill., native, was one of Matt Campbell's first hires while he put together his staff at Iowa State. He also played a crucial role in signing one of the highest rated recruiting classes in school history last February.
He started his coaching career as a student-manager and undergraduate assistant at Penn State, then spent three seasons at Northwestern. He also spent one year at West Michigan as the director of player personnel.
His work with Campbell started in 2013 when he took over as the Rockets' director of football operations and director of high school relations.
"Obviously, I've been off the field with Matt for the last few years," Kuceyeski said. "You know, when you want to coach and when that what you want your profession to be, it's an opportunity to do that. So it's something I couldn't pass up."
Kuceyeski is the second member of the Iowa State football operations staff to leave in the past few weeks after Nick Uhlenhopp left to take over as the director of football operations at Western Michigan. 
It seems likely that Campbell will move quickly in filling the hole left by Kuceyeski, whether that will be a hire from inside the program, or out, is unclear.
"I'm sure he'll move fast," Kuceyeski said. "I'm just not sure who he'll hire but he's been really good with me and I've been honest with him from the start of this. He's been very aware of my goals so he's been really supportive of me which is awesome to have."