A tumultuous Monday for the Iowa State women's basketball program ended with a handful of players – some African-American – backing head coach Bill Fennelly. 
Earlier in the day, the Associated Press reported that former Cyclone Nikki Moody had sued Fennelly, Iowa State University and the state of Iowa for discrimination and retaliation. 
Early Monday evening, Iowa State responded via a press release stating the following:

One player that was specifically mentioned in the lawsuit is Chassidy Cole, who played her final season for the Cyclones in 2011-12. Here's a look at what the 12-page document said regarding Cole and Fennelly. 
On Monday evening, Cole exchanged these text messages with me: 
CW: I guess after today's events, what are your thoughts? In your time at Iowa State, did you ever feel like Coach Fennelly did anything that was racially motivated?
CC: "NEVER. Nothing was ever racially motivated. I think he had high expectations for all of his players, some more than others based off of their role within the team. I've never seen him as a racist or witnessed him being racist toward any player."
CW: Within the lawsuit, your name was mentioned at one point. It alleged that coach said something along the lines of you ending up in jail and calling you a "thug?" So you're saying that never happened?
CC: "He's never made any comments toward me or my family that I felt was discriminatory or racist ever in my career."
There's more…
Another former Cyclone, another African-American, Denae Stuckey sent me the following text message in support of Fennelly.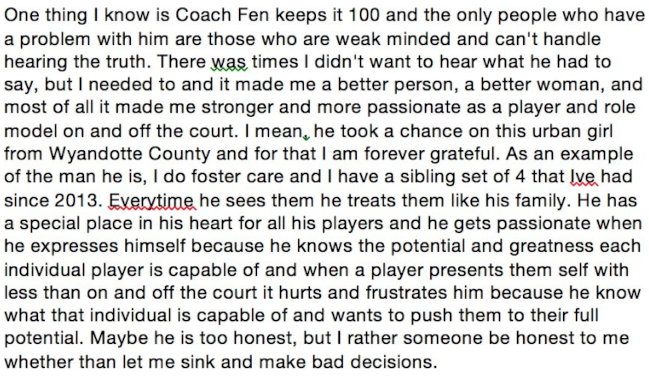 Perhaps the strongest quote in support of Fennelly came from Kidd Blaskowski, who played three seasons beside Moody in an Iowa State uniform.
"He treated me like any other of my teammates. He was a father figure to me," Blaskowsky told WHO-TV 13. "I don't think he made it miserable for us. I think she did."
Kidd said a lot more, which you can see in the above video that was produced by reporter John Sears. 
Screenshots of other former players (these are only a few) backing their coach can also be seen below:
Alison (Lacey) Otzelberger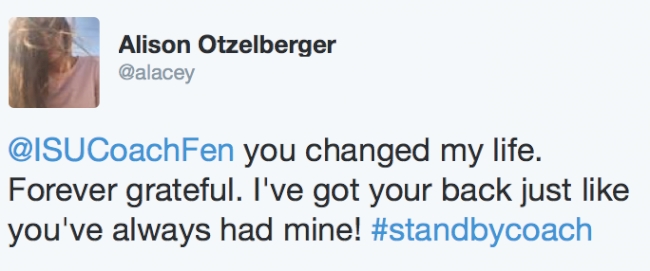 Kelsey (Bolte) Carper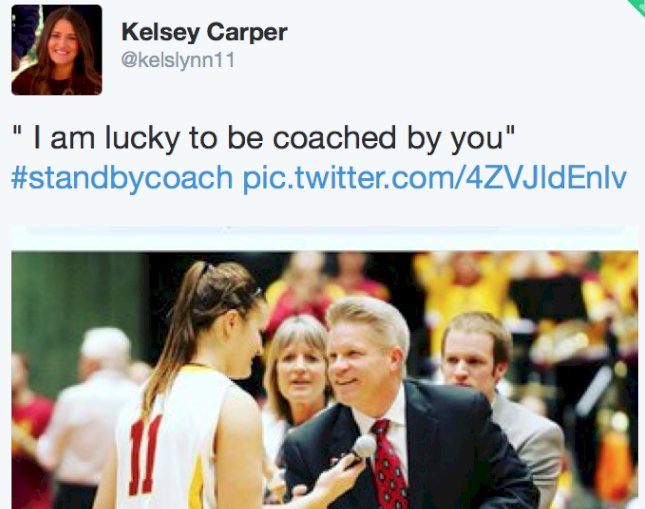 Heather Ezell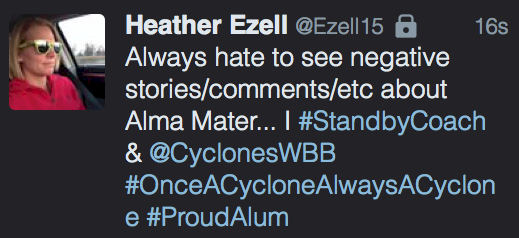 Chelsea Poppens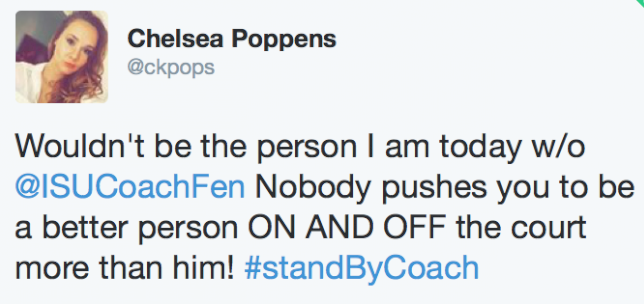 Lyndsey (Medders) Fennelly