Former Iowa State running back Jeff Woody remembers well the exact moment he knew his college football coach, Paul Rhoads, came from straight-shooter stock.
 It happened to be the first time Rhoads opened his mouth.
 Woody and his parents sat down with Rhoads before joining the program as a walk-on in 2009.
 The then-brand new Cyclones head coach immediately impressed them with his bracing honesty — a quality in short supply as they visited other programs.
 "The amount of smoke that got blown at you like, 'Hey, you're great, you should come play for us, we really want you, you'd be a great fit, but you're going to need to walk on,'" Woody recalled Sunday after news of Rhoads' firing after seven seasons broke. "You know, you're really good, but you're going to need to walk on.' Well, don't tell me I'm really good if I need to walk on. And I met with coach Rhoads and he didn't lie at all. 'My dad asked, 'Why is my son not getting a scholarship?' He goes, 'Because I haven't seen his film. I don't know anything about him. His stats are good from what I've seen on paper, but I haven't seen him play. If he proves that he (deserves) a scholarship, we'll give him a scholarship, but I don't know.' That just told me he's a guy that's just honest."
 Honesty can, but doesn't always, keep you in good stead on the W-L ledger. In Rhoads' case, the 'L' side gathered the most momentum in recent years. He hadn't led the Cyclones to a bowl game since 2012 and athletics director Jamie Pollard finally pulled the plug on his tenure Sunday morning.
 Rhoads compiled an impressive resume, especially early, as that first team — with Woody wearing a redshirt and still a walk-on — went 7-6, including an Insight Bowl win.
 Rhoads breathed fire. He exuded genuine likability. The kind of guy you'd sign up to battle alongside, anywhere, at any time. The kind of guy whose lessons, if properly absorbed, carry on beyond eligibility.
 "That stuff just sticks with you," said former defensive tackle Jake McDonough, who will help coach West Des Moines Dowling Catholic's defensive line in Monday's Class 4A state title game. "I was fortunate enough to be under some great coaches and they prepared me enough to have some opportunities to play some pro ball."
 Rhoads is all about providing opportunities. There's Woody. There's Jake Knott, who clutched just one mid-major D I offer before Rhoads swooped in to recruit him. There's current walk-on-turned-scholarship-player Trever Ryen, as well as Levi Peters, who followed the same path in the past. Countless others who were underestimated and counted out —whether as walk-ons or scholarship players — have been molded and improved under Rhoads, who will speak to reporters tomorrow (along with Pollard).
 "He's a class act," said former Cyclone standout quarterback Bret Meyer, who played under both Dan McCarney and Gene Chizik. "He's an Iowa guy and he represented us well."
 As did McCarney, until too many losses piled up for him, too. Meyer remembers the day he went through the coaching change which ushered in Chizik's ill-fated two-season run. 
 "I just thought about it this morning when I started seeing things unfold on Twitter," Meyer said. "I can remember the day where we kind of had heard some things, and then a team meeting was scheduled that's usually not scheduled. You'd drive up there, I remember seeing all the news trucks parked outside our facility. I mean, just sitting in my quarterbacks coach's office and the family's in there. There's tears."
 Inevitable or not, moves are hard. Bonds have formed. New ones must be started — especially for the players and recruits who remain. 
 "It's a tough situation," Meyer said. "You really do have to build those personal relationships, but then you get to build them with the new coaches as well. As a player, you just have to look at it as more of an opportunity than just the worst scenario that you can think of."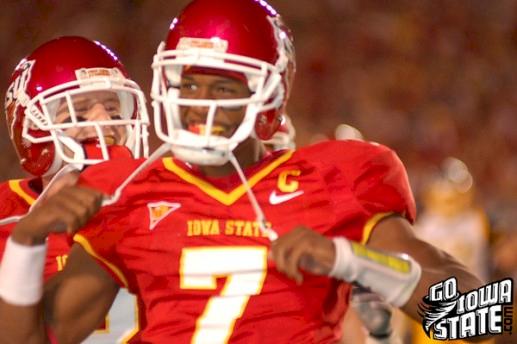 There's that word again: Opportunity. It exists for both sides of this equation. Woody said Rhoads— when and if he chooses to — will get another defensive coordinator job in "about 35 seconds." His staff will likely have options, too, as will players.
 Meyer said it will be crucial to keep a talented, mostly young nucleus on offense on campus, as coaching changes can lead some players to start looking around.
 "We have some talent offensively," Meyer said. "Obviously Joel (Lanning) looks like he's the guy. He looks like he's going to be able to win us some games. And Mike Warren and (Allen) Lazard — the biggest thing right now is just making sure we keep all those guys intact, because I guarantee, especially with Mike Warren that there are probably schools already on the phone trying to get ahold of him and recruit him away. So if we can keep everybody intact and we manage to keep our class together recruiting-wise, I think we definitely have some opportunities to have some success next year, depending on what type of style this new coach is going to bring."
 Speaking of style, Woody has some ideas about that.
 "You're not going to be able to keep up with Baylor and TCU and Oklahoma and Oklahoma State in the state of Iowa," he said. "You can't. You cant get that same speed, you can't get the same recruits. But you can get dudes who are really technically sound. You can get guys that are tough. You can get guys that fight. Look at Kansas State, that's the model, That's what you have to try to emulate as they just do everything really well and they play really hard-nosed football."
 Woody added that retread coaches — read those who had success in the past and have been biding there time for a second chance — might not be the best choice.
 Instead, look for the attributes he details below.
 "You have to have a winning attitude to bring into these players," Woody said. "The things you have to have are: (1) a history of winning; (2) a personality that's not going to turn guys off coming from coach Rhoads to this new guy and you have to have a great strength staff to come with him, or you retain the same guys, because the strength staff was the lifeblood of that place and everybody knows this. They were as good as anybody in the country. And then I think the final thing he has to have is he's got to be honest. it's going to all come together if you do that."
 So it comes full circle. Back to honesty. Integrity. A guy you can trust. Rhoads delivered consistently in those areas. The key is moving beyond that and discovering that ever-elusive quality at Iowa State called "consistent winning."
 "It was just one those things where there was just something missing towards the end," Woody said. "And I think it was just the, 'It doesn't matter what's going in, I'm going to win anyway,' (mentality). And that was present up until that (2011) Oklahoma State game and then we won and then all of a sudden these things happening — I don't know where, it was just a gradual thing over time. By my senior year it wasn't there anymore — of, 'Regardless what happens, we're going to win.' I think that continued going and I don't know where it went, what happened, who's to blame, who's at fault, but it was there and it's undeniable. And that can't continue because you're just going to continue to be losing."