Their banners hang next to each other at Hilton Coliseum, No. 14 and No. 32, forever intertwined in Cyclone legend. They are two of seven jerseys officially recognized at Hilton, both 6-foot-4 shooting guards, second round NBA Draft picks that proved doubters wrong with decade long service in the Association. 
In some capacity, they have been involved in two of the four Sweet 16 appearances at Iowa State in the last 70 years. Jeff Hornacek and Fred Hoiberg: Cyclone icons.
Hoiberg mans the sidelines for the Chicago Bulls as they travel to meet Hornacek's Phoenix Suns tonight. A matchup of Cyclones in the NBA. Yes, two of the 30 head coaches in the world's greatest basketball league are Iowa State grads. That's something the blue bloods like Kentucky, Duke, North Carolina, Michigan State, Kansas and UCLA can't claim. The only other school with multiple current NBA head coaches is Arizona State. It is a mind boggling probability considering Iowa State currently has no active NBA players and hasn't been a thriving NBA factory over the years. But ask anybody that has met Hoiberg and Hornacek and they wouldn't be surprised, these two men that were both pupils of Johnny Orr were destined for the highest level.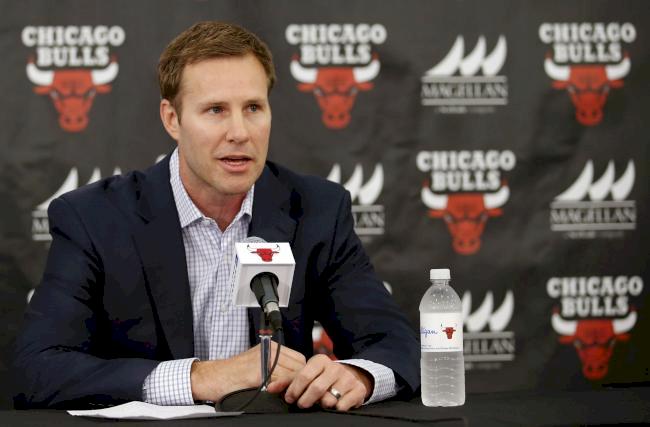 Without Hornacek, Hoiberg may never have become the Mayor. As the legend goes, one of Hoiberg's first Hilton experiences came as a ball boy in an exhibition game in the mid 80's. Hornacek had a driving layup and careened towards the ball boys, accidentally stepping on young Hoiberg, causing Hornacek to sprain his ankle.
There is no way either could have known the significance of that first meeting.
Hornacek would fortunately recover and with the help of  Barry Stevens, Jeff Grayer and the theatrics of Orr,  brought the Magic to Hilton. It was Hornacek's game winner over Miami (OH) that gave Iowa State its first NCAA victory in 42 years in 1986. 
Hoiberg was recruited by many top programs, including Arizona and without the Cyclone resurgence under Hornacek, Hoiberg may be another Harrison Barnes. But the local boy stayed and the rest is history.
And yet despite all the similarities and histories, they will meet on the same floor for a meaningful game for only the fourth time tonight in Phoenix. 
Their first meeting as players came back in December of 1996 when Hornacek was the starting guard on the Western Conference's best team, the Utah Jazz. Hornacek had turned himself into an NBA All-Star and was perhaps best known as the trade piece the Philadelphia Sixers coveted in exchange for Charles Barkley in 1992. His Jazz squads would have gone down as one of the great dynasties, yet could never get beyond Jordan's Bulls. But on this night in 1996, Hornacek got the best of Hoiberg, scoring 15 points and dishing out five assists. Hoiberg, struggling for playing time with the Pacers behind Reggie Miller, scored two points in 10 minutes in the Jazz' 110-86 win.
That was often the story for Hornacek and Hoiberg. Hornacek's Jazz never lost to Hoiberg when he played on the Pacers or when Hoiberg played under Tim Floyd's Bulls. 
For two icons with strangely similar pasts, their worlds rarely came together. Hornacek sparingly returned to Ames and was unable to make it back for Iowa State's All-Century festivities in 2008. Hornacek never seemed to be the type to seek publicity or need accolades from the Ames natives.
 That is until the summer of 2015, a few days in June that nearly sent Cyclone Nation into a Hoibergcek frenzy.
After Hoiberg announced his intentions to take the Chicago Bulls position, the fan base focused their attention on Hornacek. It made for the perfect Cyclone story: one legend follows another. But Hornacek's interest was never quite "legitimate" as outlined in a bizarre series of events by Chris Williams here. 
The entire episode was a surreal reminder that some story books are better off as fiction. While Hornacek is a great basketball mind and doing a tremendous job with his 6-4 Suns, the connection and interest in Iowa State was a bit too convenient. It made for great, twilight zone type headlines, but all parties are better off in their current roles. Hornacek stayed with the Suns and through 10 games they have been a pleasant surprise in the NBA. Hoiberg's Bulls are 7-3 and after some rough early season patches, are winners of three straight. His players already are heaping praise on Hoiberg's demeanor and style, while the media is still unsure about his defensive schemes. Some things never change. 
Nonetheless, it will be fascinating television to see Iowa State be the center of a nationally televised NBA game tonight. A game that will have no Cyclones in uniform. But there on the sideline will be two living Cyclone legends, matching wits in the best league in the world, employing the same up tempo style that made Cyclone Basketball what it is today. 
No doubt somewhere Coach Orr will be smiling down at two of his most famous understudies saying the only way Johnny can, "Two of my guys in the NBA, that's a helluva deal, Coach."