AMES — Evaluating any season opening victory is preposterously difficult for an over-thinking hack like myself. This is especially the case in the sport of college football, where fans and media alike spend a lengthy seven month offseason dissecting rosters, over-analyzing recruits, ranking schedules and talking about hot seats until we are blue in the face.
After witnessing Iowa State's decisive 31-7 victory over Northern Iowa on Saturday night, I honestly could write 5,000 words about what the 61,500 fans in attendance saw. 
Ups and downs, fans of the Cardinal and Gold saw plenty of both in the opener. Refreshingly however, for the first time in a long time, the game was clearly decided before the fourth quarter began. That leisure period was much deserved by a dedicated fan base that hasn't been rewarded much over the last two years – so props to you guys for being able to kick your feet up a tad. 
I want to begin my analysis of the win with a bit of a critique though. 
A win is a win and after the last two seasons, all Iowa State fans deserve to celebrate it. But really, beating UNI by 24 points is something that a Big 12 team SHOULD do in its opener.
Why go negative here? That's the thing…I don't really see the following breakdown as a negative. It's stone cold reality and what I believe to be constructive.
If Iowa State is going to exceed expectations this season, it will all start with a guy I've always had faith in and still do, starting quarterback Sam Richardson.
Richardson was fine on Saturday. In fact, I'll go as far as to say that he was good. His final box score of 21-for-29, 233 yards and two touchdowns looks suitable on paper but for much of the first half, the fifth-year senior looked like the identical guy we watched the last two years. Richardson looked uncomfortable in the pocket. He took four sacks and ran the ball seven times – none of which I recall were designed. 
For the most part, he looked like the same timid guy who has rightfully drawn critiques over the last two years. I guess I expected more from Richardson and as a whole, the offense that only produced 310 yards. Iowa State only led 10-7 at the half despite having starting field position on the right side of the 50 four times.
The good news is here that Richardson eventually snapped out of his early game struggles, made some tough throws and finished the game well. He bounced back nicely from adversity and that's important because the following is the current reality for Sam Richardson: His 0-15 record as a starter in the Big 12 will continue to follow him around. The time is now.
Sam has got to be better next week for Iowa State to beat what looks to be a much-improved Iowa team. 
MORE OFFENSIVE OBSERVATIONS
THE LINE: With Daniel Burton being out due to injury, here's a tip of the cap to Jamison Lalk, Wendell Taiese and Oni Omoile. I thought the interior linemen were not great, but pretty good. Burton is probably Iowa State's best lineman when healthy so to see those three perform they way that they did was encouraging to me. Iowa State actually got some push in the run game and it's been a long time since we've seen that, regardless of the opponent.
RUNNING BACKS: Even after having a few hours to process it, I can't wrap my mind around Iowa State's substitution patterns at running back. For instance, Tyler Brown (below) ran for 50 yards on four carries in Iowa State's first possession of the game. Brown, who finished the night with a career-high 68 yards, didn't receive his fifth carry until the third quarter.
Why? 
After seeing the combo of Brown, Mike Warren and Joshua Thomas in action, I'm confident that if healthy, it's a group that's capable of winning in the Big 12. Obviously the line play has to be there for this to occur though. 
LAZARD: I feel like Iowa State's 2-10 record last season really took away from how good of a freshman year Allen Lazard actually had. It's almost as if because all of the negativity, we forgot about how talented this kid actually is. From special teams (his 100 punt return yards) to his four catches for 43 yards and a touchdown, it was pretty clear to me who the best wide receiver on the field was for Iowa State in the opener. 
HOLY DEFENSE
To me, there's no more important story to come out of Saturday than the success that was Iowa State's 3-4 defense. It was a one game sample but really, the difference between last year's defense and what we saw against UNI was so significant that it's difficult to put into words. 
Do you guys remember how awful the D was in game one last year against North Dakota State? I'm getting nauseous just thinking about it.
When was the last time you saw an Iowa State defensive line apply that much pressure on a quarterback (against any opponent) without sending additional pressure? Those were three man fronts some of the time! 
There's no doubt in my mind that Demond Tucker is the real deal in the middle. I've been told this all summer long and he proved it in a game setting. Dale Pierson's three-sack performance was historic in the sense that it was the most by a Cyclone in a game since Jason Berryman in 2005. Jhaustin Thomas (below) showed glimpses of being a beast. Iowa State sacked UNI six times and a starting defensive end, Trent Taylor, didn't play due to suspension. I'm very enthusiastic about this group.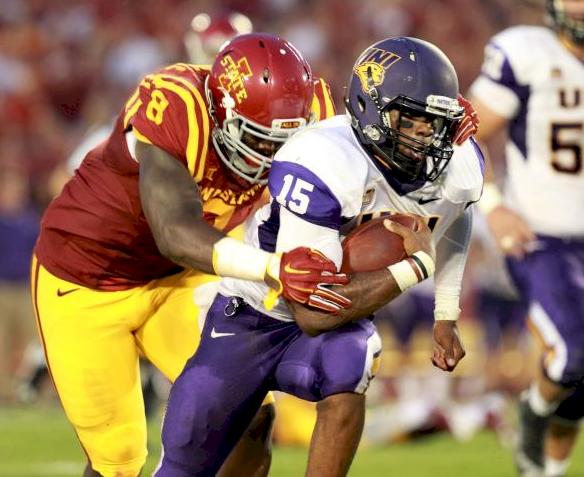 LINEBACKERS: Here's a note I took in the third quarter about Jordan Harris, who along with Jay Jones, led Iowa State with nine tackles in the win: "Jordan Harris hits dudes so hard it makes me nervous that he's going to injure himself." 
Jones looked like a legitimate Big 12 player, as did his backup, Reggan Northrup.
How does a guy not love Levi Peters?
It's still safe to take the wait and see approach with these guys but as a whole, I find it hard to believe that anybody expected anything better than the performance put together by Iowa State's defense on Saturday night. 
THREE YOUNG GUYS WHO STOOD OUT
Sam Seonbuchner: The redshit freshman linebacker played a lot.
Brian Peavy: Is it me or did he and Jomal Wiltz (who was also impressive) play more than Sam E. Richardson?
Trever Ryen: It's impossible not to love Lazard at punt return but Ryen's 81-yard burst in the fourth quarter was good to see. If he continues to develop and there isn't a dropoff in production, not having to put Lazard back there would probably be a positive thing for this football team.
FINAL TAKE
Unfortunately, I was right.
My one big prediction heading into the UNI game was that we would all leave Jack Trice Stadium impressed by the defense and underwhelmed by the offense.  
Despite the 24-point win, I'd say that's exactly how I feel heading into Cy-Hawk week.
I have no idea how good Northern Iowa is. If I had to guess, it would be that this is going to be a bit of a rebuilding year for the Panthers. As we've covered, Iowa State has plenty to work on this week but the silver lining here is that for the first time since 2012, the season isn't over after week one. That's essentially life as a Power 5 school after losing to an FCS opponent.
There's a lot to build on here for Paul Rhoads' program and next week should be a lot of fun.