AMES — It began with a cut.
 A bad contusion, but one that would seemingly heal quickly, allowing ISU's athletic 6-8 offensive tackle Brock Dagel to be back on his feet, strong and healthy, primed for a breakout 2014 season.
 It didn't happen. A staph infection set in and lingered. Dagel recovered enough to start the first four games of his junior season, but surgery was eventually required and yet another Cyclone big man fell prey to the injury bug.
 "It was a very weird, odd deal," said the 300-pound senior, who's as healthy now as he's been in years. "Training staff, strength staff hopped right on it. Did the best they could and I worked hard and basically got it as strong and feeling good as I could. Went through probably a year process to get it back."
Weird? Odd? Those words have applied in exceedingly bad ways to injuries in general for the Cyclones the past two seasons, but particularly on the offensive line.
 A funny thing happened this spring and summer though. 
 There were no apparent setbacks — only progress.
 Front-line trench-dwellers such as guard Daniel Burton (below) were limited in spring ball and emerged stronger, fully healthy.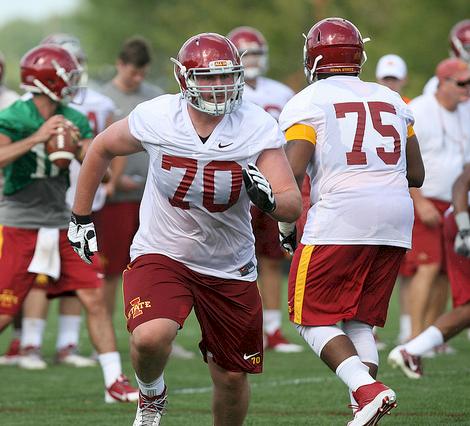 Which begs the question: Is 2015 the year ISU's O-line finally remains that way throughout the season?
 No one knows, of course, but it's far healthier entering fall camp this season than it has been the last two.
 "There's a lot of guys that have played games and everybody's healthy and the way they need to be," said Burton, one of only four Cyclones to start all 12 games last season. "We've got four guys, this will be their last go-around and I think they're really desiring and striving for success. Guys that still have more time, we're right there with them and we want the best for them. Really looking forward to a good year."
 ISU, partly because of banged-up bodies, struggled up front last season.
 The Cyclones ranked 105th among FBS teams in rushing offense, averaging 124.1 yards per game. The passing game produced a solid 248.4 yards per game (50th nationally), but ranked 95th in sacks allowed, with 2.5 per game.
 The key to improving all those numbers?
 Another layer or two of toughness, offensive coordinator Mark Mangino said. 
 "I think we've got to be better fundamentally and we've got to be tougher," Mangino said. "Mentally and physically tougher at that position. If our offensive line just has those two attributes, mental and physical toughness, we will be a much, much improved offensive line this year."
 Now, all linemen are tough. This is about expanding, not establishing the trait.
 "It's something that they're constantly not just asking but demanding out of us," the 6-6, 330-pound Burton said. "It goes a long way ,that's for sure. being tough and violent. That can win you games."
 Of course, the leader in the toughness department — one of the team's biggest leaders, period — Tom Farniok graduated. 
 Jamison Lalk will take over at center, with JUCO transfer Patrick Scoggins pushing him for snaps.
 "Both of them are swing guys," ISU coach Paul Rhoads said. "And that would give us roughly five at the center/guard position, which is a good number to have."
 The Cyclones like their numbers all around up front, especially since health has returned to the plus-side of things.
 Sophomore Jake Campos is an emerging star opposite Dagel at tackle and Burton and Oni Omoile enter fall camp as the top two guards. Don't forget how teammates raved about current No. 2 left guard Wendell Taiese in the spring, though. There's decent depth on the O-line as long as the laundry list of injuries doesn't crop back up.
 "Some of those guys have really stepped up and taken control and have been accountable," Mangino said. "There's some younger guys that are starting to demonstrate that — taking the lead from the older guys. And then we have some newcomers in here (e.g. Scoggins and tackle Jaypee Philbert), that when we recruited them, we thought they had at least, that was one of the elements they had, toughness."
 No one should question Dagel's. Last season's weird, odd odyssey made him stronger.
  "We all want the best for Brock and I really hope he can stay healthy all year long," Burton said. "But with the history, you know, we'll see what happens. It's a violent game played by violent people and you don't know. But I thin if he can stay healthy. He's obviously a great asset to our offensive line. A lot of experience. A big guy, a great player. I really enjoy playing next to him."
 Likewise, for Dagel.
 As one of those four seniors up front, he's intent to turn past struggles into current strengths. 
 Time will tell, but the aim is clear.
 "I see a lot of guys with a lot of games under their belts," Dagel said. "A lot of guys who, you could throw something out and they'd spit it right back at you. Guys who aren't going to fold. Guys that I have grown as a player around and I think they feel the same way. So just a bunch of really good all-around players in that room."