Preseason college football magazines are starting to hit newstands and according to Athlon, Iowa State's outlook for the 2015 season is bleak. 
The publication is predicting the Cyclones to go 3-9 on the season with a 1-8 mark in the Big 12. Athlon has Iowa State ranked 74th nationally and ninth (ahead of Kansas) in the Big 12. 
To view Athlon's online edition of its Big 12 predictions, CLICK HERE.
To view Athlon's online Iowa State preview, CLICK HERE.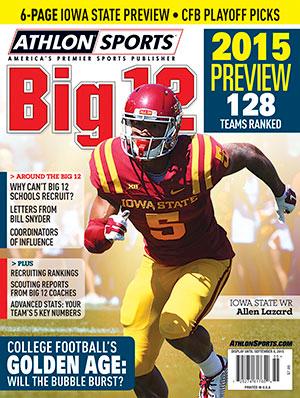 A few interesting notes…
*** When looking at Athlon's Big 12 unit rankings, it's easy to see why the publication has the Cyclones going 1-8 in league play. Iowa State's top ranking is at wide receiver (sixth in the Big 12). Besides that, it's 8 (QB),10 (RB), 9 (OL), 9 (DL), 10 (LB) and 9 (DB) as far as unit rankings go. 
*** Three of Athlon's four experts have Paul Rhoads being the coach with the hottest seat in the league. 
*** Athlon has Baylor winning the Big 12 with an 11-1 (8-1) record. TCU, Oklahoma, Oklahoma State and Texas round out the top five. 
*** Athlon's four-team playoff for 2016: Ohio State (1) vs. Auburn (4) & Alabama (2) vs. Baylor (3).