AMES — First things first: The future success of junior college transfers is as unpredictable as Royce White's Twitter feed back in the day. Let me make that very clear right now. 
Quite often, there is a ton of hype surrounding a JUCO prospect but the transition from that level of ball to the Big 12 ultimately ends up being too much to tame. 
It is no secret that over the last two years, Iowa State's defense has been beaten like a drum. The Cyclones ended 2014 ranked in the bottom 10 of all FBS football programs in scoring defense (118th at 38.3 points per game) and rushing defense (119th at 246.3 yards per game). 
Wednesday's junior college mid-year signing day along with a few noteworthy injury/redshirt nuggets from last year do however offer fans of the Cyclones a glimmer of hope for 2015.
Let's start with the guy everyone wants to talk about, Demond Tucker, the nation's top-ranked JUCO defensive tackle who on recently inked with the Cyclones over Kansas State, Arizona State, Louisville, TCU, Texas A&M, Mississippi and Mississippi State. Listed at 6-foot-1 (although I'd say he is actually more like 5-11), the 285-pound interior lineman by all means should make an impact immediately in Iowa State's two-deep this spring.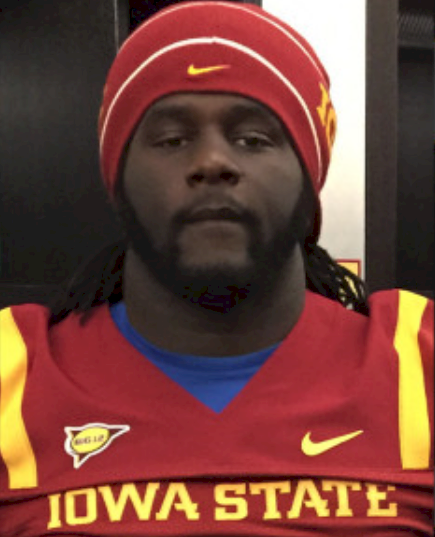 "He's explosive," Paul Rhoads said on Wednesday morning. "He's not tall. He's big. He's still sub-300 pounds but has good girth that way. He uses that explosiveness and quickness to get off of blocks and get to the ball. In this league, you can't have defenders that are stuck on blocks. You have to make plays in the open field and that's all 11 guys contributing to that, not just guys who play in space." 
Tucker was named the NJCAA Defensive Player of the year in 2013 and will be a jolt of energy to the weakest position on Iowa State's roster.
THE IMPORTANCE OF SIGNING IN DECEMBER
It isn't an exact science but common sense says that if you can have a JUCO in January and allow that prospect to train with the team and participate in spring drills, that individual has a better chance of being successful sooner than a February signee. 
"If you would chart it out, guys that arrive in the spring are going to contribute earlier in their first year," Rhoads said. "Guys that come in the summer/fall, second half of the season in their first year you are finally going to start to notice them. 
Two great examples of this are Rodney Coe in 2013 and Dale Pierson last year.
Despite the hype that surrounded his game early on, Coe was horrible during the first half of 2013 but eventually developed into being an upper-tier tackle in the Big 12 by the time his junior season had ended.
In 2014, Dale Pierson was brought in as a summer JUCO who Iowa State had hoped would help beef up a weak defensive front. Pierson eventually did this but the coaching staff had to be patient, as he didn't make much of an impact at all until the last month of the season. 
"I think that is really when Dale came on," Rhoads said. "I think Trent Taylor being at a four-year school before, being at Tennessee and playing probably helped him play sooner than Dale did but I would argue that Dale was playing better at the end of the year than Trent was."
That is the best aspect about Wednesday's news. The most important recruit in Iowa State's 2015 class – Tucker – will be on campus for spring football. As a result, the chances that he will be an impact player next season are greatly increased.
"The track record would be that the sooner they are here, the sooner they are going to play and the sooner they are going to play well because of the knowledge they have gained of the offense or defense and the training that they have received," Rhoads said. "It hasn't always been the case but generally that is the case and getting these guys here gives them a leg up and an opportunity to help the team this fall by what they will learn and experience."
MORE REINFORCEMENTS ON THE DEFENSIVE LINE
Remember back to the 2014 recruiting when Iowa State brought in seven JUCO's – six on the defensive side of the football – all of whom were supposed to be impact guys on last year's defense.
As it turned out…
Safety Devron Moore didn't make it through the summer.
Defensive tackle Terry Ayeni blew out his knee before he got to campus.
Defensive end Gabe Luna missed the season due to injury as well.
Linebacker Jordan Harris ultimately ended up redshirting (more on this momentarily).
There are four guys right there who were brought in to contribute immediately and for one reason or another, did not.
Along with Tucker, another JUCO, Bobby Leath of Coffeyville C.C. is committed and plans to sign in February.
Add Ayeni and Luna to the list and assuming everybody stays healthy, Iowa State should at the very least have more warm bodies up front next season than it did in 2014. 
Rhoads said that Ayeni, who might have cracked the starting lineup next season, is a "self-declared" 85 percent right now and should participate fully in spring drills.
Luna is expected to be ready to go too. 
THE JORDAN HARRIS FACTOR
Iowa State's hopeful replacement of Jeremiah George in the 2014 class, Jordan Harris, ended up redshirting last year because he wasn't going to beat out Jevohn Miller at MIKE linebacker. The staff ultimately decided that the year-to-grow was the best long-term decision for Harris and the program.
How's he doing?
Something tells me (a birdie, if you will) that if Iowa State were to release a depth chart today, Harris would be No. 1 at the position.
"I think he's really taken advantage of that," Rhoads said of Harris' redshirt year. "He's understood Wally's (Burnham) teaching and the position better. We got him down with the scout team during the second half of the season and really let him drill with linebacker and play linebacker again. He showed up down there and the offensive coaches noticed him. Going into his second spring, he is going to be a valuable asset." 
OTHER SIGNEES
Iowa State added depth to its 2015 offensive line on Wednesday with the signing of Patrick Scoggins out of Long Beach C.C. in California.
"He's definitely an inside player," Rhoads said. "Guard for sure and potentially a center."
Scoggins, who weighs in at 6-foot-2, 305 pounds, chose Iowa State over Toledo and Southern Mississippi.
"Patrick Scoggins is a road grader," Rhoads said. "It's the simplest way to describe him. He latches on, he doesn't release and he finishes his blocks. His physical presence will be very welcomed into our offensive line. He will have to learn the center position if indeed we think that is a spot for him, but he can play either guard spot and has the ability to learn the snap and step and help us there if that's what's needed."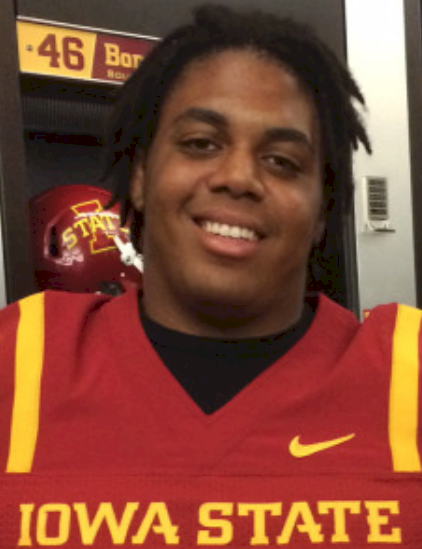 Then there is at 5-foot-10, 180-pound defensive back out of Trinity Valley Community College in Texas named Jomal Wiltz, who recently chose Iowa State over California, Tulsa and UNLV.
"The cat can run," Rhoads said when describing Wilitz. "Versatility. He can play anywhere in the secondary. He can cover as a corner. He's played safety and he has the intelligence as well as the physical ability to play safety and we think we can play him at the nickel spot as well. What we have with Jamal is a, let's put him in the best place to help our football program. He was very accepting of that and I think he appreciates his own abilities to do that." 
Most importantly, Rhoads called Wiltz a "dangerous return man." Iowa State needs one of those with Jarvis West's eligibility having been exhausted.
Wiltz should provide depth at corner but it is hard to imagine him beating out Nigel Tribune, Ken Lynn or Sam Richardson.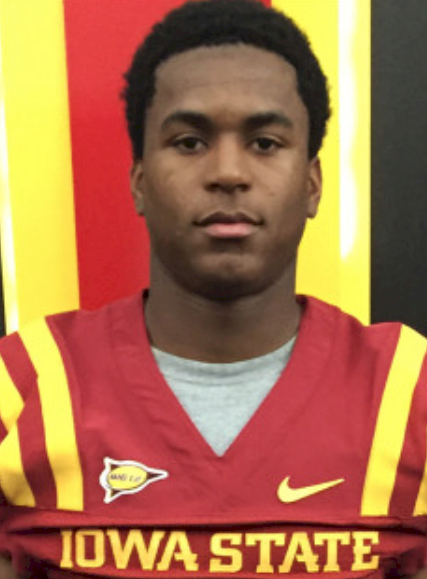 WHAT'S LEFT?
Counting the three prospects that inked today, Iowa State has 15 known committed members of its 2015 class. Rhoads said to expect "around 18 prospects to sign in February.
"We're still looking at both lines," Rhoads said. "We would like to end up with a wide receiver out of this group. We'd like to end up with a defensive back in this group."
POSSIBLE POSITION CHANGES
*** I'm hearing a lot of rumblings about Qujuan Floyd moving to SAM linebacker for his senior season. Off the top of my head, that would be an instant upgrade over the Drake Ferch/Jared Brackens combo from 2014. Floyd is one of those summer JUCO's that Rhoads spoke about. He came on strong at the end of the year and showed potential to be more a contributor during his senior campaign.
*** Look for 2014 gray shirt Mike Johnson to instantly be thrown into the two-deep when he arrives on campus in January.
"He's a safety," Rhoads said. "We will put him in the two-deep this spring with the anticipating of him playing this fall."
*** Rhoads mentioned other possible changes in the secondary.
"You could see (Kamari) Cotton-Moya as a strong safety and not the free safety spot he was playing," Rhoads said. "You could see Qujuan Floyd move. You could see a number of those things. That's one of those things where once we get Mike (Johnson) on campus we will figure out where he is going to be slotted."
*** A little more on the open MIKE linebacker spot due to the graduation of Jevohn Miller… 
"Kane (Seeley) and Jordon (Harris) will probably be the chief competitors at the MIKE linebacker spot as we head into winter and spring."
*** What are the chances that Iowa State moves Luke Knott out of the WILL linebacker spot?
"I think Luke's ability to play in space has been hampered a little bit by the surgery that took place," Rhoads said. "We still see him as an inside guy. I think the training staff is excited about some of the things they can do to help that explosiveness that possibly he lost over the duration of the season coming off of surgery in year one. I still see Luke as an inside guy."