Google the phrase, "Learning how to win."
That's what I just did and the results were not surprising. On page after page, I found cliché filled headlines and ledes from this month alone describing different football teams across the country.
Some are learning how to win. Some need to learn how to win. Some simply can't learn how to win. Check it out.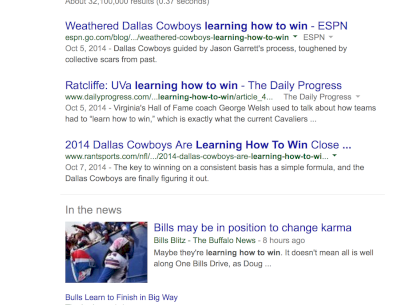 Regretfully, CF is about to join the party.
According to my friend and colleague Kirk Haaland's piece earlier today, over the last 16 losses that the Iowa State football program has suffered (dating back to West Virginia in 2012), eight of them were by one score or less. Seven of those opportunities failed against ranked opponents.
Iowa State has had plenty of chances – good ones at that. Over that course of time, put half of those in the other column and the feel around this program is much different than it is today.
I often times judge this "feel" based off of how the postgame radio show I co-host with Jack Whitver (an hour after every game on the Cyclone Radio Network) goes. Cyclone Reaction not only allows fans to give their raw opinions on the game, but Jack and I often times get quite emotional too. That's the glory of the beast that is a postgame call-in show. Right or wrong, there isn't a lot of time to think (us as hosts and you as callers) about what to say.
It's raw. It's real. It's why hosting postgame shows is the favorite part of my job.  
During a late show that bled into Sunday morning following Iowa State's gut wrenching 48-45 loss to Texas, both Jack and I were somewhat distraught. 
Iowa State entered the game with one of the most anemic offenses in the country and was faced with the chore of going toe-to-toe with a top five defense.
The Cyclones scored 45 points, forced two turnovers and scored a defensive touchdown. Give me those stats before the game and I would have given Iowa State a 90 percent (or higher) chance at victory.
But Iowa State lost. Iowa State is 2-5.  
Let me tell you this: Based off of the tone around the program, our callers and general feeling that I experienced within myself, Saturday night was no moral victory. It was anything but a moral victory.
Saturday night was downright painful.
As Ben Bruns said after the game, he's never seen an Iowa State team play harder than what what he saw in Austin.
That is the type of loss that will take months, maybe even years (for fans) to get over because of the dreaded thoughts of what could have been. It's Nebraska from 2010. It's Kansas State from 2012. It's Texas from 2013. It's Kansas State earlier this season. 
(Insert your own example here). 
Playing close with Texas means nothing to anybody anymore, nor should it.  
There were plenty of positives from the game and those will be discussed (rightfully so). But despite an improving offense and a D that is finally forcing a few turnovers, Iowa State is 2-5 and has to win four of five to qualify for the postseason.
It is a cliché but one that rings true with this program today. Iowa State has some talent to play with the big boys but quite frankly; this group doesn't know how to win. 
Not yet, at least.
MORE MUSINGS
*** Iowa State fans have seen their share of bad offense over the last few years and that's what made Saturday night's loss so hard to handle. While averaging 5.6 yards per play, the offense was great. There is a feeling of a wasted performance that is impossible to get around right now. Hopefully that doesn't turn out to be the case though. Hopefully Mark Mangino and Co. can build on what happened Saturday and consistently score in the 40's over the last five games. That would be real progress while ramping up for what could be a fun 2015. 
*** From ESPN's Max Olson on Twitter…
Max Olson @max_olson
Iowa State's 22 plays of 10+ yards were second-most a Charlie Strong D has allowed in his 5 years as a head coach.
*** Where in the heck has that Aaron Wimberly been all season?
*** Sam Richardson isn't a perfect quarterback but he is the right quarterback for this Iowa State team. Other than two poor throws, I thought No. 12 was fantastic Saturday night. As Sage Rosenfels put it during the Cyclones.tv broadcast of the game, Richardson and Texas' Tyrone Swoopes could very well be two of the top quarterbacks in the Big 12 heading into next season.
*** Richardson's numbers were impressive but his resolve is what got me fired up. Knock him down and No. 12 always gets back up. Sam Richardson is improving as a quarterback but maybe more importantly, he is finally a true leader out there. The rest of the offense has obviously responded to that.  
*** E.J. Bibbs has six touchdown receptions this season. Iowa State's single-season record for touchdown receptions is nine. 
*** I thought that our Brent Blum and the former gunslinger Sage Rosenfels did a fantastic job in the booth Saturday night. This wasn't a surprise. The following is a fact: Blum is more talented that at least 50 percent of the play-by-play guys you see on national networks every weekend. Sage is a future star in the business as well.
*** I feel bad for my friends who work at Cyclones.tv. They are good people who care so much and work hard to produce a flawless product and from what I understand, the network felt the backlash of some guy in Atlanta not doing his job. However, when thousands of subscribers were scrambling to unsuccessfully watch the game on Saturday night, Iowa State should have gotten out in front and communicated with those fans (many who subscribed specifically to watch one game). This week, fans deserve to hear from the top (Jamie Pollard) as to what went wrong and why it won't happen again. Otherwise, it is going to be hard to "sell" putting another game of that magnitude on the network again.
*** Did anybody else suffer through that Minnesota Vikings game yesterday? If you're like me and bleed purple, you likely didn't get done projectile vomiting until around 11 p.m. last night following Minnesota's meltdown in Buffalo (and I'm still nauseous today). If you missed it, remember the final drive of the Iowa State/Texas game Saturday night? Same thing. For the Viking/Cyclone combo fans (I know there are a lot of you), that was a brutal, BRUTAL weekend. 
*** Due to the bye week and the fact that basketball is about to ramp up, I'm taking Tuesday and Wednesday off this week. That means that a blue chip recruit is about to commit to Iowa State. Just wait…