AMES — Hilton Coliseum wasn't just a basketball arena on Tuesday night. The house the Johnny built was DeAndre Kane's own personal playground. If for some reason a college basketball fan hadn't heard of the Cyclone senior before No. 9 Iowa State's 87-72 win over No. 7 Baylor, that most certainly isn't the case anymore.
Kane scored 15 of Iowa State's first 19 points in route to a 30 point, nine assist, eight rebound and five steal performance. With that, he stumped the Baylor Bears too, who apparently semi-botched Kane's scouting report entering the game.
"I had seen on tape that he was obviously really good and really talented," Baylor coach Scott Drew said after the game. "But when you see him in person, the size, strength and speed, he affects the game in a variety of ways and can guard multiple positions. He is really good. Coming in, I heard he was good but he has far surpassed what people might have thought the impact he would have on this team."
When asked what Kane did that surprised him, Baylor's Gary Franklin replied by saying, "He made threes."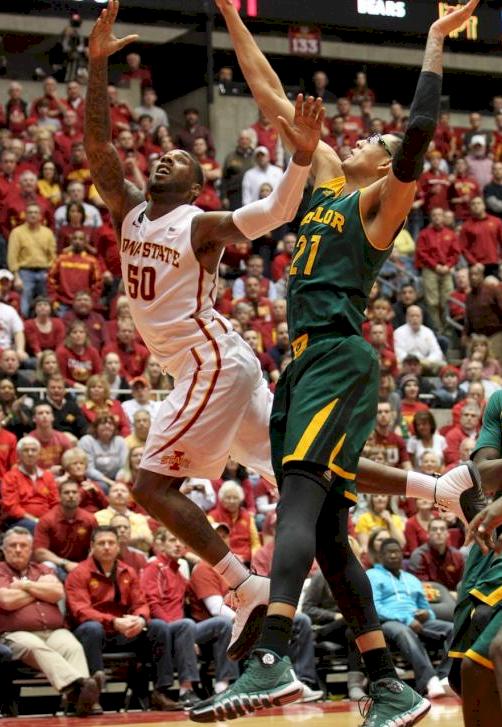 If Kane is making threes, which he has consistently done for the last two weeks (Kane is 7-for-13 from long range in Iowa State's last four games), then this Iowa State team's ceiling just got a heck of a lot higher than it already was.
"He is a mismatch nightmare out there," Fred Hoibeg said. "When you have a guy at 6-5, 210-pounds, strong as an ox and he is experienced. He is a smart player. If he gets the ball down there and we are spaced right, somebody is going to get an open shot or if they don't double-team him, he is going to get an open shot. He is going to take advantage of that." 
Kane didn't rack up 54 points, but his ridiculous box score against a top-10 team truly was a Lafester type of performance for the Cyclones, who are off to the best start in school history at 14-0 (2-0). 
"I think the stats speak for themselves," said Melvin Ejim. "He went off."
Beware Marcus Smart. The, "Who is the best point guard in the Big 12," conversation is officially on, and very legitimate at that. 
Defense was key
Perhaps the most important statistic of the game came on the defensive end of the floor for Hoiberg's crew. Iowa State forced 19 Baylor turnovers, which resulted in slew of easy transition baskets for the undersized Cyclones. Iowa State scored 47 points in the paint compared to Baylor's 26.
"That was as active as our hands have been all year," Hoiberg said. "To get those deflections, to give us some run outs, to give us transition baskets that really ignite the crowd is huge."
After being out-rebounded 21-11 in the first half, Iowa State beat Baylor on the glass by one in the second period.
"Defensively, they don't get enough credit," said Drew of the Cyclones.
In addition to his salty offensive performance, Kane held Baylor point guard Kenny Chery to a 3-of-14 night from the floor. Baylor's leading score, Cory Jefferson, was 3-of-7 from the floor with 10 points. Coming into the game, Jefferson was shooting 57 percent from the field.
National title talk; no thanks
Baylor has already played No. 2 Syracuse (lost by seven) this season. The Bears defeated No. 14 Kentucky on a neutral floor in December. When asked how the Cyclones stack up compared to those two blue bloods, Scott Drew replied by saying, "Iowa State to me is a team that can win a national championship."
That is a fine tip of the cap toward the Cyclones, who are in the middle of a 14-game winning streak, the longest in school history.
Wisely, Hoiberg wanted nothing to do with that type of chatter in early January.
"We play Oklahoma on Saturday," Hoiberg said. "That's all I know."
JOTTINGS
*** The 15-point win was Iowa State's second-largest against an AP Top 10 team (16 vs. Kansas in 1985). 
*** Iowa State is now 12-0 vs. Baylor inside of Hilton Coliseum.
*** Iowa State has had more assists than turnovers in all 14 games this season. The Cyclones dished out 23 assists compared to 10 turnovers on Tuesday.
*** Melvin Ejim scored 18 points to back up Kane in the victory. The senior has scored in double figures in all 12 of his appearances this season. Ejim also made his 104th career start, the 10th most in Iowa State history. 
*** Freshman Monte Morris was the third Cyclone in double figures. Morris was 3-for-4 from 3-point range and scored 13 points,. That was his sixth game this season with 10 points or more.