This week's Monday Musings piece is brought to you by our inagural "Supporter of the Week," Mr. B Clothing located at 1985 NW 86th St. in Clive. 
With Christmas being just around the corner, Mr B Clothing offers up a shopping experience that's unique, fun and genuinely enhances your life. Year in, year out, Mr. B Clothing continues to strive to bring you the finest quality men's dress clothes and shoes. Mr.B is proud to be your premiere men's clothing store in Des Moines and would like nothing more than helping you find styles that really work for you.
To view more of our great advertisers that keep Cyclone Fanatic 100 percent FREE, CLICK HERE to visit our new supporters section that highlights Cyclone friendly businesses. 
—————————————————————————————————————————————
Often times in sports, we are told that that things are never as good or bad as they appear in the present day. Without being pessimistic about Iowa State's 8-0 start to the 2013-14 basketball season (there is no reason to be negative whatsoever), it is also important to stay realistic. The realism here is that indeed, this team is a lot better than most people expected it to be when the media congregated in Kansas City back in October.
But in addition to that, there are still plenty of areas in which Fred Hoiberg's bunch can improve between now and tipping of the Big 12 Conference season in Lubbock on Jan. 4. Today in musings, I will assess some of the obvious (and not-so obvious) positives from Iowa State's 8-0 start, while identifying some places in improve as well. 
The good
— I could write 5,000 words on positives but today, I'll try to focus on some of the unsung heroes and impressive statistics that has led Iowa State to 8-0, the first being Dustin Hogue.
When Hogue initially committed to Iowa State via Indian Hills Community College, most fans thought that the forward would be a quality defender, would help Melvin Ejim on the glass and maybe give Iowa State six to eight points per game as a junior.
Through eight games, Hogue's averages are now at 12.6 points and a Big 12 high 11.1 rebounds per game (which is the seventh best average in America). Hogue has also made 60 percent of his field goal attempts (and is a surprising 7-for-16 from 3-point range).
Is Hogue, who only averaged 12.9 points and 5.4 rebounds per game as a sophomore in junior college, really an unsung hero though? In my opinion, yes, he is. I still don't think he has gotten enough credit for Iowa State's start.
Heading into the season, the scouting report on Iowa State was fairly simple. Get Georges Niang or Melvin Ejim in foul trouble and the Cyclones go from being an NCAA tournament team to probably a group that belongs in the NIT (multiple division one coaches actually told me this). Hogue's emergence has completely changed that way of thinking.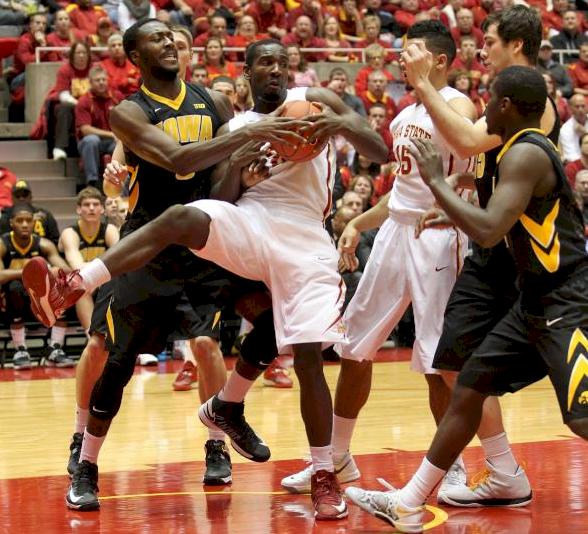 — Iowa State's play at the point guard position has been superb. DeAndre Kane's outing in Friday's win over Iowa is a great example. The senior only went 1-for-6 from the floor but still managed to rack up nine assists to only one turnovers. Kane currently has 46 assists to only 19 turnovers this season.
And then, there is TRUE FRESHMAN Monte Morris. In 181 minutes, Morris has complied 29 assists with only seven turnovers. 
— Naz Long has made 22 of his 40 3-point attempts (55 percent). Long has made a 3-pointer in every game this season.
— This team performs best in clutch situations. In Iowa State's four double-digit second half comeback victories this season, the Cyclones have simply had more moxie than their competitors at the end of games.
In Friday's win over Iowa, the Cyclones were essentially a 50-50 team from the free throw line all evening long. However in the last 90 seconds, the Cyclones were nails going 6-for-6 from the charity stripe. The combination of the moment and an insane atmosphere was too much for the Hawkeyes.  
Where improvement can come from
— Obviously, the slow starts need to be addressed. At some point, having to fight out of double-digit second half deficits vs. good teams will come back to haunt you. 
— Just imagine how good this team could be if Matt Thomas finally gets comfortable out there.
Thomas, a true freshman, seems to be struggling mentally so far in his Iowa State career. Having said that, I'm not overly concerned about the guy who was tabbed to be Fred Hoiberg's young sharpshooter heading into the season.
Matt Thomas will be fine, but it would be nice for him to acquire a little bit of confidence before the Big 12 season rolls around.
With shooters like Thomas, this type of slump happens from time-to-time at the start of their college careers. If you remember, we saw the same thing with Scott Christopherson back in the day. 
These guys go from being "the man" on their high school (or AAU) teams and are used to putting up 20-25 shots per game. At Iowa State, they are expected to shoot it six times and need to make at least three of them. That is a lot of pressure for a true freshman.
The thing is, I don't believe that Hoiberg would care one bit if Thomas shot the ball more than he is currently doing. In fact, I bet you that Hoiberg is encouraging him to do so.
Thomas is gun-shy right now and his lack of experience is to blame. The guy who Hoiberg called the best shooter in college basketball's 2013 recruiting class is only converting on 37 percent of his 3-point attempts.
If he ever gets on track, then that will add an entirely new dimension to this already scary offensive attack.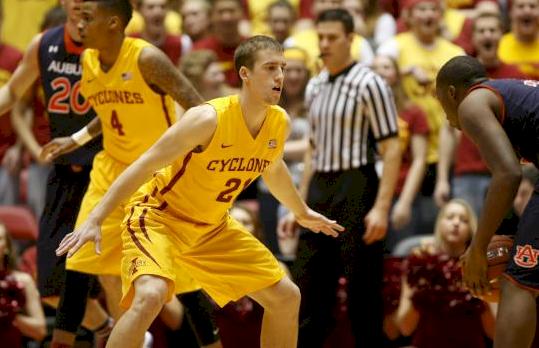 — Iowa State is averaging 90.9 points per game in large part because of defense, unselfish basketball and how good this team is in transition.
I already noted Thomas' struggles from the floor. In addition to that, Georges Niang is 6-for-27 from 3-point range. By no means did I ever expect the sophomore forward to mimic Steve Kerr, but that number is lower than anyone expected it to be. I expect that number to rise the deeper we get into the winter months.
— Junior big man Percy Gibson has only played in four games this season. I'm chalking him up as a non-factor for the rest of the season in hopes that he proves me wrong.
— I hate obsessing over free throw shooting. I just hate it. But that stat damn near cost Iowa State the game on Friday night. On the season, the Cyclones are shooting 68 percent from the free throw line, which puts Iowa State in a tie for 217th in America.
Up next
Over the next few days, we will attempt to get you primed for the 2013 Diamond Head Classic that Iowa State will be participating in over Christmas. Also, we will be hosting game watches next Sunday and Monday for the Hawaii games. Stay tuned for details in the coming days right here at CycloneFanatic.com.