As always, Cyclone Fanatic's coverage of Iowa State women's basketball is brought to you by our good friends and partners at Wilson Toyota of Ames located at 2212 S. Duff Ave. 

If you are anything like me, when the month of November rolls around you just can't get enough hoops. 
My advice to that sort of a quandary would be to head out to Hilton Coliseum tonight to watch Bill Fennelly's Iowa State women's basketball team host South Dakota. Buy yourself and a loved one a Clone Cone while you're at it. In addition to that deliciousness you will see perhaps the Big 12's best player in Hallie Christofferson and two fabulous freshmen in Seanna Johnson and Jadda Buckley. 
During Iowa State's 84-55 season-opening rout of North Dakota on Sunday, the two freshmen really caught my eye. It wasn't their humble, 5-for-15 (combined) box score either. Obvious talent, confidence and that ever so important "it" factor are what spewed from the duo.
"I think because they are both starting and having important roles, they are probably a little more advanced than some of the freshmen we have had," Fennelly said on Monday. "Their upside is very, very high. They want to be good. They are coachable."
Fennelly has been battling with Buckley, a Mason City native, to shoot more all preseason long. She led the Cyclones with six assists in the season's opening win. Having only seen her play once, Buckley's game has a bit of a young Alison Lacey feel to it. 
And then there is Johnson, a player unlike any I remember on a Fennelly roster since I closely began following and covering his program back in 2004. She is an athletic slasher who can rebound and shoot – a combination that could be lethal down the road.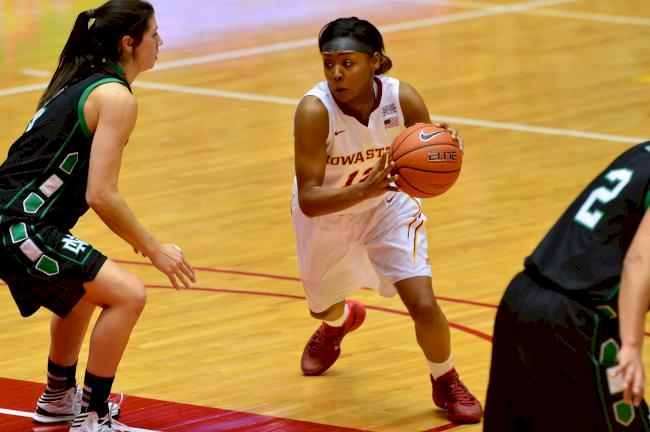 As Fennelly noted, the ceiling for these two young ladies is incredibly high. But the duo is still young and work needs to be put in. Consistency and effort will be the key for them being as good as everybody thinks they can be.
"Not pouting when things don't go your way and when Coach Fennelly has something to say to you that you don't think is nice," Fennelly said. "Shot selection is always important with young players. And yes, you have to defend at this level."
Often times, that takes a while for a true freshman to adjust to.
"For a lot of these kids, if the bus showed up for whatever high school game they were going to play, they were going to win by 30 points," Fennelly said. "They need to practice hard each and every day and the ones who understand that get better quickly."
The results that Iowa State fans have seen during two exhibitions and one regular season games were not flukes and that is what makes the future so exciting for this duo. They get it.
"I think both of them are the kind of kids that our fans are going to enjoy watching and enjoy rooting for as time goes on," Fennelly. "They do things the Iowa State way."
The Cyclones and South Dakota will tip off this evening at 7 p.m. The game will be televised on Cyclones.tv.