AMES — The Iowa State men's basketball program has been practicing for two weeks now. To state the obvious, there is a LOT about this team that we do not know. After all, Korie Lucious, Will Clyburn, Chris Babb and Tyrus McGee won't be walking through the doors of Hilton Coliseum with a uniform in hand any time soon. 
But after two weeks of practice, media day along with some on and off the record conversations, there are surprisingly quite a few things that we do know about this group of Cyclones that was recently picked to finish fourth in the Big 12 Conference.
These "things we know" include:
The following guys have clearly impressed Fred Hoiberg early on…
DeAndre Kane – He's apparently a better defensive player than Iowa State thought it was getting.
"That's one area where I have been very impressed with DeAndre is his ability to move his feet," Fred Hoiberg said last week at media day. "He has a very wide stance. He can really get into the ball and pressure."
I am starting to get the vibe that this Iowa State program will go as far as Kane, Georges Niang and Melvin Ejim can take it in 2013/14. The mere fact that I included Kane on that list should tell you all you need to know about his game. The Cyclones are very high on the 6-foot-4 Marshall transfer who will wear No. 50.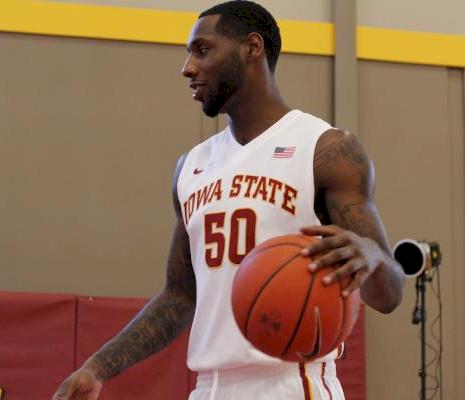 Monte Morris – Hoiberg recently noted that through the first six days of practice, this true freshman point guard out of Flint, Mich. had only turned the basketball over an impressively low three times. 
"He has been very good for us. I knew that he was a good player but the learning curve for a freshman point guard is as high as you are going to find," Hoiberg said "Monte has done a tremendous job. He is a low turnover guy. He can get you into an offense. He makes tremendous decisions."
Still, the chances of Morris immediately landing in the starting lineup on Nov. 10 (Iowa State's season-opener vs. UNC-Wilmington) seem slim. Kane appears to have a lock on that point guard position – for now at least. Depending on practice though, Morris very well could be the first guy off of Iowa State's bench in the backcourt.
"I haven't ever been a high turnover guy but with me being a freshman in college at this level early on, you expect turnovers," Morris said. "I am trying to keep my assist-to-turnover ratio really low. I take that big onto myself to not turn the ball over." 
*** LINK — Why Matt Thomas is working on defense in early practices *** 

Dustin Hogue – I plan on writing more about Hogue later this week, but I'm not sure that a player on Iowa State's roster impressed me more at media day than this guy.
"I haven't seen many guys take the ball away from Melvin Ejim but he took two away in a row at one point in a practice last week," Hoiberg said of the JuCo transfer from Indian Hills. "He will give us the luxury of playing smaller, similar to how we played last year with Melvin a the four and Georges at some five."
I'm tabbing Hogue as Iowa State's "enforcer" for the upcoming season.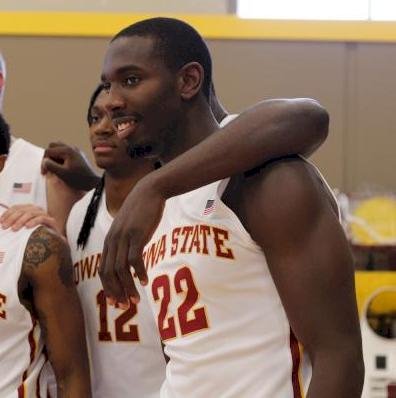 DeAndre Kane will play multiple positions
To contradict what I've already written about Kane, it is quite possible that everybody (fans, media, etc.) is making too big of a deal out of what position the versatile transfer will play.
"I like the two but coach has me playing the one," Kane told me. "I will do whatever it takes to get my team victories." 
Kane is one of just two active players in Division 1 hoops to average at least 15 points in each of his first three seasons in the college game (for you trivia buffs, Niagara's Antoine Mason is the other).
"He will play both. He will play with the ball in his hands a lot this year," Hoiberg said. "He's a tremendous rebounder as well. Any time that he can get that rebound, even if he is playing off the ball, he's going to have the freedom to bring the ball up the floor and get us into a fast-break situation."
Kane's biggest chore in the offseason was working on his 3-point shot. In Kane's first three seasons as a collegiate player, his best 3-point shooting percentage was .318 as a freshmen. That number has decreased every year and stood at .248 at the end of last season.
"It is one of the reasons that I came here is because Coach Fred could help me a lot with my shot," Kane said. "If I am shooting, he gives me 30 minutes to show me what I'm doing wrong. He gives me all types of pointers. It's great."
Hoiberg on his lineup…
"I am a little reluctant to call guys your typical one through five positions. I like basketball players out there. I like versatile players. DeAndre certainly fits into that category as a very versatile basketball player and one that we can do a lot of different things with. If he's playing the point, I think we can post him up against players. If he is playing against a three, we can put him on the perimeter and isolate him. There are so many different ways that you can use a player like that."
These Cyclones should be better on defense than last year's team
They have to be. Like it or not, this version of Iowa State basketball will not score at the rate that last year's club did (79.4 points per game). That is a fact. So now, defense has to become more of a priority. It already has.
"Dustin Hogue moves his feet very well on the perimeter and has great size," Hoiberg said. "Naz Long has a very good ability to move his feet and stay in front of guys. Melvin, Georges and Daniel (Edozie) can protect the rim back there some. I think top to bottom, we are a little bit better defensively."
Melvin Ejim's game is more complete
He's been known as Iowa State's "garbage man" in the past – a damn good one at that. The 6-foot-6 forward led the Big 12 in rebounding last season at 9.3 per game. He was recently voted onto the Preseason All-Big 12 team. But Fred Hoiberg says that Ejim's shot is better entering his senior season than he's seen before. 
"I have been shooting a lot so I hope it gets better," Ejim said. "I've just been getting in the gym and shooting a bunch. I've really been working on my mechanics and seeing what I've been doing wrong. I've been working at it and hopefully I see results in the season."
Ejim is a career .274 percent 3-point shooter at Iowa State.
Hoiberg is also expecting the senior to be a better ball handler in 2013-14.
"When I was in Russia with Team Canada, we did a lot of stuff where I had the ball in my hands," Ejim said. "I really was able to dribble a lot in practice and games to get comfortable with it. I think it was good for me to bring that back to this place. It shows how I have developed as a player."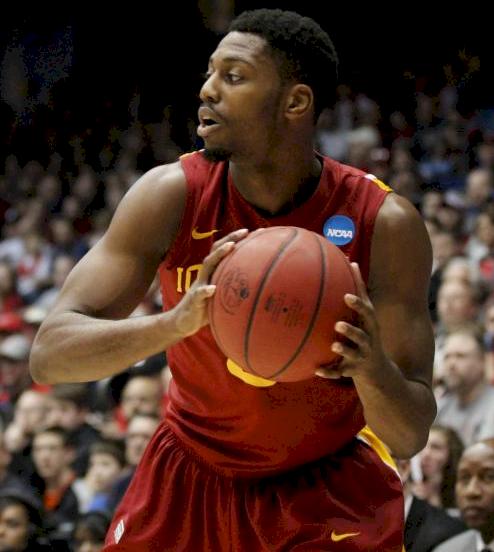 Sherron Dorsey-Walker has gained 28 pounds
I'm still not sure exactly where he will fit in on this roster (it's just too early to tell), but Sherron Dorsey-Walker did exactly what the coaching staff asked of him in the offseason. The Michigan product added weight to his 6-foot-4 frame – 28 pounds to be exact.
"I ate a lot," Dorsey-Walker said. "I didn't used to eat a lot in high school so drinking all of the protein meals and eating a lot. The lifting too. I lifted hard during the season. When the guys were out playing on the road, I was here lifting."
Dorsey-Walker was ranked as the nation's 24thbest shooting guard in the class of 2012. His strength is his 3-point shot. Should he be able to put it all together, this could be a guy who steps up and makes up for some of that lack of firepower on this year's team. 
According to Dorsey-Walker, the redshirt year was a success.
"It was tough at first but I am glad that I did it," Dorsey-Walker said. "It was the best choice."