Want to hear something crazy? 
Today is Iowa State men's basketball media day. Bill Fennelly hosted the annual women's basketball media day event last Thursday. Hoops season is actually here (please pinch me to clarify that this is not a dream). 
Today's event starts at 3:30 as Fred Hoiberg will take the stage. I'll be tweeting live updates at @ChrisMWilliams and of course, we'll have complete coverage here at CycloneFanatic.com later this afternoon and tonight. Matt Van Winkle will have our camera rolling so stay tuned.
My man-crush on Kliff Kingsbury
I've written this before but after doing hours of research on Iowa State's next opponent, the unbeaten Texas Tech Red Raiders, I'm more convinced than every that Kliff Kingsbury is a future star in the coaching world. It isn't even Tech's 5-0 start that has me so high on the Mike Leach groomed former gunslinger either.
It is the way that he conducts himself that I find so appealing. There has been a lot of talk on this site and around central Iowa as of late about how Paul Rhoads' passionate rant on officiating will undoubtedly help recruiting. In fact, even a week after the fact, Rhoads made an appearance on the Jay Mohr Show yesterday. It's Rhoads' passion that draws high school and junior college athletes to want to play for him. Even national media members like Mohr have a full-blown man-crush on Iowa State's head man. Sure, the Cyclones are 1-3 right now, but the future is clearly bright regardless of what you pessimistic office-mate tells you.
What does all of this have to do with the 34-year old Kingsbury? Just watch him for five minutes. Listen to one of his press conferences. The dude is as cool as "Ice Man" from "Top Gun."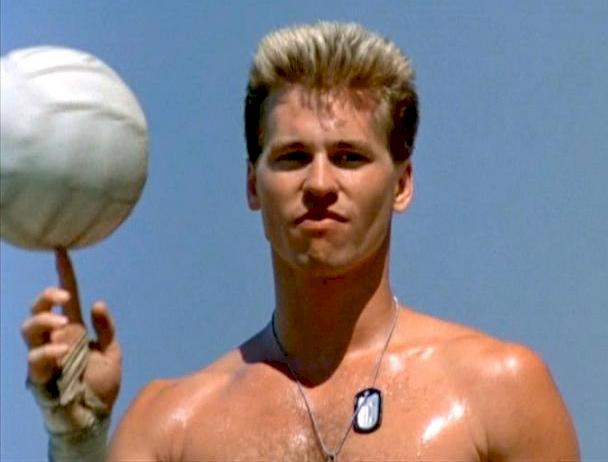 If I'm an athlete in the state of Texas, Kliff Kingsbury is a guy who I would want to play for.
Sound familiar?
The parallels between Kingsbury and Iowa State head basketball coach Fred Hoiberg are endless. Both men are seen as heroes by the fan bases and administrations that support them. That sure does help success come sooner when everybody on campus is rooting for you and detractors are nearly impossible to find.
Ames nor Lubbock are what I'd call a "recruiting hotbeds" in the Big 12 Conference. You have to want to be at these places. If you don't, your players (and recruits) can see right through you. Both men understand the cultures that they are immersed in and instead of trying to change them, they embrace them.
To me, Kingsbury's biggest challenge will be recruiting on the defensive side of the football. Let's face it, he is primarily coaching Tommy Tuberville's guys right now. The fact that Tech is putting up point on offense is no surprise at all. But can Kingsbury keep Tech's defense playing at this current level over the next five years or so?
We shall see. So far, so good though in Lubbock.
Best of luck to a former Cyclone 
Due to "personal reasons," the man who led Iowa State to the biggest win in program history two years ago has left the Illinois State football program.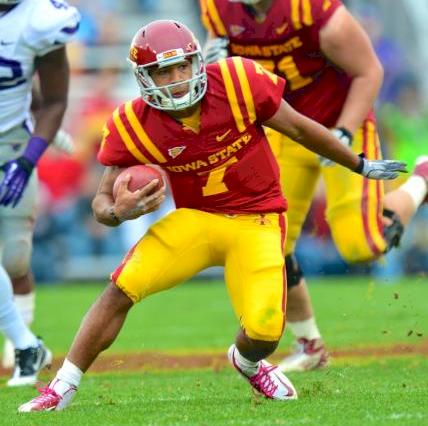 The news broke on Tuesday that Jared Barnett's season, and possibly career, have come to an end. I don't know many more details than what can be found in this article but today, I wanted to write and wish Barnett nothing but the best.
He truly is one of the brightest kids I have ever seen come through Iowa State. I wish that it had worked out for him to stay in Ames. I understand scholarships and playing time and all of that jazz, but having a kid like Barnett on your roster is a big plus. Knowledge of the game, character, and leadership ability – Barnett always had all of the intangibles.  
Unfortunately in a league like the Big 12, you HAVE to score points. Intangibles aren't always enough.
Weekend Big 12 picks
Iowa State @ Texas Tech – I went on record Monday and said that I thought Iowa State would win this game. I still feel that way. My preview should be posted shortly.
Texas vs. Oklahoma – The Sooners are a two touchdown favorite in this one and rightfully so. No David Ash = no chance for the Longhorns. I like the Sooners to cover here.
Baylor @ Kansas State – Clearly, we all think that Baylor will win this game. But how would you bet it? The Bears are currently 17.5-point favorites against a Bill Snyder program that is notorious for milking the clock against fast-action spreads. Baylor still hasn't gone on the road this season either. My brain tells me that KSU will cover – it's Bill Snyder. But Baylor is 4-0 ATS this season and his hit on the OVER all four games as well. Never mess with a streak folks. Give me the Bears. 
Kansas @ TCU – A 24.5 point spread here…My guess is that Kansas will not score an offensive touchdown as long as TCU's first-string defense is in the game. TCU's start to the Big 12 season has been brutal. The Horned Frogs got 'Cloned' (my new word for robbed) in an early season loss at Texas Tech and nearly knocked off Oklahoma in Norman last weekend. My guess is that Gary Patterson takes his frustrations out on KU this weekend. I'll lay the points.