AMES — Had Iowa State's redshirt freshman backup quarterback Grant Rohach been better in practice, he would have played in Iowa State's loss to Iowa on Sept. 15. That is what Iowa State head coach Paul Rhoads told reporters after Tuesday night's practice, as the 1-4 Cyclones are busy preparing for a date with No. 12 Baylor on Saturday night at 6 p.m. on ESPNU.
"He (Rohach) did not have good preparation leading up to the Iowa game," Rhoads said. "Had he, we would have played him, quite honestly."
The combination of Richardson's health and Rohach's readiness has been a common conversation amongst Iowa State fans over the last month. Richardson, who is clearly Iowa State's top choice at most important position on the field, has not been healthy since taking a nasty lick in the second half of Iowa State's season-opening loss to Northern Iowa in week one. At that point, it was an ankle holding him back. Then, there was a groin injury. Now, toss a bruised thumb onto all of that. Sam Richardson's health has been a week-to-week roller coaster all season long. 
But according to both Rhoads and offensive coordinator Courtney Messingham, Rohach has been much better during practice than he was early in the season.
"As guys have improved on the field every week, he is a guy that has improved – I would use the word significantly in practice every week," Rhoads said. "He is noticeably a different Grant Rohach than he was pre-Iowa."
Does this mean that Rohach will earn his first start for Iowa State on Saturday evening?
No, it does not. After all, Richardson's injury status appears to be identical to what it has been since the UNI game. On Tuesday night, Richardson said that he is "good to go."
"Better than I have in past week," Richardson said regarding his health. "I took a lot of shots. Definitely just sore legs but my ankle was feeling pretty good on Sunday. I'm feeling pretty good this week."
Rhoads made a similar comment.
"As good to go as you can be," Rhoads said. "He is banged up. His name is listed on the medical report four different times for four different injuries."
Rhoads was directly asked if Rohach is going to play on Saturday night.
"Don't know," Rhoads said. "That will remain to be seen."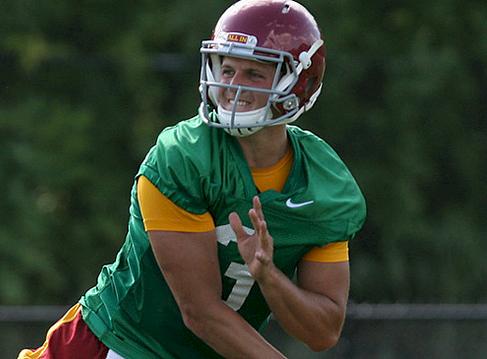 Lalk, Wimberly expected to play
Tuesday evening didn't bring any new news regarding the status of Iowa State's starting running back Aaron Wimberly. According to Messingham, Wimbelry practiced on Tuesday and is expected to play vs. Baylor.
Sophomore offensive lineman Jamison Lalk won't be at 100 percent, but he should see action for the first time since spraining his MCL against Iowa. Lalk was expected to play last weekend at Texas Tech but ended up sitting the game out.
"He just wasn't quite full strength," Rhoads said. "The term that he used was, 'still a little loose.' He will get snaps this Saturday."