As some of you might have noticed, there were no Monday Musings last week here at Cyclone Fanatic. I was swamped chasing down that T.J. Otzelberger to Washington story so I thought it would be fitting to begin today's column on that very topic. 
Otzelberger arrived on the scene in Ames as an young and wide-eyed assistant coach and left as one of the top future head coaching prospects in all of college basketball. Iowa State did a lot of good for him over the last seven years and as you could tell by reading his parting quotes with the Cyclone Nation a week ago – Otzelberger knows this very well.
"Even though I won't work at Iowa State every day from this point forward, I will always be a Cyclone," Otzelberger told me. "I will always be pulling for the Cyclones and I will always take pride in the future successes of the program and where it can go in the future."
Assistant coaches come and go all of the time. It is part of the business. This one was different though. Assistant coaches in their late 20's and early 30's just don't stay in one spot for seven seasons under two head coaches. It just doesn't happen. 
Iowa State basketball has been a roller coaster ever since Larry Eustachy was dismissed back in 2003. There were the Wayne Morgan years but after that, Otzelberger is one of two guys (Jeff Rutter being the other) that experienced all of the lows and the recent ups with a passionate fan base. 
When Greg McDermott took over for Wayne Morgan in the spring of 2005, Iowa State was on top of the world. Well, not from a win-loss standpoint obviously but this new regime (as most do) had a fan base believing again. And we all know what happened from there. Things didn't quite work out the way that McDermott or athletics director Jamie Pollard had envisioned. McDermott bolted for Creighton and Pollard got another chance. 
That is when this Fred Hoiberg guy swept into his hometown, like Batman so often does with Gotham, and saved the day. His first order of business was to retain Otzelberger as his associate head coach.
At the time, many wanted to know why exactly Hoiberg would opt to retain (and promote) an assistant coach from a previous staff that never even sniffed the NCAA Tournament. 
It was because of Otzelberger's relationships.
That is a key word that comes to my mind when chronicling Otzelberger's strength as a coach. I saw that the Des Moines Register's Randy Peterson recently wrote something about Otzelberger showing him 200-some missed calls on his cell phone at one point in time. I believe it too.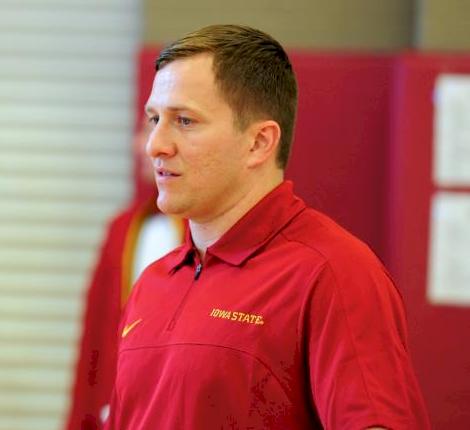 Otzelberger has that distinct (and important) ability to remember folks' names and more importantly, make every person he meets feel like the most important person in the world. That is why despite only going to two NCAA Tournaments in his seven seasons at Iowa State, Otzelberger was really able to mold this program via the recruiting during that time.
Here is a list of the notable players that Otzelberger is credited with bringing in:
·      Mike Taylor
·      Craig Brackins
·      Diante Garrett
·      Justin Hamilton
·      Marquis Gilstrap
·      Scott Christopherson
·      Melvin Ejim
·      Korie Lucious
·      Chris Babb
·      Anthony Booker
·      Georges Niang (a tag-team with Hoiberg)
·      Matt Thomas (2013)
·      Clayton Custer (2014)
There were misses along the way too (Antwon Oliver and L.A. Pomlee come to mind). Heck, at the end of the McDermott years, there were a lot of them, as the staff appeared to be treading water trying to stay afloat. But if there was a major contributor within the Iowa State basketball program since 2005, there is a good chance that Otzelberger had something to do with it.
Otzelberger leaving is NOT the end of the world for Iowa State basketball. In fact, it is an opportunity for Fred Hoiberg to re-mold his staff after making two consecutive NCAA Tournaments and heck, maybe even get better along the way. But while last week was all about Otzelberger and Iowa State's future, I thought that today would be an appropriate time to look back and see exactly what he did during his time in Ames, which was a lot. 
What's up Doc?
Who's next?
Well pretty much everybody thinks it is going to be former Nebraska head coach Doc Sadler, who spent last season sitting beside Bill Self as Kansas' Director of Basketball Operations.
Personally, I would love this hire and here is why.
I'll start with his X's and O's. He is a defensive guru. If you watched any Iowa State basketball at all last season, you know that the Cyclones need a little bit of help in this department. While I don't think that Iowa State will ever be a great defensive team under Hoiberg (it's a style of play thing – much like Mike Leach's teams are never known for defense in football), there is certainly plenty of room for improvement and I think that Sadler can be a big part of that. 
The main thing for me though is that while Hoiberg has gone from a guy with no experience at all to one of the hottest names in the sport in only three seasons, he is still learning and developing as a head coach. Along with Johnny Orr, Tim Floyd, Larry Brown, Flip Saunders, Kevin McHale and Bobby Lutz to name a few, Sadler is another guy that Hoiberg would be able to add to his list of influences as the head of Iowa State's program. I fail to see how that is a bad thing. 
But don't think that if Iowa State does indeed hire Sadler that he will just be sitting around the practice facility watching film and game planning for next season. Sadler has recruiting ties in Texas. He led UTEP to an NCAA Tournament in 2004-2005 and was an assistant in Lubbock from 1991-94. He also has ties to Chicago, making that two markets that Iowa State hasn't had many connections  to during Hoiberg's tenure. 
My theory on Iowa State's future recruiting is that Hoiberg will do a lot of it (like most big-time head coaches in the game do) but he still needs help getting in the door. Sadler can help with that in Texas and Chicago.
Sadler isn't know for his recruiting but I don't see him as being dead weight out on the trial either, should he join Hoiberg's staff. Plus, what naturally comes to most of your minds when you think of Sadler is his career at Nebraska.
Coaching Nebraska basketball is like coaching Duke football. Good luck trying to get top prospects to be very excited about either scenario.
I actually think that Sadler did nice job during his time in Lincoln, leading the Huskers to three NIT's in six years. Nebarska won seven league games or more in three of those seasons, which is actually pretty strong when you consider the history of Nebraska basketball.
This isn't a done deal. Some things still need to happen for this to become official and it could be a few weeks before Hoiberg actually comes out and names his hire.  
As always, stay tuned.