We are merely hours from away from the month of June. That means that football preview magazines will be hitting newsstands in only days. Heck once June hits, media days are only a month away. We might as well start thinking football here at Cyclone Fanatic right?
That is exactly what was on your mind for this installment of the CF Mailbag.
Let's start with a question from Triggermv.
Triggermv writes: Last year, this was easy to answer with the likes of both Jake Knott and A.J. Klein on the team, but who do you see as the future star and best overall player on our 2013-2014 football squad? You have to go out on a limb and pick just one.
CW: That is a great question, especially for an extremely young football team that doesn't have what I would call a no-brainer "superstar" on its roster. I'll start with guys who I consider as candidates for this honor…
On the offensive side of the ball, Tom Farniok has to be in the mix. Iowa State's junior center is without a doubt going to be a four-year starter and has a good chance to someday be a pro. I'd rank him ahead of Ethan Tuftee, but do think the senior guard should be in the conversation. I'd give Jeff Woody honorable mention status (he's just so versatile) and Ernst Brun as well.  
Honestly though, I don't think a guy can legitimately claim any offensive players on Iowa State's roster as "the best" here in late-May. Guys like Aaron Wimberly and Quenton Bundrage could be in the conversation, but they just aren't proven producers yet.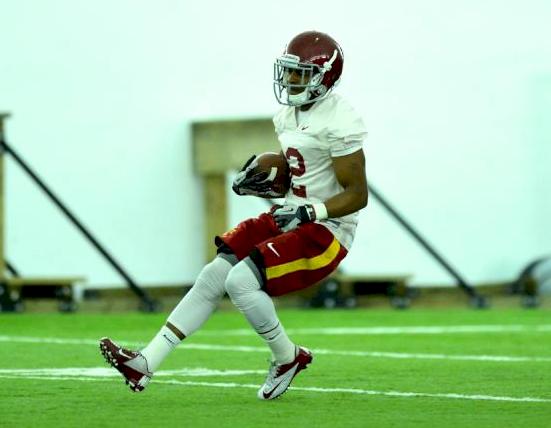 I think that there are really two guys on the roster currently worthy of this chatter and one hanging around in the background. Jeremiah George at linebacker and Jacques Washington are those men. With a decent sized step forward, Willie Scott (defensive end) could be in the mix too.
But I'd go with George strictly based off of the fact that I believe he will be Iowa State's most valuable player in 2013. Look around Iowa State's front-seven. You won't find much experience.  I've been writing for months that I believe George will lead the Big 12 in tackles next season and very well could receiver first-team All-Big 12 honors because of it, which leads us to…
Cyhiphopp writes: Who leads the defense in tackles this coming season with "the twins" gone?
CW: If Jacques Washington leads Iowa State in tackles next season, the Cyclones will not play in a bowl game. Period.
The answer to this question has to be Jeremiah George, barring injury of course. With an inexperienced line in front of him, Wally Burnham is going to tell George to go out and do his thing. He's fast. He's incredibly athletic. Jake Knott refers to George as a "freak" to this day.
This one is a pretty easy question to answer.
Goclones69 writes: Who leads the team in rushing, passing and receiving yards this season?
CW:
Passing – Sam Richardson. The thought of Grant Rohach seeing a decent amount of playing time isn't crazy to me but Richardson is going to be the guy to start the season. He will at the very least get a good enough of a statistical head-start over Rohach to lead the team in passing and for the record, I think he will be the guy for the majority of the year. Don't read that as me trying to create a quarterback controversy or anything.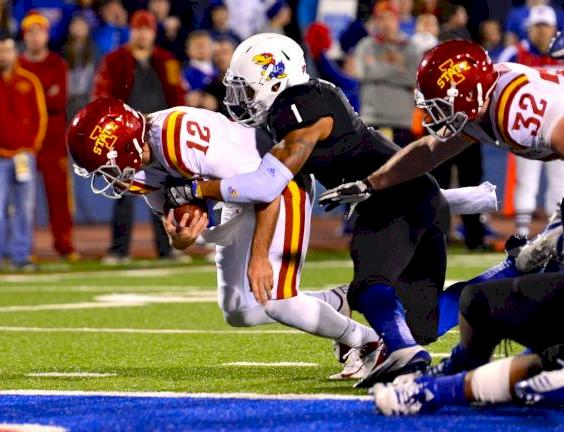 Receiving – Quenton Bundrage. I'm sold on this sophomore. Offensive coordinator Courtney Messingham was surprisingly vocal about Iowa State's need for Bundrage to be the "top target" during spring ball, which told me a lot. I think that anybody who watched Bundrage play as a redshirt freshman saw glimpses of a guy who could be really good someday.
Rushing – This is the tough one…
James White has led the team in rushing for the last two seasons but at the same time, has never run for over 750 yards in a year.
We still don't really know what kind of shape Shontrelle Johnson is going to be in.
Jeff Woody will do his thing and that's great. But racking up a ton of yards isn't it so he's out. 
I believe that based off of the spring, DeVondrick Nealy just might be the best bet here but it is impossible count out Aaron Wimberly too. I'd go with one of those guys and lean Nealy's direction, assuming Iowa State will use Wimberly a lot in the passing game.
Having said all of that, this is a true toss-up. None of the above would surprise me in the least.
MNClone writes: I am exited about Allen Lazard coming to Ames. In basketball, a single great talent can make a huge difference and carry a team. How much of an impact do you think a single player can have on the football field from the wide receiver position?
CW: Well it all depends on what you have around that wide receiver. If your offensive line can't block, your quarterback can't throw and you have no running game at all, an Allen Lazard isn't that big of a deal. But let's just imagine Lazard being on last year's team. Just think about the amount of attention that he would have drawn to opposing defenses. Then all of the sudden, life is a heck of a lot easier for guys like Josh Lenz and Jarvis West you know?
If a defense is obsessed with stopping Lazard, that should open up the running game a little bit too. 
That is what Iowa State has lacked really since Todd Blythe graduated – a legitimate threat that might cause an opposing defensive coordinator to lose sleep at night. Lazard will do that and in return, everybody else will be better for it.
If the team is adequate across the board then yes, Lazard can make a major impact. Without the proper pieces surrounding him, then Allen Lazard is just Larry Fitzgerald and Iowa State is the Arizona Cardinals. 
BrentBlum writes: Let's say you are Paul Rhoads. You get a wild hair with the new tunnel and decide Smoke on the Water is no longer a worthy entrance song. What song do you enter to? On the opposite side of the coin, what would be the worst possible song to enter to? I'm going with Barbie Girl by Aqua for the 2nd part–although the lyrics are award winning. You are welcome in advance for the great, thought-provoking question.
CW: I am a big WWE fan right? I know, I know. Most of you out there think that is "lame." Well to you, my apologies. Trust me. I have never been one of the "cool kids." Deal with it. 
Because of the above, when I think of entrance music, I think of great WWE themes of the past. How about this one? I could see the Jacques Washington/Deon Broomfield combo having a heck of a time with it.
This one spews cool. It would portray the Cyclones as the laid-back ladies men of the Big 12. And yes, I'd really like include the great Michael Buffer in this intro if possible. "The Buff" really makes a good intro great. 
My choice though is the same song that we begin Cyclone Fanatic Radio Shows with. Good golly this would get Jack Trice rocking. This song says, "We're cool and damnit, we're not afraid to be a little bit different either."
If you're not a big pro wrestling fan, then pardon me.
Of course I'm going a little bit tongue and cheek on you right now, as was Blum. But the "Smoke on the Water" entrance is tired to me. The 1970's rock songs are worn out. How about doing something different at Iowa State? Something cool. Something fresh. 
The best team intro I've ever seen in my 28-years of life was from back in the 2000's. The Northwest Missouri State basketball team used to enter the gym to this tasty lick.
I don't care who you are. That is bad ass. 
Okay. I'm obviously not the person to make this decision. I have my Vince McMahon goggles on and cannot take them off. Next!
Worst song ever to enter the stadium to?
This song, being sung by this guy. 
Wesley writes: When is Kenneth Doctor Sadler going to be announced?
CW: Maybe as early as next week but I'm still not sure. I'm still being told that it might be a while. 
Gocubs2118 writes: If you had to project a starting lineup for basketball right now, what would it be?
CW: With the current roster as it is for game No. 1 on the season…
PG: Bubu Palo
SG: Matt Thomas
F: Dustin Hogue
F: Melvin Ejim
F: Georges Niang 
The only debatable positions are point guard and the three-spot. I think that Palo will start the year at the one but wouldn't be surprised at all if Monte Morris takes the reigns at some point. The fact that Palo has never shown a consistent ability to score points at this level scares me. Fred Hoiberg's offense is most effective when all five guys on the floor can put the ball in the hoop. However based off of what has gone down over the last year, I wouldn't be surprised if Palo has improved a ton either. 
The forwards are interesting. Ideally, Percy Gibson would take a major step forward and start at the five allowing Ejim and Niang to run the three and the four. I don't have a ton of faith in Gibson at this point though. I think that Hogue can be a lock-down defender but question what he can do with the ball in his hands. 
That is the safest lineup to project at this time but I think we can all agree that 1) it is early and 2) Hoiberg has some options. 
A DeAndre Kane commitment would change everything. 
Cydar writes: It's National Burger Month. What's on yours?
CW: Well I've got to start with some pepperjack cheese topped with some chipolte mayo. Two strips of bacon. A few slices of a red onion, some mushrooms and a splash of mustard. 
Oh yeah. 
Daddy likes. 
AngryPanda writes: Just how amazing would a Lesner vs CM Punk match be, and Is it terrible that Im a fan of the Sheild and also, have you seen this yet A strange look at Bray Wyatt: Raw, May 27, 2013 – YouTube I can't wait for them to show up!!!
CW: It would be a great match but honestly, I'd rather see the pair team up in some sort of a heel stable let by Paul Heyman. Stables are great for the WWE. It needs more of them. 
And thanks for linking that….Or not….
Creepiest thing I've ever seen. That was some fine editing right there too.
Until next time, stay dry everybody!