Cyclone Fanatic's coverage of the 2013 NCAA tournament is brought to you by our good friends at Channel Seeds. Visit your local Channel Seedsman today at Channel.com as they still have top products available for spring. 
DAYTON, Ohio — Some final hour musings regarding Iowa State's second round (doesn't seem right but that's what the officials tell me to write) NCAA Tournament date with Notre Dame that will tip this evening at 8:45…
10 – Iowa State was picked to finish eighth in the Big 12 this season. After losing Royce White, the Cyclones were to have no business going back to the Big Dance. Right? Wrong. 
Iowa State defied the odds. Yeah, yeah. But that storyline is played out. 
Here's what is interesting to me though. All season long, the Clones have been dogs, until now. Now that the tournament is here and the brackets are already in motion, the Cyclones have turned into a bit of a trendy Sweet 16 pick by some. It's a role reversal of sorts. 
"I think that a lot of people love teams that score the ball. That's something that we can do," Georges Niang told me before yesterday's shootaround. "Some people think we are an underdog because Notre Dame has such a name behind it. They have had great teams. They have a great coach and they have great players but since we score the ball and we are fun to watch and we get up and down, I can see why people are picking us to move on and I don't blame them."
America loves scoring. Just like West Virginia in football. Remember when the experts told you that was a team that would contend for a championship?
Let's hope that Iowa State basketball fares a little better. 
9 – Something that you diehards out there have already thought about…the casual fan, probably not though.
What do Southern, North Carolina A&T, Cincinnati, UNLV and Florida Gulf Coast have in common?
All are NCAA Tournament teams that Iowa State played in the non-conference this season.
Southern, whom Iowa State beat 82-59 in its season opener on Nov. 9, damn near knocked off top-seeded Gonzaga yesterday.
8 – And the top quote from Thursday in Dayton award goes to…Fred Hoiberg. Check out this exchange between The Mayor and a reporter during his press conference yesterday evening.
Reporter: Do you still have the best range on the team?
Hoiberg: Oh, yes, no doubt.
Well done Mayor. Well done indeed. 
7 – I picked up on a common theme regarding tonight's game throughout numerous conversations with different Cyclones yesterday. That's that the most important part of this game is going to be the first five minutes.
"They are vital," said Melvin Ejim. "We have to get out to a great start. We have to be able to control the boards and really try to dictate the game. Those first five minutes and even the first five minutes of the second half are the most important minutes of the game."
I cannot explain to you how tired I am of writing the words "dictate tempo." 
6 – Speaking of dictating tempo, Notre Dame big man Jack Cooley is awfully confident that the Fighting Irish will be able to do just that tonight.
"Our point guards do a phenomenal job of doing that," Cooley told me yesterday. "We played against DePaul twice. That is the fastest running team I have ever seen regardless of where. The way that we controlled tempo against them was incredible. If we can control tempo against some of the quicker teams in the Big East then we can against anybody."
For the record, DePaul finished the season with a 2-16 record in the Big East and took Notre Dame to overtime twice in the process.
Just sayin…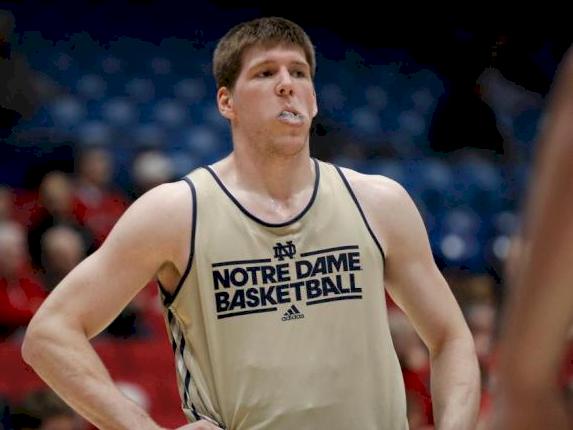 5 – Shifting gears for a moment, I'm proud of my hometown (Clarinda) boy Mike Moreno who was one of four Cyclones to advance to the round of 16 yesterday in the NCAA Wrestling Championships. Moreno upset Iowa's Nick Moore (5-2) and avenged and early season loss to the Hawkeye.
This is a cool deal for me. I used to coach Mike in little league baseball. His father, Iowa State wrestling great Mike Moreno (yes they have the same name), was my old P.E. teach. An awesome family all around.
4 – The Royce White drama just won't go away. I thought that Royce and the Houston Rockets were doing well. That no longer appears to be the case.
3 – There is a lot of talk going around Dayton that Iona (and former Cyclone Tavon Sledge of course) will give Ohio State a game tonight. Think about it this way though. Let's say that they do – is that a good thing for Iowa State? Iona, like the Cyclones, likes to run, gun shoot a lot of threes and score a lot of points.
It is kind of a prep game of sorts…
Point is, if Ohio State is going to win, hope for a blowout. 
2 – Take a look at this article that Travis Hines of the Ames Tribune wrote about Iowa State assistant coach Cornell Mann yesterday. Now remember that Mann coached at Dayton for three years before coming to Iowa State. Read these quotes…
"(Tonight) the key is going to be obviously with our team is shooting the ball," he added, "and with that being said, University of Dayton Arena is an arena that is shooter friendly.
"So I expect for our guys to have a really good night shooting, which is always key to our success."
That's a good sign right? 
1 – So you want a prediction for tonight huh? I have said it all week long – I just don't know. It's a 50-50 deal. It really is. But give me the Cyclones by a 75-72 final.
Tonight's game chat will begin at 8:30. So long until then.