It's funny how things work out in this small world that we live in.
Over the last two weeks, I've played the "what if" game quite a bit regarding Iowa State's football program and the world around us. I'm sure that many of you have too. 
I did this while watching Notre Dame play Alabama in the BCS Championship Game. I did the same yesterday while watching the San Francisco 49ers win the NFC Championship over Atlanta.
For the diehard Fanatics out there reading this, you likely know where I'm going with this. For the casual fan, let me explain. 
You see when Dan McCarney coached his last game at Iowa State back in 2006 – the search was on. Iowa State hadn't faced the chore of hiring a new head football coach since 1995. A new, young, culture changing athletic director by the name of Jamie Pollard was now in charge. What route would he go? 
It was an exciting time for a hungry fan base that for so long had been more than ready to take that "next step" as a program.
We all know what eventually happened – Gene Chizik eventually got the job (and I might add that most people saw this as a home run hire at the time, myself included). Chizik was a scorching hot name in the coaching world. This young, Texas defensive coordinator was thought by most to be college football's next big thing. 
But think about the weeks leading up to Chizik landing the job. Two of the hot names were?
If you guessed Brian Kelly and Jim Harbaugh, here's an online hand pound to you.
Kelly was an up and comer who had dominated the Division II game at Grand Valley State. Most recently, he had taken Central Michigan from 4-7 to 9-4 (and MAC champs) over the span of three years. The night before Chizik got the job in Ames, Kelly was thought by many to be the man. Some believed his hiring at Iowa State was inevitable.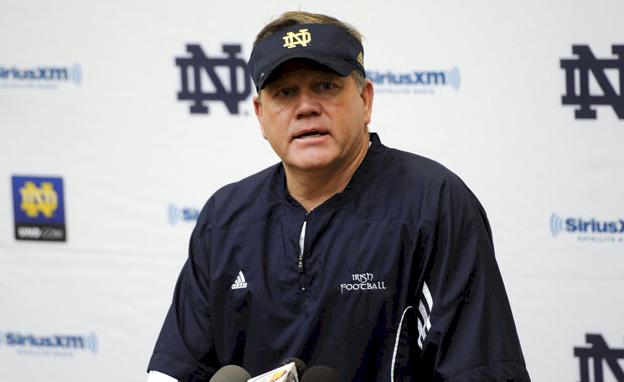 And then there was Harbaugh, the brash, former NFL quarterback with little coaching experience. He had been at San Diego (in the Pioneer Football League) for three seasons, where the Toreros went 11-1 in 2005 and 2006.
How serious of candidates were both men? Only Pollard and his closest confidants really know the answer to that. Who knows if either man even seriously wanted the job? 
I do know that early in the process, Harbaugh was lobbying for it through the media. Harbaugh himself wasn't, but some of his people certainly were (This happens all of the time in coaching searches. Often times agents want their guys being mentioned with jobs, even if they don't actually want the job itself. It's all about leverage.) Things never really seemed to get too serious between those two specific parties though. 
My guess (based off of how this was reported on) is that Kelly was much more of a legitimate candidate. Kelly ended up getting the Cincinnati job while Harbaugh of course went to Stanford. The moves definitely worked out for both men I'd say.
Here's where my borderline ridiculous deep thinking comes into play.
What if Iowa State would have hired say, Kelly?
Would Iowa State have won more than it did with Chizik? What if Kelly didn't win in Ames? Would he still be Iowa State's head coach? Would Manti Te'o have gone to Notre Dame? Would his fake girlfriend have ever died? Would Kelly have led Iowa State to the BCS Championship Game? Would Paul Rhoads have ever been named Iowa State's head coach? Without his time at Iowa State, would Chizik ever have nabbed that Auburn job where he eventually won a National Championship? Where would Cam Newton have played his college ball? Would he have won the Heisman Trophy playing elsewhere? Who would have played Alabama for this year's National Championship. 
The trickle down effect is unbelievable here. I could go on and one. 
Think about if Harbaugh would have been the guy…
I doubt that Stanford would be the program that it is today right? Would Andrew Luck have turned into Andrew Luck? Would Andrew Luck have gone to Iowa State? Would Harbaugh have won at Iowa State? Sure he could have done well, but well enough to leave for the 49ers in only four seasons? Probably not right? So who would be coaching the 49ers right now? Would they be going to the Super Bowl? Would you even know who Collin Kaepernick is? How long would Harbaugh have coached at Iowa State? Would Paul Rhoads have been his replacement? If Rhoads would have never made it to Ames, would Jake Knott have gone to Iowa to play baseball? 
It's a fun hypothetical to wrap your mind around.  On this bitterly cold Iowa Monday, I think we can all come to one conclusion.
The Iowa State football coaching search of 2006 changed the currently landscape of sports as we know it.
Onto hoops…
On Iowa State Basketball…
*** I see that a few people were for some reason concerned with Iowa State's 63-50 win at TCU on Saturday. Umm….Why? Dudes…The Clones turned the basketball over 16 times (five more than the opposition) on the road while giving up 17 offensive rebounds. Combine those stats with the fact that on television, this game looked like it took place in front of what looked like 100 very disinterested people. Take the 13-point win, be happy and get the heck out of Fort Worth. Every game isn't going to be perfect. 
*** You know other than the long layoff between the non-conference season and an unfortunate Big 12 opener at Allen Fieldhouse, Iowa State's league schedule is set up perfectly. Get KU out of the way early – two very winnable home games – followed by the two worst teams in the league, on the road in very lackluster environments – then a good Kansas State team at home when you should be playing with a ton of confidence and a 4-1 record. Playing at TCU is the perfect prep for Wednesday's road trip to Texas Tech. It's a warm-up game for the exact same situation a few days later. Tech is better than TCU, but not by much. 
*** After watching Kansas struggle in Austin over the weekend, a guy can make a realistic case that the Cyclones are playing as well as any team in the Big 12 right now. For real. I talked about this a lot last week but KU losing three or four league games isn't a crazy thought to me. While they defend like mad men, the Jayhawks are somewhat limited offensively – for a top five team at least. Iowa State has its obvious issues but its ability to put up points the way that the Cyclones do masks a lot of those worries.
*** One of those issues is rebounding…You can show me all of the stats that you want about Iowa State's rebounding numbers but don't think for a second that those aren't at least a little bit skewed due to some non-conference laughers. Consider this: Iowa State has given up 33 offensive rebounds in its last two games. If the Cyclones do that against better teams in coming weeks, the Cyclones will lose some basketball games. 
Randoms…
*** While watching SportsCenter early this morning, NFL analyst Merril Hoge made a point that I could relate to Iowa State football. He was commentating on Jim Harbaugh's decision to go with Kaepernick in the middle of the season over Alex Smith. 
"This is why you have to trust coaches," said Hoge. He went on to point out that coaches are with players all week long, in the film room, during practice and doing things that fans don't even know about. We only see these guys one day a week. Hoge's point – when a coach makes a personnel decision, it's generally the best decision for the sake of the team.
Keep that in mind as Iowa State's quarterback situation is likely going to be sticky again this offseason.
*** Here's a funny one for you to wrap this up…
Over the weekend, I attended the birthday party for my three-year old twin niece and nephew, Miley and Nolan. Both are awesome kids full of great spirit and personality. I've got this crazy uncle (who I love like a father) who just happens to be the biggest Hawk fan that I know. He's a good sport about the whole Cyclone Fanatic thing though. Heck, he even came to our recruiting party last year.
Back to the story…
My uncle walked in the room and handed Nolan a birthday present – a black and gold Iowa Hawkeye football. Nolan, a Clone, looked at the ball, put his right thumb up to his nose, put his nose in the air, stuck his tongue out and handed the ball back to my uncle. The kid wanted nothing to do with a football, as cool as it was, with a Tiger Hawk on it.
It gave us all a good laugh and I hope that it does you too. Have a great Monday and if you're logging on from central Iowa, stay warm!