After watching Iowa State get outgunned by West Virginia to finish 6-6 in the regular season, I, like many of you, was a little bit disappointed. 
I wasn't disappointed in the program's effort by any means. As I wrote in my postgame column, with three starters out on defense and others banged up, the Cyclones took a plastic knife to a and cheap steak that is West Virginia's ridiculously talented offense. Iowa State made a slight gash but in the end, that tough meat was just impossible to cut. There's no shame in holding West Virginia to 31 points. At some point (especially in the Big 12), you've got to out-score the other team, which the Cyclones failed to do. 
The thing that I've noticed disappointed most fans on our boards, on Cyclone Reaction and from what I saw over the weekend on Twitter was the hunger do get that seventh win for the first time in the Paul Rhoads era in Ames. I get the feeling that despite being picked by next to nobody to even go bowling this year, this fan base has risen its expectations on the program to get to that "next level."
I understand and by all means, you all have the right to feel that way.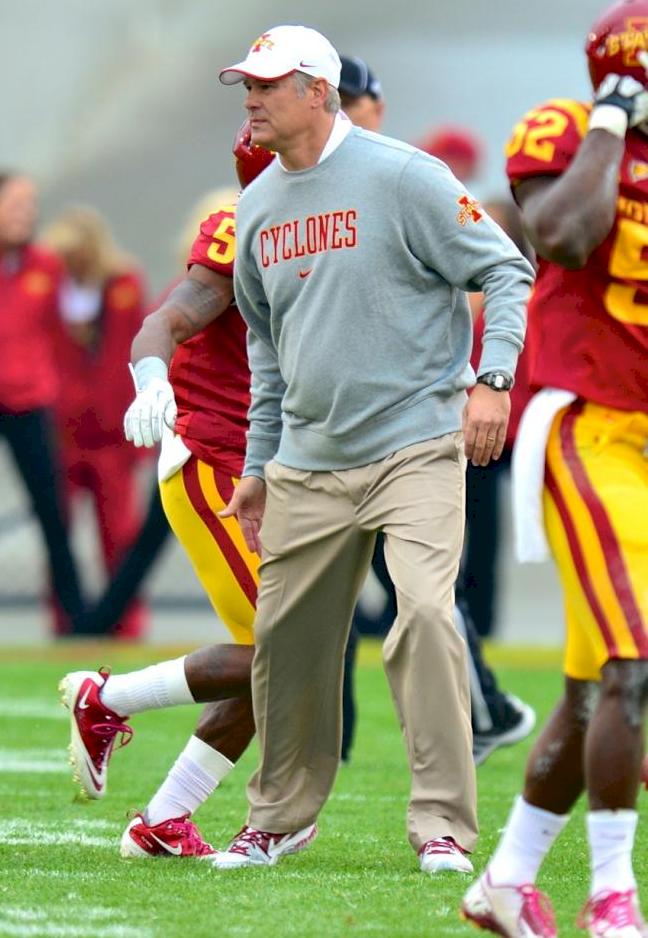 But high above Jack Trice Stadium at about 7:30 p.m. on Friday night while watching a cleaning crew get to work on the bleachers for the final time this season and breaking down the game with my friends Brent Blum and Jack Whitver, a conversation that I had back in 2005 with a very wise man came back to me. It was a conversation on what it takes to build a championship football program.
"Before you get to 10-2, you need to consistently go 6-6.That's generally just how it works."
His point was that a program needs to get to a point where 6-6 is considered to be the norm. Historically for Iowa State, a program that has played in only 11 bowl games over the course of time, 6-6 has been anything but. Once you get to that point, peak years of 8-9 wins are your goal. Then you keep raising that bottom bar over time. 
When Paul Rhoads arrived in Ames, Iowa State was not consistently going 6-6. You all know the history of Iowa State football and don't need me to give you a refresher course – but here's one in a nutshell.
The Cyclones went bowling four times in the 70's. Dan McCarney really got the ball rolling in the early 2000's, qualifying Iowa State for the postseason in 2000, 2001, 2002, 2004 and 2005. Then Gene Chizik came to town…
I think that we all can agree that the 2012 Cyclones could have, and maybe even should have been better than 6-6. After all, Iowa State will likely finish the season ranked second in the Big 12 in scoring defense and third in takeaways. Yards don't mean much in this league. Despite what many believe, the defense was good enough for Iowa State to have gone 8-4. Inconsistency on offense is what ultimately kept Iowa State from seven or even eight wins and taking that "next step."
But let's do a little comparing here…
Dan McCarney went 9-35 during his first four seasons in Ames. Paul Rhoads went 23-25 (regular season games only). It took McCarney five seasons to get Iowa State to a bowl game. Rhoads is one two-point conversion against Nebraska in 2010 (sorry to bring that up) from going to four in four years.
When making this comparison, each man has advantages and disadvantages to discuss. McCarney had the weak Big 12 North and four non-conference games to his advantage while making bowl trips. However, the basically started this program from scratch. Rhoads on the other and had a solid foundation to build on (hate on Gene Chizik all you want but he did a fine job of recruiting while in Ames). Even so, Rhoads has been plagued with the disadvantage of bad non-conference scheduling (that was out of his control) and a brutal round-robin Big 12 schedule. Conference realignment rumors haven't helped on the recruiting trail. 
I'm not here to compare McCarney vs. Rhoads today. That's not the point at all. I'm simply trying to discuss the "next step" conversation that fans throughout the Cyclone Nation had all weekend long with one another, while putting perspective on the 2005 conversation that I had with this very wise man.
No, 6-6 isn't the best-case scenario for the 2012 Cyclones like it probably was back in 2009. This is a team that very well should have been 7-5 but ultimately fell short. But that doesn't mean that progress isn't being made.
Program depth is up across the board. Recruits and young fans alike are now accustomed to Iowa State playing in bowl games. Attendance is at an all-time high. Iowa State's new state-of-the-art football facility will be a major coup going forward.
Not getting to seven wins (and four in the Big 12) will no doubt stick in the craw of many during the offeseason but because of all of the reasons above, I'm still very confident that Paul Rhoads has this ship heading in the right direction.
More on Iowa State Football…
— A quick personal note regarding the 2012 Cyclones…That senior class that was honored on Friday was one of my all-time favorites. I'll miss talking to those guys ever Monday, as well my other friends in the media. That's a heck of a first class that Paul Rhoads signed in Ames.
— Going into Friday, I was all about Iowa State traditionally playing on the day after Thanksgiving. Now there's no doubt that Iowa State's student section, or lack there of, was disappointing on Friday though. I'm not quite sure what you can do to keep that from happening in the future, other than winning (it cures everything) of course. But even so, I'm all about Iowa State doing whatever it can to keep this new "tradition" alive. Those two teams put on a heck of a show and while watching the game back on Sunday afternoon, it was great exposure for Iowa State.
— Speaking of great exposure, did anybody else see ESPNU's "All Access, Iowa State" feature that played last week? Combine that with the Black Friday national television audience and I'd venture to say that thousands of folks across America were exposed to Iowa State who might not have known it existed before.
— Right now, I'm projecting Iowa State to play in the Heart of Dallas Bowl on Jan. 1 vs. a team from the Big Ten. Most folks around the country are projecting this as well. Of course, we're all assuming that Oklahoma and Kansas State will both win next week, placing two Big 12 teams in the BCS. If that doesn't happen, throw any of these projections out the window.
This would be a fantastic fit for Iowa State. It's a drivable distance for most fans. The New Years Day Bowl experience would be a plus. Dallas is a recruiting rich area for Paul Rhoads' program.
Stay tuned.  
RANDOMS…
— Did anybody else watch former Cyclones Chris Colvin and Greg McDermott duke it out on ESPNU late Saturday night? If you're wondering, McDermott's Bluejays defeated Colvin's Sun Devils by an 87-73 final. Colvin scored six points with five rebounds in 29 minutes of work for Arizona State. 
— The gold uniforms that Iowa State wore on Friday vs. Cincinnati were sick. Fred Hoiberg is having a press conference later today. I'll get you your hoops fill at that time.
— There are a couple of upper-tier Big 12 basketball schools that are struggling right now if you haven't noticed.
Baylor is Baylor is Baylor is Baylor once again folks.
The Bears are currently 4-2 to start the season. I can live with a loss to a good Colorado program. But Scott Drew's team shot 39 percent from the field and was out-rebounded in a weekend home loss to the College of Charleston. Baylor is loaded with talent and of course, they're going to win some games this season because of that alone. But these Bears don't look any different than those of the past. It's going to be an inconsistent season in Waco. 
And then there's Kansas State. The Bruce Weber led Wildcats are currently 5-1 but got absolutely throttled by Michigan on Wednesday. That's not the issue, as Michigan might be a Final Four type of team. The issue is Rodney McGruder, who is only averaging 11.0 points per game so far this season, down from nearly 16 last year. It's early. Very, very early. But McGruder, who without a doubt was considered one of the league's top players heading into the season, doesn't look comfortable playing for Weber at this point in time. It's something to keep an eye on at the very least.