By Chris Williams, CycloneFanatic.com PublisherFollow Chris on Twitter @ChrisMWilliams  
AMES — Fred Hoiberg individually met with every one of his players on "Selection" Sunday afternoon. He delivered two simple messages within these one-on-one sessions.
"I told them how the focus needs to go through the roof now," said Hoiberg.
The result?
"Our guys had a great day of practice today," said Hoiberg. "They played extremely hard. Communication was awesome. Everybody was together. It was a great day to get back into it."
Hoiberg's second point was to enjoy the upcoming NCAA Tournament experience. In front of an estimated 2,000 fans at Hilton Coliseum on Sunday evening, the Cyclones learned of their first round fate.
Could Iowa State have gotten a nastier draw?
In a first round contest that will tip at approximately 8:20 central time on Thursday evening, the 8-seed Cyclones will take on the 9-seed and defending national champion UConn Huskies in Louisville, Kent.
CLICK HERE FOR BRENT BLUM'S EARLY SCOUTING REPORT ON UCONN
If Iowa State (who has opened as a one point favorite in this game) is fortunate enough to get past the Huskies, a matchup with the tournament's overall No. 1 seed Kentucky, would likely be the Cyclones' second round opponent.
"You've got two of the most storied programs in NCAA basketball history in the first two rounds, if we're lucky enough to get by the first one," said Hoiberg. "It's a tough draw but hey, we're up for the challenge."
Iowa State's All-Big 12 sophomore forward Royce White isn't only just up for the challenge. He's ecstatic about it.
"I think that the opportunity is humongous," said White. "There's everything to gain and from what people are projecting, there's nothing to lose. That's always a good thing. When you've got your back on the ropes basically, there's nothing to do but win."
White sees potential for Iowa State's draw to be a bit of a microcosm of its 2011-12 season. The Cyclones were underdogs in a big time league and exceeded expectations all season long.
"I'm a writer so I see the great story in it. There couldn't be a better storyline," said White. "For us to do what we did this season and coming into the tournament getting the draws that we did, doing something special and getting out of that region."
MORE REACTION: 
Chris Allen on the draw…
"Every year that I've been in the tournament, we've always had the hard road against the toughest, underrated teams. Just like now. We're playing a team that isn't rated that high with their seed but they have some of the top players in the nation. Their whole starting five has NBA potential. You've got to respect that. Their guys off of the bench can add 20 to 30 points also. They're almost the same team as us if you want to think about it like that. They have all of the tools to be a national championship team but they have their lapses like we have our lapses. Whatever team stays on the right track the whole time is going to win."
Tyrus McGee on playing the defending national champs…
"I like it a lot. It gives us the opportunity to show the whole world what we can do."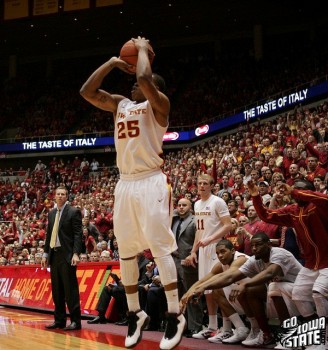 Fred Hoiberg on the Huskies…
"This is a great team. They've got six players returning from a national championship and guys that are playing very well right now, especially since they got Jim Calhoun back. It's going to be a heck of a battle for us but we'll come out and compete, I'll tell you that."
"You're playing two lottery picks here, probably two top 10 picks. Those are big time talents. (Alex) Oriakhi was a starter on that team last year. (Shabazz) Napier is a big time player. Roscoe Smith, Olander. That experience is very valuable."
QUOTABLE: UConn head coach Jim Calhoun on the Cyclones…
"We haven't played a team yet that shoots 36 3-pointers and averages 24 a game. They shoot at 39 percent. We don't take 37 three's in two weeks. We will have to chase them off the arc. Our defense looks to be different very different than theirs. It is hard to calculate given our different leagues and different schedules. They beat Kansas State twice and beat Baylor. We are focused on beating a very good Iowa State team."
QUICK HITS:
 — When Chris Allen saw that his former team, Michigan State had received a No. 1 seed, he perked up. Allen smiled and looked to his left where another former Spartan/current Cyclone, Korie Lucious sported a mischievous grin as well.
During that very moment, the duo that used to wear green thought that they might have a chance to reunite with their former teammates and legendary head coach Tom Izzo.
"That's all that they were talking about last week," said Allen about his former teammates and friends. "I was getting Facebook messages from random people saying that they were going to kick our butt and this and that. I was just hoping that we get to play them. That would be a great experience to play against my old team. That's all I was looking at it as."
— I asked Tyrus McGee if he thought that he'd play in an NCAA Tournament during his first year as a part of Fred Hoiberg's program…
"This was my expectation, to make it to the NCAA Tournament," said McGee. "I set my standards high and my teammates do as well."
— During his four years of playing college basketball, Chris Allen has now qualified for four NCAA Tournaments. He's played in a national championship game, two Final Fours and an Elite Eight.
"At the end of the day, it is all about my teammates," said Allen. "Without them, I wouldn't be here."