By Chris Williams, CycloneFanatic.com PublisherFollow Chris on Twitter @ChrisMWilliams

CycloneFanatic.com's coverage of the 2011 Big 12 football media days in Dallas is proudly brought to you by the Iowa Clinic's Urology Department.
I'm about to predict the future. Trust me. You'll be impressed.
Throughout the week leading up to Iowa State's 2011 Big 12 opener vs. Texas on Oct. 1, beat writers, bloggers, talk radio hosts, bloggers and more will discuss the following story: Texas will be out for revenge against the Cyclones, who punked them in Austin last season by a 28-21 final.
Enter Lee Corso.
"Not so fast my friend."
Texas senior safety Blake Gideon (pictured below) says otherwise.
Despite the program's frustrating 2010, the Longhorns won't place any extra emphasis on the teams that beat them a season ago, including the Cyclones.
"When you circle a game, you lose sight of other games," Gideon told CycloneFanatic.com. "We can no longer just roll our helmet out there and hope for a victory. We've got to focus on every team and play that team like we're playing for the Super Bowl every day."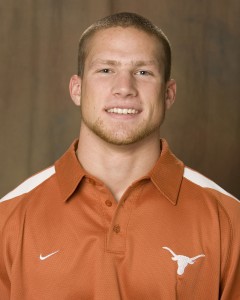 Texas went 5-7 last season and missed a bowl game for the first time in Mack Brown's 13 seasons as the school's head coach.
"That's just not supposed to happen at Texas," Gideon said. "Anytime that you go 5-7, I don't care if you're coming off of a national championship or whatever, something needs to change. Some type of attitude needs to change."
That's why Brown reconstructed his coaching staff in the offseason. Of Texas' 11 assistant coaches, six of them are new to the program in 2011. Among these men are co-offensive coordinator Bryan Harsin and defensive coordinator Manny Diaz.
"It was a chance for all of us leaders to step up and say, 'It doesn't matter who our coaches are going to be.' They aren't going to be the ones on the field," Gideon said. "It will be the players who make plays or don't.
The Big 12's media voted the Longhorns fifth in its preseason poll. The key to a Texas turnaround is simple. Turnovers. Texas ranked 116th in America in turnover ratio last season.
"We've got to protect the ball better," Brown said. "We've got to force more turnovers and we've got to play with more confidence and a better swagger."