This Iowa State women's basketball feature is brought to you by our good friends at Wilson Toyota in Ames.
By Ian Smith, CycloneFanatic.com Contributor
Iowa State isn't the No. 1 team in the nation like its counterparts on Saturday, but that doesn't mean the Cyclones won't give a topped-ranked effort.
It will take that much and more for Iowa State to pull off the upset. The No.17-ranked Cyclones square off with No. 1 Baylor on Saturday at 11 a.m. The game will be televised nationally by Fox Sports Net.
"There are not many people (like Baylor) who are going to say they were a final four team last year, and they are better this year," Iowa State coach Bill Fennelly said. "I think that's a fact."
But that's exactly what Fennelly and his Iowa State squad will see face on Saturday. The Bears roster lists the Big 12 preseason Freshman of the Year (Odyssey Sims), Newcomer of the Year (Brooklyn Pope) and Player of the Year (Brittney Griner).
Whoa.
"Last year, they didn't have as many shooting options as they do this year," Kelsey Bolte said. "This year, they are the total package. They have inside, outside, ball-handling, shooting."
The Bears enter the game ranked as the No. 1 team in the country for the first time in school history. The only loss on Baylor's record so far is at Connecticut, 65-64. Against five ranked opponents this season, the Bears own a plus 16.2 scoring margin.
The Cyclones face a tall task in topping Baylor – literally. Griner – all 6-foot-8 of her – is averaging 21.7 points, 7.3 rebounds and 5.1 blocks per game.
"She changes the game as much as any player I've been around – offense and defense," Fennelly said. "It's different if you are just a shot blocker standing in the lane. She's getting 21 points per game. She knows how to play. She's been very well coached."
Last year, Iowa State trounced Baylor, 69-45, by double and triple teaming Griner. The problem is that the Bears found some shooters in the offseason. Sims, Melissa Jones and Makenzie Robertson are a combined 56-127 (41 percent) from 3-point range.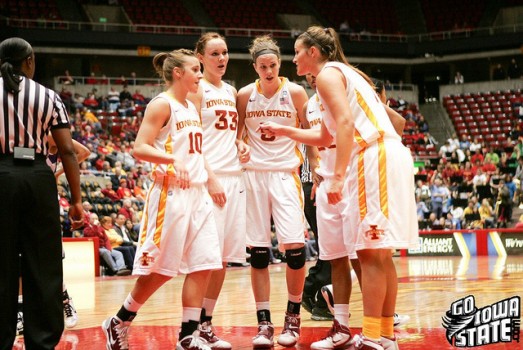 Cyclones preparing to win
Baylor's roster is littered with talent. Does that mean the Cyclones should just give up? Absolutely not.
"I just tell them, 'If you don't think we can win, stay home and save me the meal money and the plane trip," Fennelly said. "Just stay here and hang out if you don't think we can play. What the heck? Let's see what happens."
One player who definitely won't be intimidated is Kelsey Bolte. The senior leads the Cyclones with 15.5 points per game. Of course, every team in the Big 12 is aware of that.
"She knows she'll be the target of every defense we play," Fennelly said. "She's ready for that. I don't think that will bother her. It's just a matter of when she's not at her best, other people need to do their part."
The other people Fennelly is talking about is Anna Prins, Chelsea Poppens, Hallie Christofferson and Lauren Mansfield. It's crucial the quartet does their part to score points. Luckily, these Cyclones are coming on at the right time.
Poppens is averaging 13.2 points and 8.8 rebounds in her last five games. Prins scored a career-high 22 points in 20 minutes her last time out. Christofferson owns eight games in double figures, and Mansfield continues to lead the Big 12 in assists (6.6 per game).
Tough as nails
The Big 12 is undoubtedly the toughest league in the nation. The conference has 10 teams with 10 wins or more and owns a 133-30 mark in nonconference play. Big 12 teams are 99-4 this season in home games.
"It's a tough league, but it's also a fun league to play in," Prins said. "You get really good competition. It's cool because every team in the Big 12 is good."
No. 1 Baylor and No. 7 Texas A&M are in a class by themselves, after that who finishes third is anyone's guess.
"Right now, Baylor and Texas A&M are off on their own somewhere, and three through 12 are more even," Fennelly said. "If you think about the two great teams and the parity, or whatever word you want to use, of the others, I think it will be the hard over 16 games to figure out who finishes third through 12."
Iowa State (No. 17), Oklahoma (No. 19) and Texas (No. 22) are also ranked.
Quick hits
– Iowa State is 7-7 in Big 12 openers.
– With 230 3-pointers, Kelsey Bolte is 10 behind Allison Lacey for fifth all-time
– The Cyclones have finished in the top four of the Big 12 standings four times in the last six seasons.
– Iowa State is 0-3 all-time against No. 1 teams.