By Kirk Haaland, CycloneFanatic.com Contributor
There aren't many people reading this (insert period here for truest statement ever) who haven't yet heard about Diante Garrett joining the "1,000 point club" in the Iowa State men's basketball record book.  At the moment, he is 27th all-time with his 1,017 points and within striking distance of Vince Brewer, Terry Woods, Rahshon Clark, and Will Blalock in the very near future—Blalock is 23rd all-time with 1,078 points.  If Diante averages 15 points per game the rest of the way this season, or roughly 20 games, that would put him at 1,317 points, good enough for 16th all-time.  To commemorate this event, this sub-standard blogger will try to make some interesting observations amongst those in this illustrious group.
Had Diante Garrett miraculously not made the 1,000 point mark for his career this season this would've been the first Cyclone team since the 1971-72 season that didn't have at least one eventual 1,000 point scorer on its roster—given what we know now.  Who are the players that make the chain from 1972—present you ask?  I will share:
Hercle Ivy                                    1972-76 Andrew Parker                            1975-79 Dean Uthoff                                 1976-80 Robert Estes                                 1978-82 Ron Harris                                    1980-84 Barry Stevens                                1981-85 Jeff Hornacek                               1982-86 Jeff Grayer                                     1984-88 Terry Woods                                  1986-90 Victor Alexander                           1987-91 Justus Thigpen                              1989-93 Julius Michalik                              1991-95 Loren Meyer                                   1991-95 Fred Hoiberg                                  1991-95 Dedric Willoughby                         1995-97 Marcus Fizer                                   1997-00 Jake Sullivan                                   2000-04 Jared Homan                                   2001-05 Will Blalock                                      2003-06 Curtis Stinson                                  2003-06 Rahshon Clark                                 2004-08 Craig Brackins                                  2007-10 Diante Garrett                                  2007-11
Note that the closest the streak was to being broken was in the five year stretch where only Dedric Willoughby and Marcus Fizer became 1,000 point scorers.  Now for an overload of charts that I created to look at things from a different angle (yes, I have a sickness).  First things first, well actually second, but here are the career scorers over 1,000 points (to try to make my life somewhat simple I didn't include Diante Garrett on any of these charts, yet):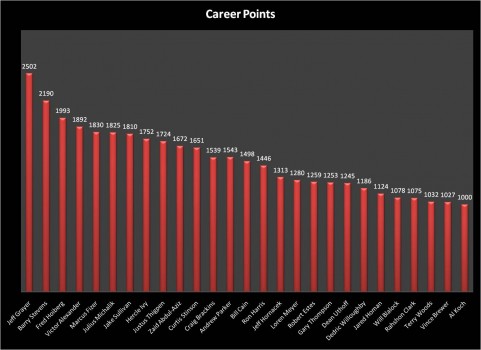 Now, I tend to like to look at things in as close as possible to an apples to apples comparison and that means per game averages.  So, with that, this chart depicts career points per game: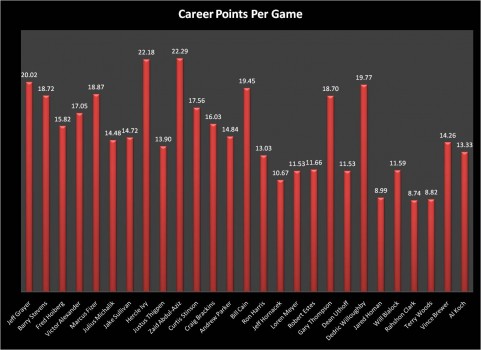 The next few charts will show some interesting ways to look at the career scoring lists, starting with career two-point field goal percentage: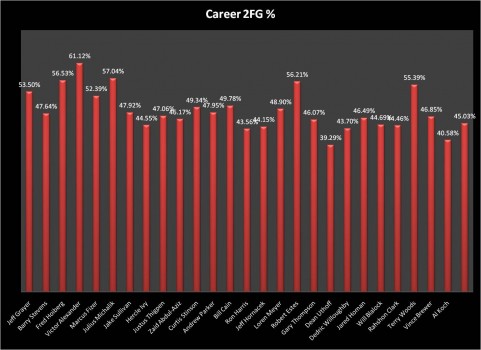 Next is the percentage of career points that came from made three-pointers: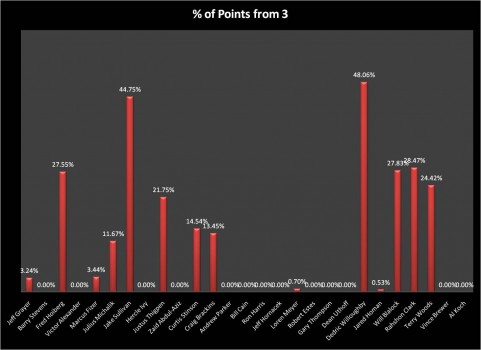 And similarly here is the percentage of career points that were scored from the free throw line: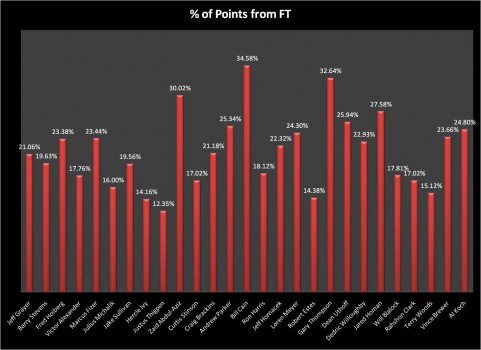 Finally, just for good measure here is the career rebounds per game for each member of the "1,000 point club":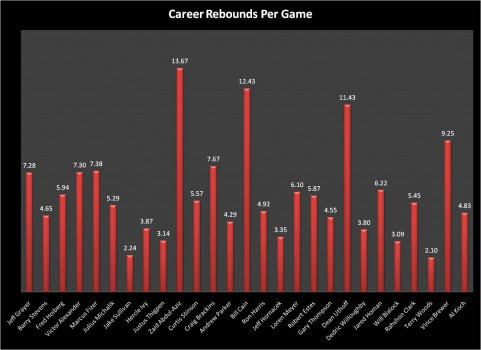 The biggest conclusion I have drawn from all of this is just how dominant Zaid Abdul-Aziz must have been.  As it stands, he is 10thon the all-time scoring list but he is also the most potent of scorers by averaging 22.29 points per game in an era where the three point line didn't exist.  Also, he was the most productive rebounder from this group on a per game basis—even more so than Dean Uthoff, who is largely considered the best rebounder in ISU men's basketball history because of his gaudy numbers for four consecutive years.
Other notable observations:
Gary Thompson notched 32% of his career points from the free throw line.  That is a large number even when considering the lack of a three point line.
Another Gary Thompson note; not to rag on the legend but he does have the lowest career two point field goal percentage of everyone in the group at 39%.
Victor Alexander scored 1,853 of his 1,892 career points in his final three seasons.  He played in 23 games as a freshman but only attempted 30 two point field goals.
Dedric Willoughby is the only 1,000 point scorer that garnered the honor after playing in just two seasons.
Rahshon Clark scored the fewest points per game en route to 1,000 career points with 8.74 points per game.
Marcus Fizer holds the record for most points scored in a single season with 844 in 1999-00.
Those are the noteworthy conclusions that I notice immediately, what are yours?