By Kirk Haaland, CycloneFanatic.com Contributor
With conference shiftiness at an all-time high and changing schedule formats for both ISU and Iowa on the horizon, this "new" debate is all the rage.  To play, or not to play?  I might as well subject you to my thoughts on the matter, no?
For Iowa State fans this game is their Super Bowl, the season saver and bar none, the most important game, every single year.  For Iowa fans it is a no win scenario to beat lowly Iowa State or lose in an upset of the century.  Or so the stereotypes go.
In actuality, it's a fun game that I look forward to every season.  It gets the blood flowing to have the "smack talk" streaming with friends and even family in some cases. It should be noted that every single year when this game is over I'm glad.  Win or lose, I'm glad the focus of the season can shift to ramping up for the conference schedule. It should also be noted that I look forward to every other game on the schedule too.
Paul Rhoads put it best and in perspective, last season by comparing the fan relationships of this rivalry to that of Auburn-Alabama.  In the parking lots before the game in Iowa, you'll find mixed tailgates, fun banter and reasonable discourse.  The same cannot be said for the boys in Alabama, where a much more malicious rivalry exists.
The intricacies of this rivalry as it currently lives goes back to pre-1977 in my mind.  The series was renewed when politicians got involved and forced the hand of the University of Iowa to restart the annual tradition.  Iowa fans will claim it was "little brother," ISU needing Iowa to exist and subsidize its athletic department while Cyclone fans will claim that Iowa ran scared and didn't want to resume the series earlier in the 70's, when ISU was the more dominant football program.  Which is accurate?  Does it matter?  I wasn't around in the 70's to make the judgment; however, that argument has set the tone for the way the fans feel nowadays.
These feelings were only enhanced over the 15-season winning streak for Iowa—yet, oddly enough, the series wasn't widely considered to be dropped in the mainstream during that time.  Those discussions didn't begin to arise until Iowa State became a legitimate opponent and threat to beat Iowa in any given season, instead of looking like Billy Madison in a musical instrument contest with Eric.  The crass statements of, "we need to ditch Iowa State to schedule a 'real' D-1 team" always make me laugh.  If that is the concern and Iowa State is not a "real" D-1 team, then just schedule a "real" D-1 team in place of Ball State, Eastern Illinois, or Directional Michigan.  (Kudos on the Arizona series, though.)
I can hear the shouts from Iowa City already.  "I'm tired of subsidizing ISU's athletic department and I'm tired of this no win situation every year".  Of course the types of people that make these comments are most often the same people that wanted ISU to fall into the abyss during the conference realignment saga—well being for the state of Iowa be damned.
According to this article, ISU earns roughly $600,000 per trip to Kinnick Stadium, due to the contractual 20 percent of ticket revenues that is paid from the home team to the visiting team (that is set to change beginning in 2013 to allow the home team to keep all revenues).  On the years when Iowa travels to Ames, Iowa State charges $90 per ticket in the Iowa section of 4,000.  Let's estimate another 2,000 Iowa fans buy tickets that otherwise wouldn't have been purchased for roughly $50 each.  That combines to $460,000 in revenue from the pockets of Iowa fans.  After you subtract the 20 percent of the ticket revenue that goes back to Iowa that number shrinks to $368,000.  Just to be conservative, let's fudge the number a little bit to compensate for the added interest in the game that attracts more ISU fans and bump that number back up to $400,000.  (All of this without even mentioning that ISU fans go through the same process to get tickets to the game when it is played in Iowa City).
So for any two year span, Iowa's athletic department and Iowa fans combine to pay $1 million to the Iowa State Athletic department, or $500,000 per year for you Iowa grads. (See, aren't those harmless barbs fun to throw around?  Just to balance it out here's my favorite Iowa State joke:  How many Cyclone fans does it take to screw in a light bulb?  Three.  One to screw in the light bulb and the other two to talk about how great Seneca Wallace was.  The best part of that joke isn't how funny it is, but when you tell it to ISU fans you always get the same response, "Yeah, Seneca was pretty freaking awesome though.")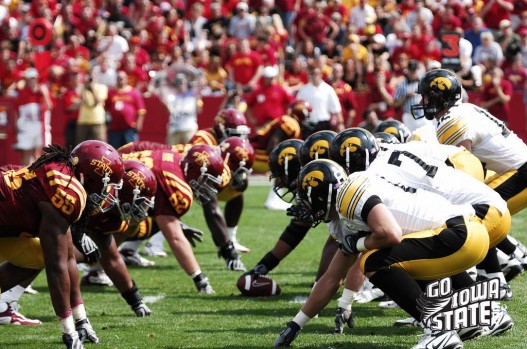 In the 2009 fiscal year, the Iowa State Athletic department had total revenue of $45.8 million.  If $500,000 of that came from the University of Iowa and its fans, that comes out to 1.1 percent of the total revenue.  That's it?  That's the great subsidy that the U of I and its fans are floating the ISU AD in order to keep its head above water?  Despite being a proponent of the game, its times like these when I hear the ill-informed with their horrible logic that makes me want to say, "Forget you Jobu, I do it myself" (Pedro Cerrano).  If that is the indignant crap, I'm going to have to listen to for all of eternity from Iowa fans then to hell with the game, good of the state and fun natured smack talk.  The Iowa State Athletic department would be just fine without the game.
I am greatly in favor of continuing to play the game, even if the proposed nine game conference schedules do happen.  The only scheduling quirk would be that Iowa and ISU would have to have their respective five conference home games in opposite years.  That way, when either school has the majority of their conference games at home, the rivalry game would be played on the road and vice-versa.  College football has taken place in far more seasons with an 11-game schedule, as opposed to 12 game schedules—where was the outrage and concern with eight conference games and three non-conference games under that scenario?
Depending on how close you pay attention to things, I write and posts I make on the forum that stance may be a tad surprising.  I've often been told that I shouldn't "admonish" ISU fans that put too much weight on the Iowa game.  Most often by the fans that boldly proclaim it's the biggest game every year, they'd rather beat Iowa than any conference opponent, or they compare everything under the sun that happens in Ames to the "goings on" in Iowa City, all while wearing their Iowa State shirt that proclaims "Not A Hawkeye!" (Worst shirt ever, by the way, no matter how glad I am or you are to not be a Hawkeye that shirt is completely lame.)  Those attitudes and opinions are not the best climate for advancing our football program or athletic department.  Can a win over Iowa make you feel a little bit better about a season gone badly?  Sure.  Going 1-11 is crappy no matter what, so that win might as well be against Iowa.  That way you have some healthy retorts and rebuttals at your fingertips.
I didn't become a fan of Iowa State because of a burning hatred for Iowa.  That is likely true for everyone on both sides of the fence, with the exception of out-of-state transplants to Iowa that pick one or the other for any given reason.  (Another exception and mildly humorous story on this:  one of my brother's friends used to be an Iowa fan until he took his then girlfriend—and Cyclone fan—in high school to an Iowa State-Iowa game and an Iowa fan through a hot dog at her that connected.  He now hates Iowa…a lot, and switched his allegiances right then and there to Iowa State.)
The fact of the matter is that the game is for the good of the state.  Its fun, its good competition and both teams can have successful season no matter the outcome.  I know there is a popular stat circulating about how ISU only has decent seasons when they beat Iowa but that is more coincidence than anything else.  In the last five seasons in which ISU has lost to Iowa, (since ISU broke the 15 game streak and made the rivalry relevant again) (2003, 2004, 2006, 2008, and 2009) they couldn't beat any D-1 team, let alone the in-state rival (with the exception of 2004 & 2009 when ISU made and won bowl games anyway).  In 2003, ISU beat Ohio and UNI (barely).  In 2006, the Cyclones struggled to beat Toledo, UNI, and UNLV and came up with late season heroics to say goodbye to Dan McCarney with a win over Missouri.  And in 2008, ISU could only muster the strength to beat South Dakota State and Kent State.  Losing to Iowa doesn't really hurt your season when you lose to everyone else as well.
This game and fan rivalry that surrounds it is no longer viewed as a personal safety issue for fans as it was when it was discontinued after the 1934 contest that Iowa State won 31-6.  It is a fun game that we can all support and move on from after it occurs—some of us better than others.  Quite simply, it is hard to imagine having to argue which team would win the game instead of playing it on the field.  It is even more difficult to imagine a non-conference season without the rivalry game.  After all, how could we ever possibly cope with not seeing that ugly trophy being carried off the field high over head—no matter which team is walking underneath it.