CycloneFanatic.com's Big 12 Tournament Coverage this week is being brought to you by our good friends at Wilson Toyota in Ames.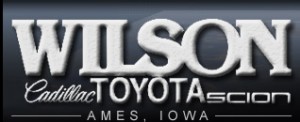 The men's Big 12 Basketball Championship is upon us. Who will bring home the 2010 title? Kansas is the overwhelming front-runner heading into the competition. We thought that it would be fun to do a CF media pick'em competition for this week's tournament. Here are the picks below!
The roster:
Chris Hassel – WHO Channel 13 Sports Reporter
1st Rd winners: Colorado, Missouri, Oklahoma State, Texas
Quarterfinal winners: KU, Texas A&M, K-State, Texas
Semifinal winners: KU, Texas
Champion: Kansas
The Cyclones haven't won a Big 12 Tournament game since beating Baylor in 2005, and I don't expect that to change. Saturday's win over K-State gives ISU hope, but the Longhorns have too much talent, more so than Kansas State. They may not be playing well right now, but this is the same team that smoked #16 Pitt, and #11 Michigan State. Both those games were on neutral floors. That's why UT is my so-called 'sleeper' in this year's tournament. I have Kansas winning the championship. And when it comes time to fill out the big bracket, next week, I'll be picking them to win that title, as well.
Eric Peterson – Iowa State beat writer, Cedar Rapids Gazette
First round: Colorado, Missouri, Oklahoma State, Texas
Quarterfinals: Kansas, Missouri, Oklahoma State, Baylor
Semifinals: Kansas, Baylor
Champion: Kansas
You'd be crazy not to think Kansas will take its fourth Big 12 Tournament title in five years. And it'll get a chance at revenge in the championship game against red-hot Baylor, who took out the top-seeded Jayhawks last March as the No. 9 seed. I see Missouri and Oklahoma State pulling second-day upsets. Iowa State shocking the world again after taking down fifth-ranked Kansas State? Would love to say yes, but Texas is just too deep and talented.
Brent Blum – The Cyclone Radio Network

1st round
(8) Colorado over (9) Texas Tech
(5) Missouri over (12) Nebraska
(7) Oklahoma State over (10) Oklahoma
(6) Texas over (11) Iowa State
I know, I know, I picked all of the top seeds in the opening round. I'm about as creative as a reality dating show on VH1. Just throw in some dude covered in a bunch of tattoos sporting a Mohawk with a bunch of plasticized "models" and pump out another masterpiece.
Tech has decided they are going to try a brilliant new strategy of playing no defense the last month of the year. It hasn't worked well for whatever reason. Nebraska's best scorer of late is a former Cincinnati football player and Oklahoma has been the biggest disappointment in the nation. I don't see any of them turning it around now.
Word around Cyclone camp is they are very optimistic about the match-up with the Longhorns. The Clones appear to be on the same page and should play with confidence, while Texas is apparently dealing with some inner-team squabbling. That said, I think Texas has a few too many weapons. I'm not sure how Iowa State will be able to handle the James/Hamilton/Johnson trio. Dendy will have to play lots of minutes and play well. As we have learned with Leron, that is a big roll of the dice.
2nd round
(1) Kansas over (8) Colorado
(5) Missouri over (4) Texas A&M
(7) Oklahoma State over (2) Kansas State
(6) Texas over (3) Baylor
Whoa, things get a little nutty in the quarterfinals. KU will waltz along to the semi-final, unless Sherron Collins and Brady Morningstar have a little too much fun the night before with Allen Iverson. Joking… kind of. I think Mizzou is feisty enough to frustrate the Aggies. They've got a little Maggie Gyllenhaal in them– on the surface not real enticing, but they wear on you. I really like how Okie State is playing right now. They have the best player in the conference in James Anderson and he is lighting it up as of late, while K-State is limping into the tourney. And I think Texas gets some revenge on Baylor after dropping the previous two this year.
Semis
(1) Kansas over Missouri
(7) Oklahoma State over (6) Texas
KU is too tough and too deep in the interior for the Tigers, if the Tigers are Gyllenhaal, KU is Emmanuelle Chriqui. Meanwhile, I believe Oklahoma State and Mr. Anderson will light up Texas from the perimeter. Maybe I just like the Cowboys because Keiton Page is one of the few guys I think I could post up.Check that, I couldn't even post up John Lickliter.
Final
(1) Kansas over Oklahoma State
According to Vegas, Kansas is an almost 1/3 favorite to win the Big 12 Tourney. I agree with Vegas. They are strong in almost every category and if Xavier Henry is making shots, nobody will beat them.
Chris Williams, Publisher of CycloneFanatic.com
Colorado over Texas Tech
Missouri over Nebraska
Oklahoma State over Oklahoma
Texas over Iowa State
2nd Round
Kansas over Colorado
Missouri over Texas A&M
Kansas State over Oklahoma State
Baylor over Texas
Semi's
Kansas over Missouri
Kansas State over Baylor
Finals
Kansas over Kansas State
Notes: I think that Iowa State will play Texas to the wire tomorrow. Watch how Iowa State defends the paint. How do you want the Horns to beat you Greg McDermott? With the bigs or with a guy like Avery Bradley? Once the Clones get eliminated, another key storyline in my mind is how Kansas State will rebound from losing to Iowa State last Saturday. I say that they show up in here in a pro-Wildcat Sprint Center and play some solid basketball. I see this thing coming down to All-Sunflower State championship game, with in my opinion, the best team in the nation bringing home a Big 12 Championship.